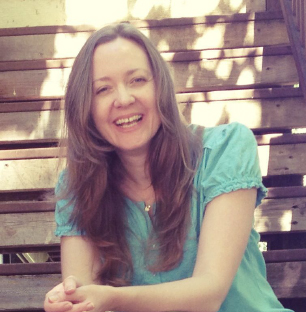 Alia
The Blossom Trail
I'm a dreamer with a passion for planting little seeds of love wherever I can. I enjoy the simple life, treasuring moments of magic and wonder. Nature is my biggest inspiration. I'm most at home in the forest, where I collect blossoms and herbs for my botanical creations, or simply bask in the beauty all around me. I absolutely love to listen to people — stories, feelings, innermost secrets, everything. I can sit for hours savoring soulful connection. My days are spent creating beautiful stories with flowers (I work in a flower shop), working with other sensitive souls through my counseling sessions, writing what's in my heart (I have a blog and also write books), and exploring with my son, Jordan. Sometimes stumbling, other times soaring, I'm learning to embrace everything that this wild and precious life has to offer.
Find Alia: blog, instagram, twitter, pinterest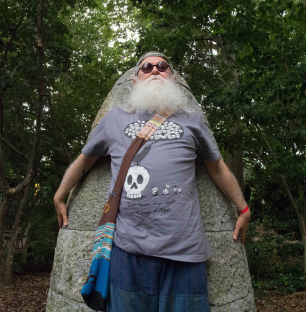 Burnell
Raven's Wing Studio
I am an intuitive artist and songwriter working in the varied media of painting, collage, assemblage, sculpture, digital art, photography and video, as well as ukulele, guitar, Native American flute and hand drums. I love color and tie-dye and sometimes blue hair. Some folks think I'm stuck in the 60s, but this can't be true since I was 63 last year and am turning 64 in 2015. Definitely forward momentum. I generally find social situations difficult, preferring to spend most of my time alone with my wife, my art, and my seven adorable cats. Eating out at small local cafes is a big treat, as is the occasional road-trip to Maryland for crabs while listening to Steely Dan.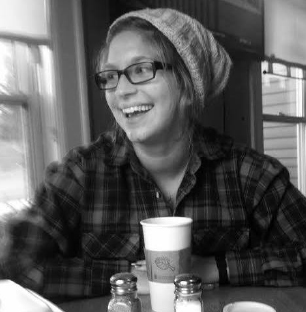 Liz
Keepin' it Organic
When I was a kid, I always thought it would be cool to live outside in a tree. I daydreamed about sitting up in the branches reading, writing, and planning never-ending adventures. I fantasized about spending my days building things and gardening, and being able to smell flowers, hear birds, and see a bright blue sky full of sunshine all the time, except at night of course, when I'd star gaze. Sad to say, I never realized my tree-dwelling dream. However, years later, those same daydreams, activities, and plans for fantastic adventures have kept and keep me going. I try to live a meaningful, thoughtful, simple life, driven by intention rather than habit, and set on cultivating happiness. Because if you're not happy, what's the point?
Find Liz: twitter, instagram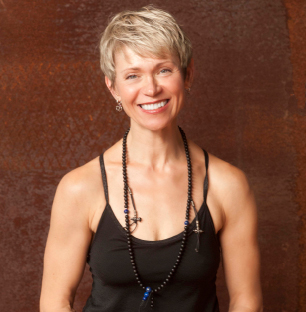 Mara
Mara Yogini
I strive to be a yogini (spiritual practitioner) dedicated to the Vajrayana Tradition and this means daily work that challenge me on many levels. Being a yogini, I think of yoga as not only a discipline, a method, a practice, a result, or a state of mind, but also a pathway – a seva (service) – so, teaching is something I MUST do, even though I can be nervous to be in front of people. Since I've chosen yoga as my lifepath, the best way to be of service is to teach what I learn, as I learn it. It is my hope to give a voice to the many people in the West who might be like me: Someone bound by material and family life, but whose inner voice cries out for the deep spiritual richness of the East. I am firmly dedicated to bringing supple strength, powerful softness and practical proficiency to those interested in an evolving relationship with yoga. Ultimately, yoga is about skillful practice and spiritual happiness, so it's something each one of us on the planet can be all about whether it's through clothes, physical work, a mat practice or spreading kindness and compassion.
Find Mara: website, instagram, facebook, twitter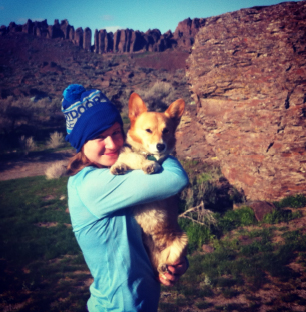 Melina
The Wilder Coast
I am a writer, a photographer and a die-hard New Englander living in Asheville, North Carolina. I love rock climbing, mountain biking at a reasonable speed, ultimate frisbee, wilderness medicine and ships. I have a love/hate relationships with whitewater. My lifelong dream has been to write for Saturday Night Live, and maybe one day I will, but until then I'm happy writing and exploring here in the Blue Ridge mountains with my dog.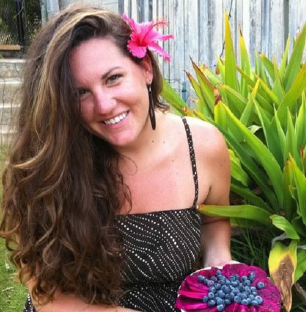 Rachael
Stella Bluer
Aloha, I am Rachael and I reside on the tropical Island of Oahu, Hawaii, also known as Paradise. I am originally from Colorado but have spent the past 11 years in Hawaii as a sun kissed mermaid. I have a dog named Luna who is the best sidekick a gal could ask for. I especially enjoy hiking the many jungle trails and chasing waterfalls. When the sun is shining, playing in the ocean, kayaking and sailing is always a top notch choice. I have been working in renewable energy for the past 7 years, which has taught me how important it is to find alternative ways to live, and rely less on unnatural resources. We only have one Earth; let's take care of our mama to the best of our ability! Lastly, I love music, which coincides with my passion for dance. Hawaii has a lot of really talented local musicians that I enjoy jamming to. I go back to the mainland yearly to groove to my favorite band, Phish, and try to diversify my eclectic music taste by checking out new bands. In the Hawaiian culture, Hawaiians do not believe in saying goodbye, so I will leave you with A Hui Hou (Until we meet again.)
Find Rachael: instagram

Samantha
Twirling Circus
Hi! I'm Sam! Many people know me by my hooping alias, 'TwirlingCircus'. I graduated from the University of Tennessee Knoxville in 2010 with a degree in English/Creative Writing and moved to Carbondale, IL shortly after. I love to write, read, hula hoop, travel, and listen to as much music as possible. Last year, I started my own work-from-home business teaching private hula hoop lessons on Skype. It's been a great experience connecting with wonderful people at all different levels of hooping around the world. Another important thing to know is that I love animals. I have 2 feral male cats. The oldest, The Evil Shmeekus, is a 6 year old Siamese Snowshoe and the youngest is a 5 month old black kitten named Grrr. Aside from Skype lessons, I am a receptionist at a local animal hospital and boarding facility. Though I'd love to become a hoop performer, I'd say my current occupations are as close to dream jobs as it gets for me! I love being outdoors, taking pictures of nature and am addicted to coffee, which I need to go make right now. I believe in peace, paying it forward, and spreading good vibes.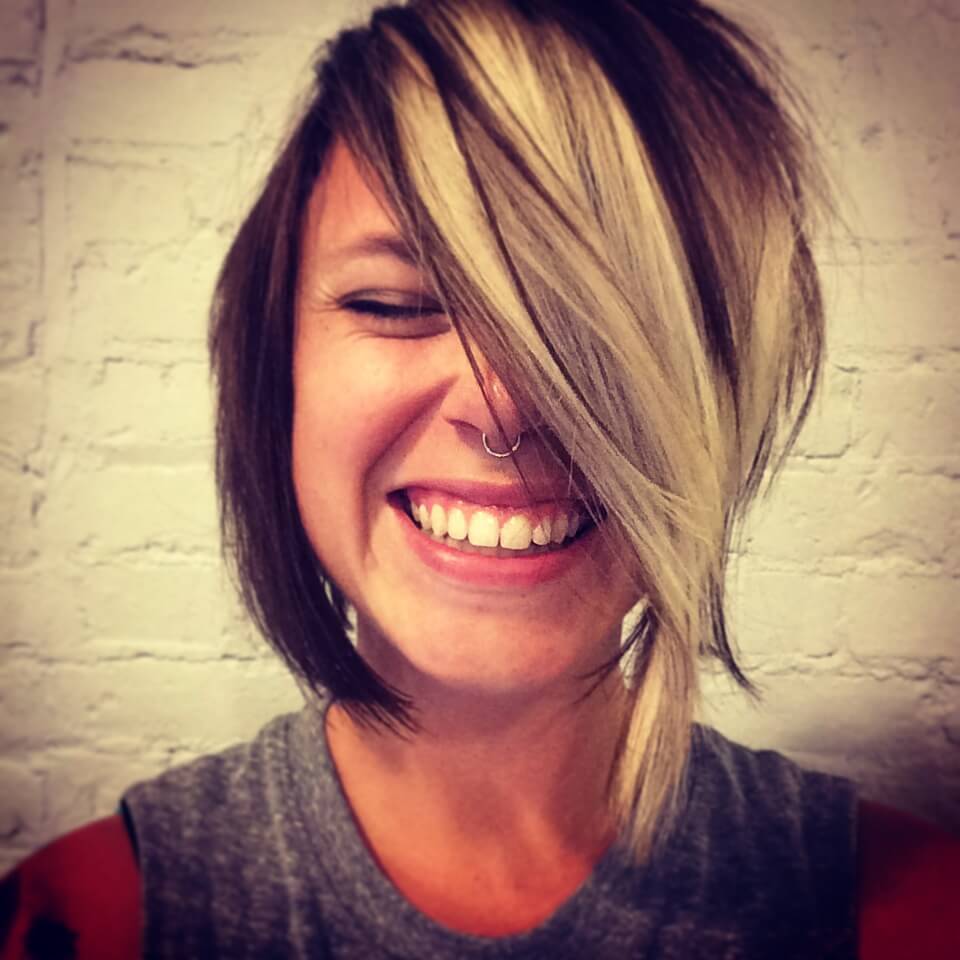 Stephanie
G-Rock Yoga Arts
On any given day you will most likely find me outside, a good song playing on my headphones, a camera in my hand and sunglasses on my face. I love to take it easy and enjoy the simple things in life. Singing is like breathing to me- I just have to do it to survive. I also spend a good chunk of my time immersed in yoga. Practicing for many years and more recently finding my calling to be a yoga instructor- I like the mantra, "all yoga all the time." In my teaching I try to draw upon my personal experience of living with chronic pain to show how well yoga can give you the tools to work with just about anything life can hand you. For the last 14ish years I have lived with rheumatoid arthritis; which often throws a wrench in physical movement, but has also taught me so much about the awesomeness of life and that we get a choice everyday to put a smile on and go do good. I am a strong supporter of dreaming big, harnessing your inner rock star, surrounding yourself with the people you love and having an unyielding positive attitude! Rock on!
Find Stephanie: website, instagram, facebook

(Visited 762 times, 1 visits today)