Our 2022 Full Moon Calendar brings us 12 full moons and 12 opportunities to celebrate and be inspired! Read on for our 2022 full moon calendar and a bit of monthly advice and wisdom inspired by each moon. Which 2022 full moon are you most excited for?
2022 Full Moon Calendar & Full Moon Wisdom

Blog Image
Full Moons in 2022
Moon names come from traditional Native North American moon names and symbolism.
Times are in CST (where we at Soul Flower are located)
January 17 at 5:48 p.m. 🐺 Full Wolf Moon
February 16 at 10:57 a.m. ❄️ Full Snow Moon
March 18 at 2:17 a.m. 🐛 Full Worm Moon
April 16 at 1:55 p.m. 🌸 Full Pink Moon
May 15 at 11:14 p.m. 🌼 Full Flower Moon
June 14 at 6:52 a.m. 🍓 Full Strawberry Moon
July 13 at 1:37 p.m. 🦌 Full Buck Moon
August 11 at 8:36 p.m. 🐟 Full Sturgeon Moon
September 10 at 4:59 a.m. 🌾 Full Harvest Moon
October 9 at 3:55 p.m. 🏹 Full Hunter's Moon
November 8 at 5:02 a.m. 🌳 Full Beaver Moon
December 7 at 10:08 p.m. ⛄️ Full Cold Moon
Soul Flower Moon Clothing
The Moon is our closest celestial neighbor. It's a constant reminder of the bigger picture: the vast universe out there and each of us, here –together– on this one planet. At Soul Flower, we embrace and celebrate the moon in our art, screen-prints, stickers, and paper products. Our products feature unique artwork & positive sayings: check out our Moon Collection for fun and beautiful interpretations on our lunar love.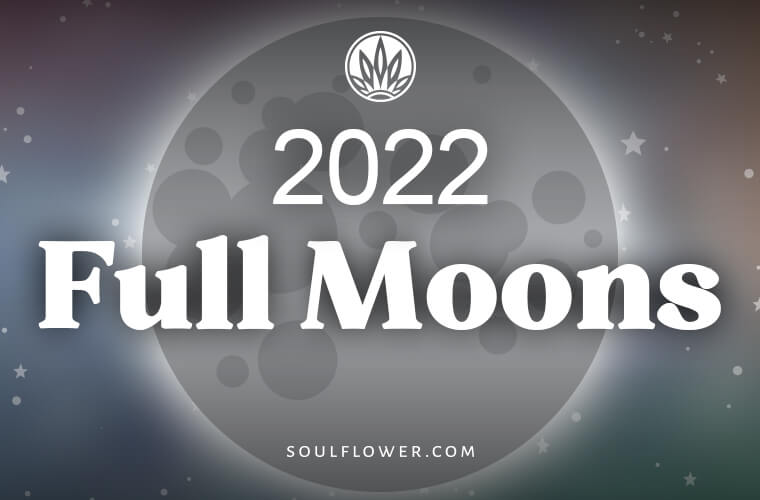 Here at Soul Flower, we combine free-spirited art & uplifting messages with eco-friendly materials to create mindfully-made clothing, accessories, & gifts that help you express yourself.
It's soul-affirming merch you feel good about rocking! Express yourself with Soul Flower and join your buds and fellow free spirits, eco warriors, happy hippies, and kindred souls in sharing the good vibes. Be kind, be yourself, and be the change you want to see in the world!
When you feel good, you do good!