Our 2023 Full Moon Calendar brings us 13 full moons and 13 opportunities to celebrate and be inspired! Read on for our 2023 full moon calendar and a bit of monthly advice and wisdom inspired by each moon. Which 2023 full moon are you most excited for?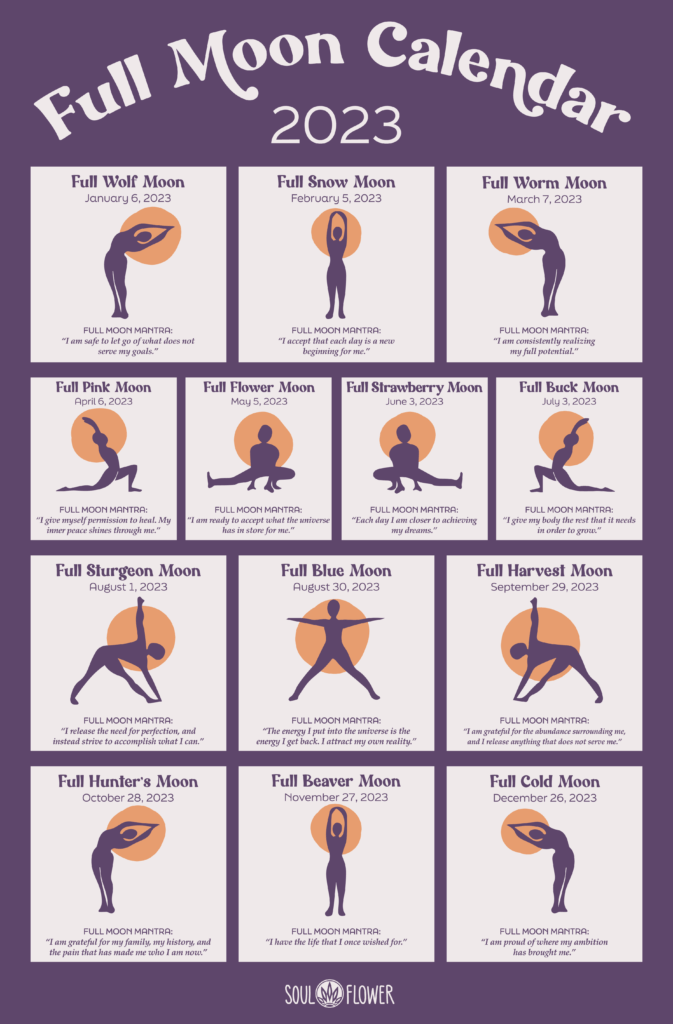 Moon names come from traditional Native North American moon names and symbolism.
Times are in CST (where we at Soul Flower are located)
January 6 at 5:08 p.m. Full Wolf Moon
February 5 at 12:29 p.m. Full Snow Moon
March 7 at 6:40 a.m. Full Worm Moon
April 6 at 10:34 a.m. Full Pink Moon
May 5 at 11:34 a.m. Full Flower Moon
June 3 at 9:42 p.m. Full Strawberry Moon
July 3 at 5:39 a.m. Full Buck Moon
August 1 at 12:31 p.m. Full Sturgeon Moon
August 30 at 7:35 p.m. 🔵 Full Blue Moon
September 29 at 3:57 a.m. Full Harvest Moon
October 28 at 2:24 p.m. Full Hunter's Moon
November 27 at 3:16 a.m. Full Beaver Moon
December 26 at 6:33 p.m. Full Cold Moon
Check back each month for a more detailed post about each full moon, complete with journal prompts, mantras, and more!
Shop our Moon Phase Clothing to find a full moon t-shirt or funky zodiac boho bag to speaks to your Celestial-loving soul!