Hippie, Treehugger, Wanderlust, Earth Warrior, Free Spirit… what do these words mean to you? Sometimes unconventional words like these aren't so easy to explain, yet when you read the definition you say, "Hey, that's totally me!" So take a look at a few of these words that fit the distinctive and cool lifestyles of our customers. And let us know, which one are YOU?
Hippie Definitions
Blog Image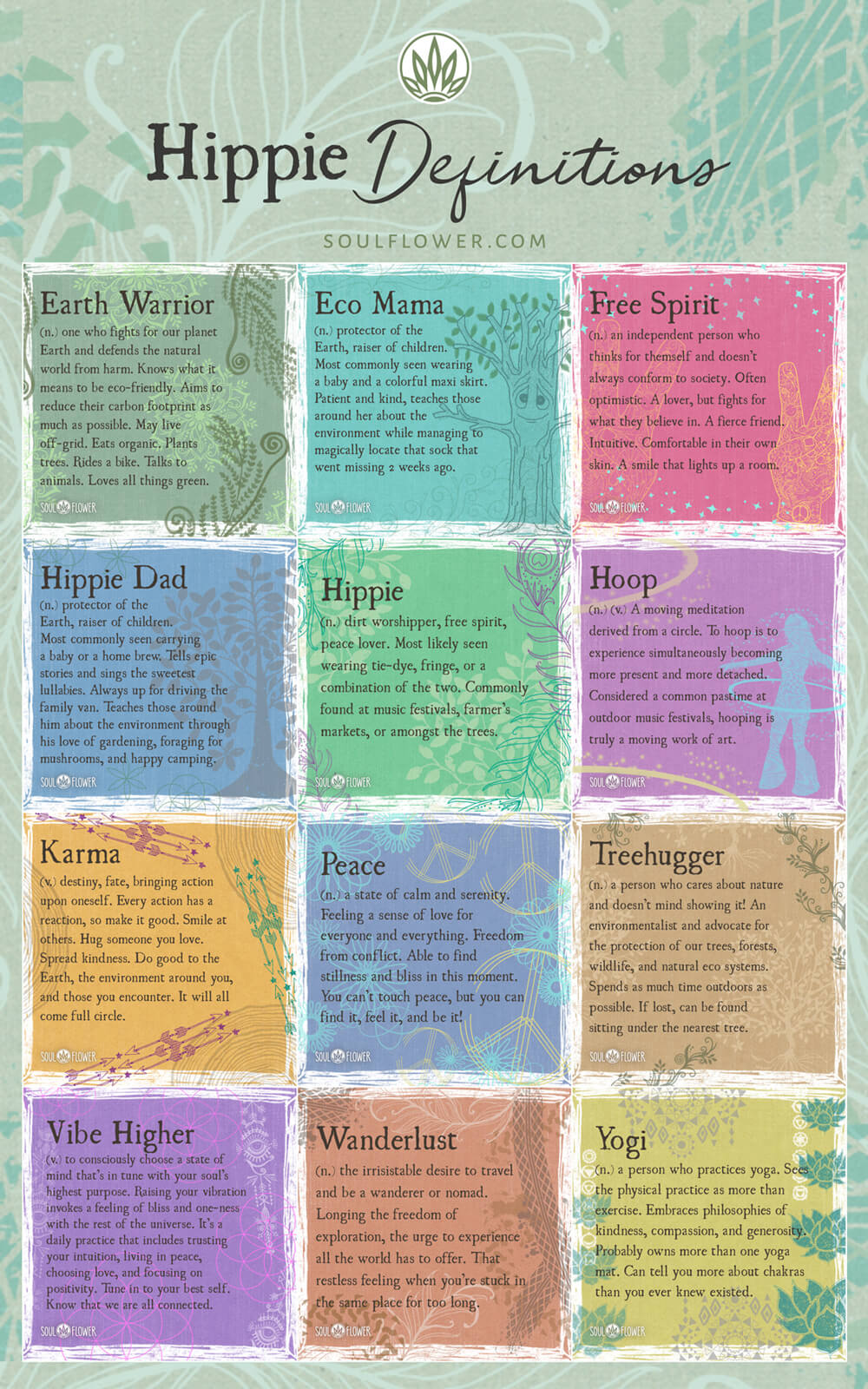 We've written several of our own hippie definitions around these buzzwords to share with you, and print on clothing & gifts. The original incarnation of these definitions we shared on Facebook and Instagram way back in 2015, and we added more just for fun in 2018.

Blog Image
In spring of 2019, we created spin-off designs of the original definitions and turned them into screen-printed t-shirts and tote bags. One of the fun things about these definitions is finding one that totally reminds you of a friend… and you just have to share! In fall 2019, we turned our favorites into a set of greeting cards.
Blog Image
Which definition speaks to you? Do any of these remind you of anyone?
You can find some of these Hippie Definitions designs on items in the shop:
As always, keep checking back for new additions– or subscribe to our newsletter to always be in the know. Keep on wandering buds and live the lifestyle that best fits YOU!

Blog Image
Here at Soul Flower, we combine free-spirited art & uplifting messages with eco-friendly materials to create mindfully-made clothing, accessories, & gifts that help you express yourself.
It's soul-affirming merch you feel good about rocking! Express yourself with Soul Flower and join your buds and fellow free spirits, eco warriors, happy hippies, and kindred souls in sharing the good vibes. Be kind, be yourself, and be the change you want to see in the world!
When you feel good, you do good!

Blog Image

Blog Image