Meet Allison! She'd the founder of Shred Scarves! They're a creative use for fabric that would have otherwise been thrown away! Learn more about the woman behind it all and how the shreds came to be in our interview!
Blog Image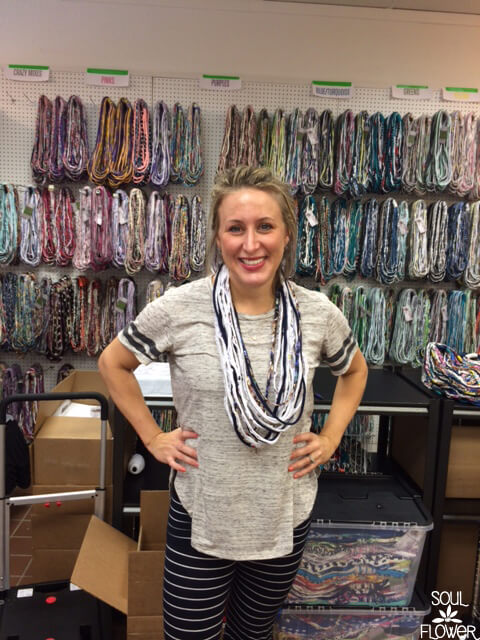 SF: What were you doing before Dona Bela Shreds? How'd it all start/why scrap fabric?
Allison: "I received my B.S. in Journalism and was the head coach of the St. John's University women's tennis team while I worked to receive my M.B.A. After I graduated, my husband and I moved from New York City to the Midwest. It was our dream to open a business together, but needed an idea to get the ball rolling. I actually saw a huge pile of scrap textile material and fell in love – the material looked so soft and the color combinations of the remnants looked really cool together. After I looked into it a little further, I saw that companies really do not utilize any of the remnants and consider them "waste." Millions of tons of textile remnants are thrown away each year in the U.S. alone. If we could help eliminate a small portion of this "waste" and make a fun, new product, it would definitely be a win/win. So the Shreds were created."
SF: Why scarves?
Allison: "I am definitely a T-shirt and scarf kinda gal. The Shreds are actually a fun cross between the two – A fun scarf-like product with the wear and feel of t-shirt. We actually had to come up with a new name for our "Shreds" because nobody really knew what to call them. Some people would call them scarves – others would call them necklaces. A "Shred" is a whole new design concept."
Blog Image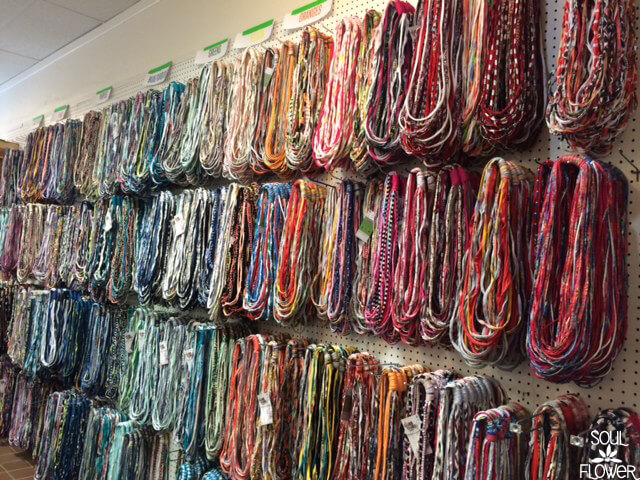 SF: How do you pick out colors, combinations, and designs? Where does the inspiration come from?
Allison: "Designing the color combinations is really my favorite part. We never know what we will be receiving because all of the material is based on current clothing trends and fashions. When I open a box of new material I am like a kid opening a present at Christmas time – I get super excited seeing the new color and print combinations! We design every color combination possibility you can think of – and have thousands of color combinations. I really dig monochromatic color designs."
SF: How do you make the scarves?
Allison: "We have an amazing team of Shred designers. In addition to some very talented local designers, we have also partnered up with the Des Moines U.S. Committee for Refuges and Immigrants and currently have four women from Burma who have really become an integral part of the Dona Bela Shreds team."
Blog Image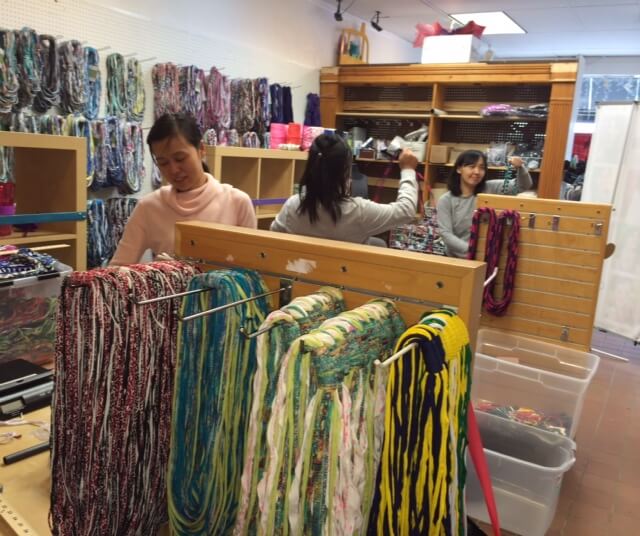 SF: Has the environment always been a concern of yours? Was there a point where it started becoming a large concern?
Allison: "See #1."
SF: Anything else you'd like to add! Favorite design, memorable story, ah-ha! Moment?
Allison: "Gosh, I don't know. Sometimes we get some crazy fabric designs – some that have cows, skulls or dancing monkeys on them – I would think, "Now who is going to like these designs?" And sure enough, they are always the first to be sold. Everyone likes an item that has a certain uniqueness to it – something that is truly theirs and that is something the Shreds also provide."