In 2019, take some time to celebrate each full moon and find inspiration in them. Keep watching this blog for updates to the 2019 full moon calendar throughout the year and enjoy the positive powers and heightened energy each full moon offers!
2019 Full Moon Calendar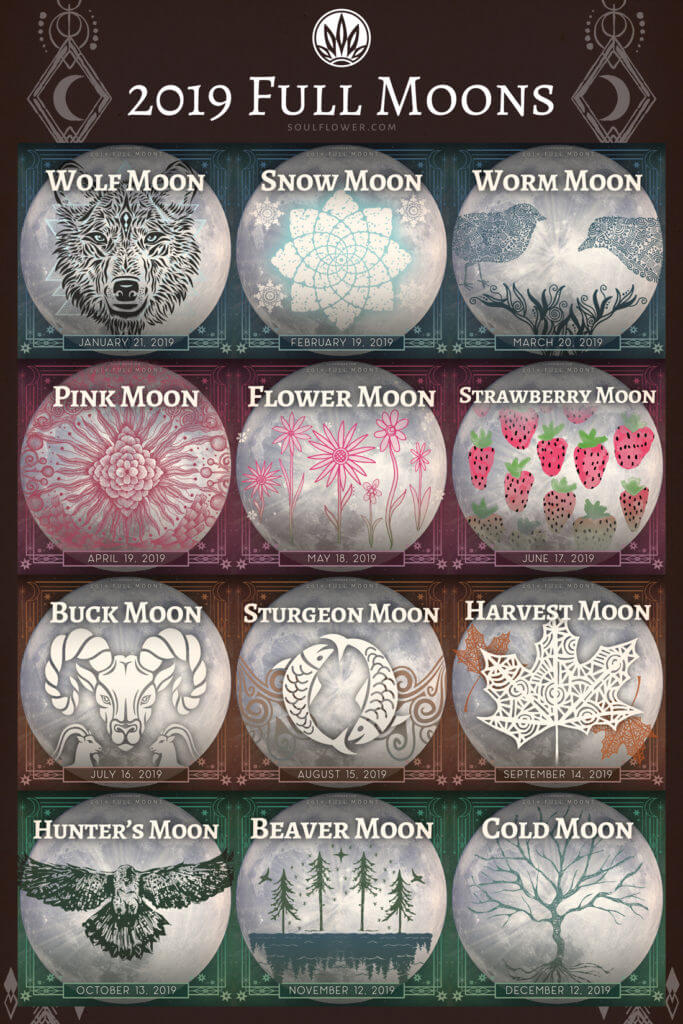 Celebrate the Full Moon
Why celebrate the full moon? Lots of reasons! It is quite beautiful. Plus, the full moon effects you & is said to be a good time to harness energy to find clarity about what you want in your life. Every full moon gives you a chance to reflect and revisit your goals and intentions. And also to howl, because, well, it's the moon! Enjoy the full moons of 2019:
January 21 – 12:16 AM EST *Best viewed on January 20th!
February 19 – 10:53 AM EST
March 20 – 9:43 PM EST
April 19 – 7:12 AM EST *Best viewed on April 18th!
May 18 – 5:11 PM EST
June 17 – 4:31 PM EST
July 16 – 5:38 PM EST
August 15 – 8:29 AM EST *Best viewed on August 14th!
September 14 – 12:33 AM EST *Best viewed on September 13th!
October 13 – 5:08 PM EST
November 12 – 8:34 AM EST *Best viewed on November 11th!
December 12 – -12:12 am EST
Moon Clothing
The Moon is our closest celestial neighbor. It's a constant reminder of the bigger picture: the vast universe out there and each of us, here –together– on this one planet. At Soul Flower, we embrace and celebrate the moon in our art, screenprints and paper products. Our products feature unique artwork & positive sayings: check out our Moon Clothing Collection.