Are you looking for how to build an indoor fort? And even better, a hippie bohemian fort? With lots of boho hippie vibes like hippie wall hangings & cool tapestries, fairy lights, incense, patchouli and feathers? Well, we've all built a fort at some point in our lives (at least I hope so!) but sometimes it's nice to think about the finer details that could make your bohemian fort even better. We recently built two indoor bohemian tents for our photoshoots and with a little planning time, ended up with some really unique fort spaces. Let us show you how to build an indoor fort, Soul Flower Hippie Boho Style!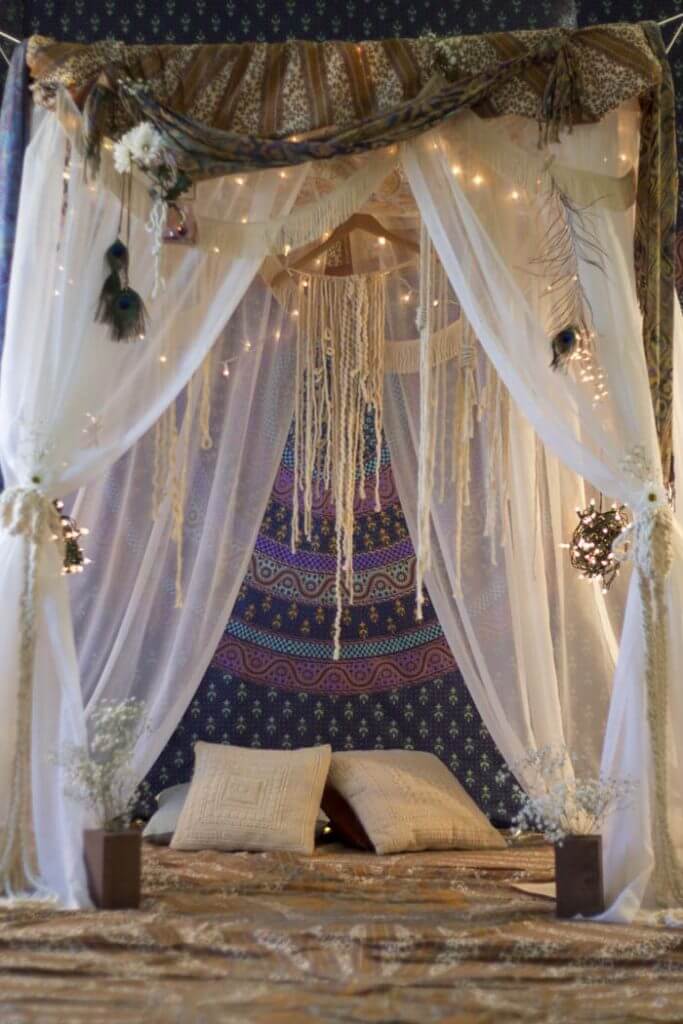 How to Build an Indoor Fort: Prop List
I grew up antiquing with my parents, I really hated it as a teen, but now I am in LOVE, and many of the items on set came from my collection, things I've picked thrifting, garage sale-ing, and antiquing as an adult. Some of the things were just from around Soul Flower (we are lucky and have a pretty rad working environment). Just a few things from a craft store, I really had my heart set on those little pom-pom tassels for the kids fort and knew that I wanted to incorporate yarn for the romantic fort.
Here are a few components you will need to build your fort:
A Frame – this can be large, like the frame of a easy up tent or use tent poles. Or even a few chairs and a couch could be a frame if you plan to make your fort a little more temporary!
Cool Tapestries for the walls
Hippie Tapestries for the floors
Pillows – we made our own out of old Soul Flower T-Shirt designs!
Fairy Lights
Clothespins
Rope or Twine
Fun Decor Extras (pom poms, yarn, tassels, feathers)
More Hippy Tapestries (at Soul Flower, our tapestries give you an amazing way to brighten your space and how you use your tapestry is only as limited as your imagination!)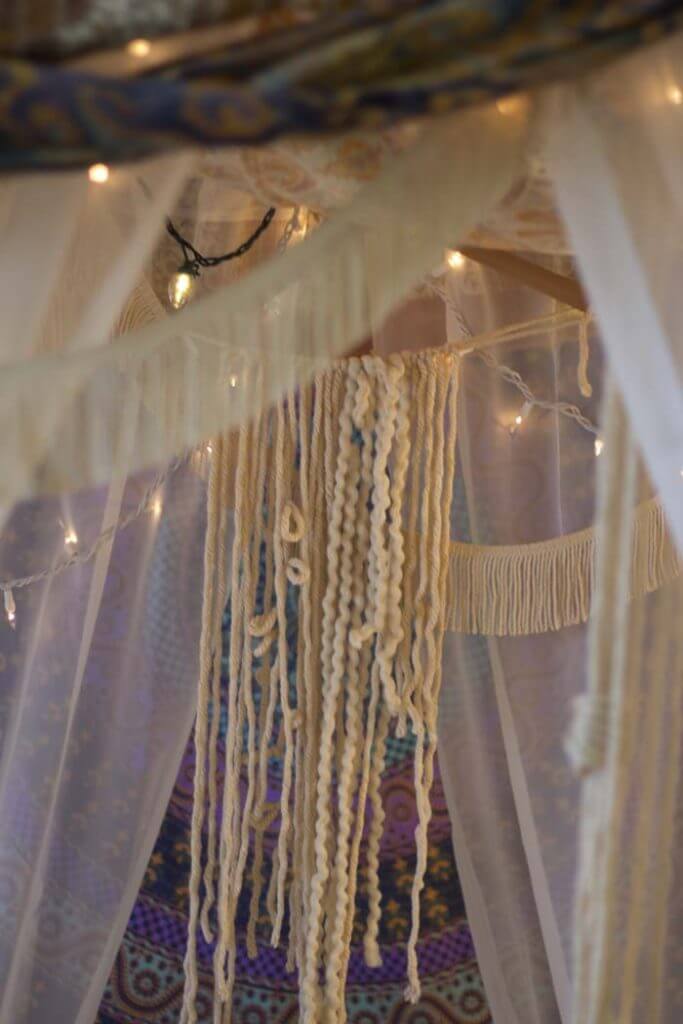 How to Build an Indoor Fort: Assembly
Our boho tent was a team effort really. When we were planning the theme for our catalog I instantly had visions popping in my brain and everyone had a shared vibe that we wanted to capture, so that certainly helped. So the vision, props, textures, all the little things were a cinch, actually making a sturdy fort frame had to be drawn out. We ended up using ropes and pvc pipe but another great idea was to use the frame of a tent or tent poles. Once the basic frames were set up, we assembled the fort! If you want to know how to build an indoor fort, the keay is really just about layering on the tapestries, fabrics, enough blankets, whatever you have to create the space! I really enjoyed getting my co-workers help and thoughts, but indeed adored staying late in the empty warehouse and nit-picking the set, with no phone calls, emails, etc. to disturb me!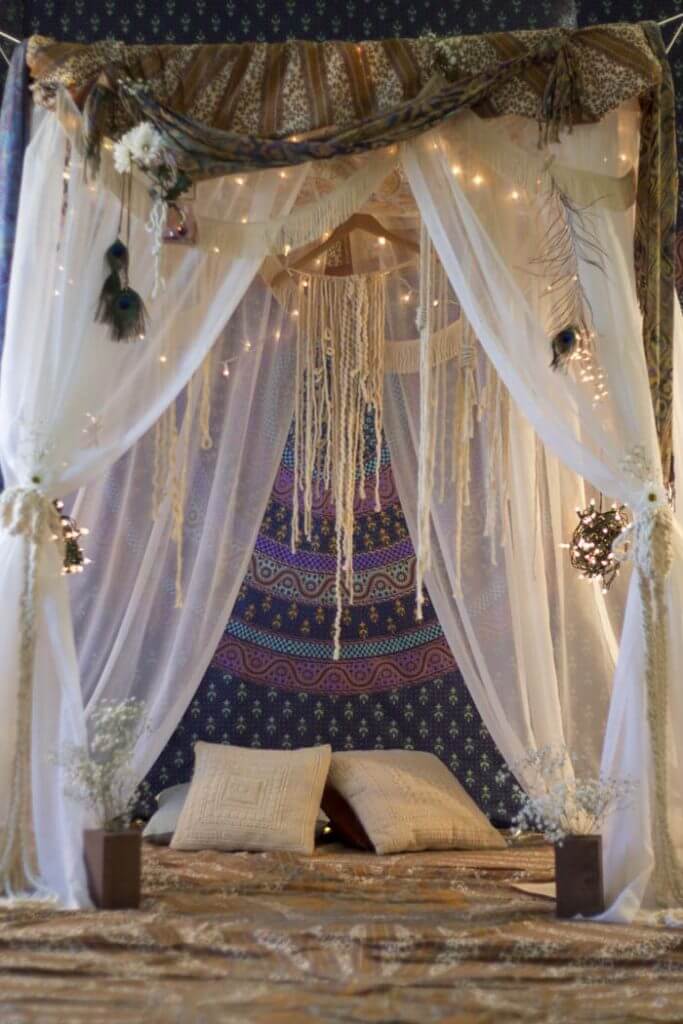 Blog Image
Layers are very important in our fort to help get the gypsy vibes. So be sure to have lots of tapestries for the floors, walls and backdrop.
How to Build an Indoor Fort: Dreamy Romantic Fort
We wanted a very dreamy, soft, cloud 9 kind of feel. We pulled this off by using neutral colors, layers of tans, whites, golds and creams. Tulle fabric does the trick, especially layered with the bright funky tapestries! The lights, big nests of Christmas lights made the set enchanting, these are a must: candles, Christmas lights, lamps, or any intimate lighting you can find will set the mood for sure!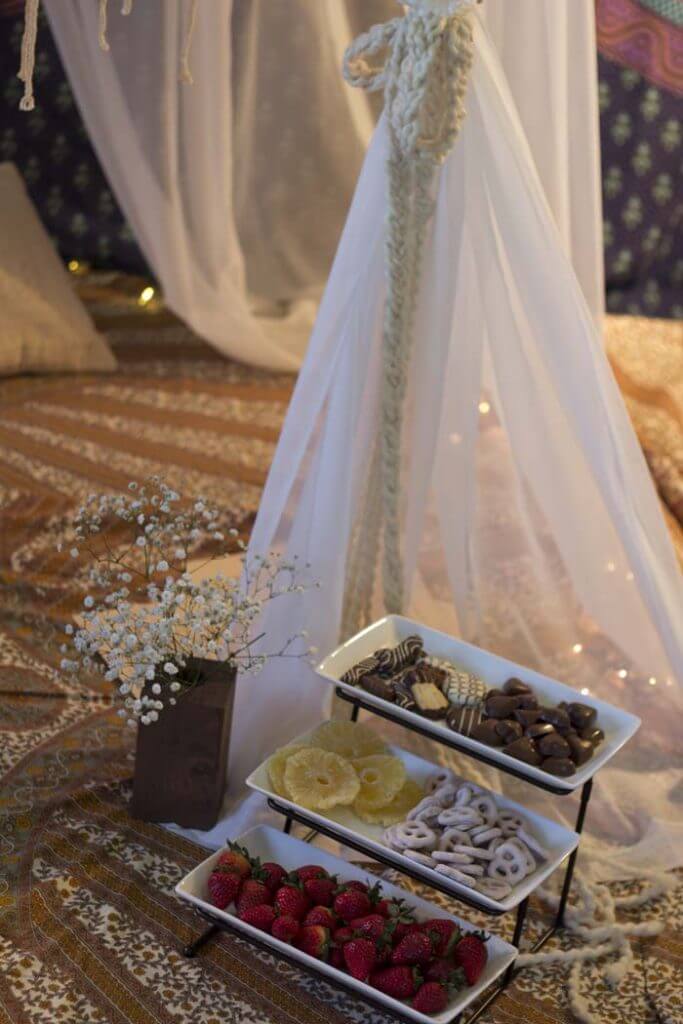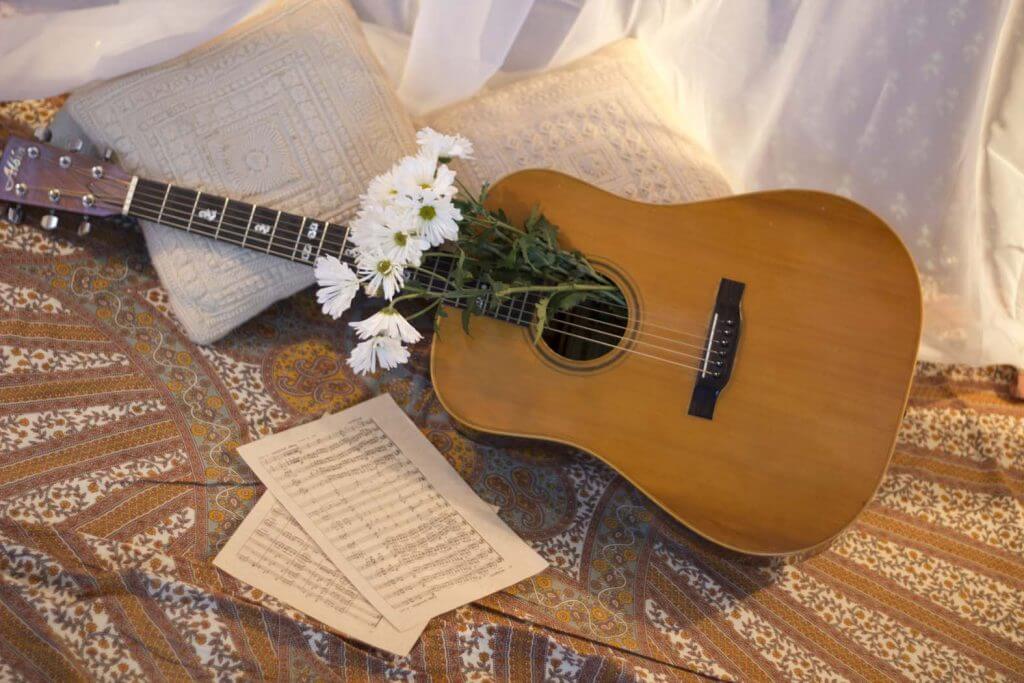 How to Build an Indoor Fort: Kids Boho Tent for Kids
For our kids boho tent, the most important part was having interactive options, something to keep the kids occupied and entertained. In our boho tent we featured a chalk board, record player and unique kid friendly musical instruments. I would recommend having a theme, ours was clearly music, and this made it simple to gather items for the tots to explore.
Another fun thing we did was make a few small pillows using old Soul Flower T-Shirts. Our designs are perfect for kids, espeeically with messages about loving the earth and spreading a positive vibe!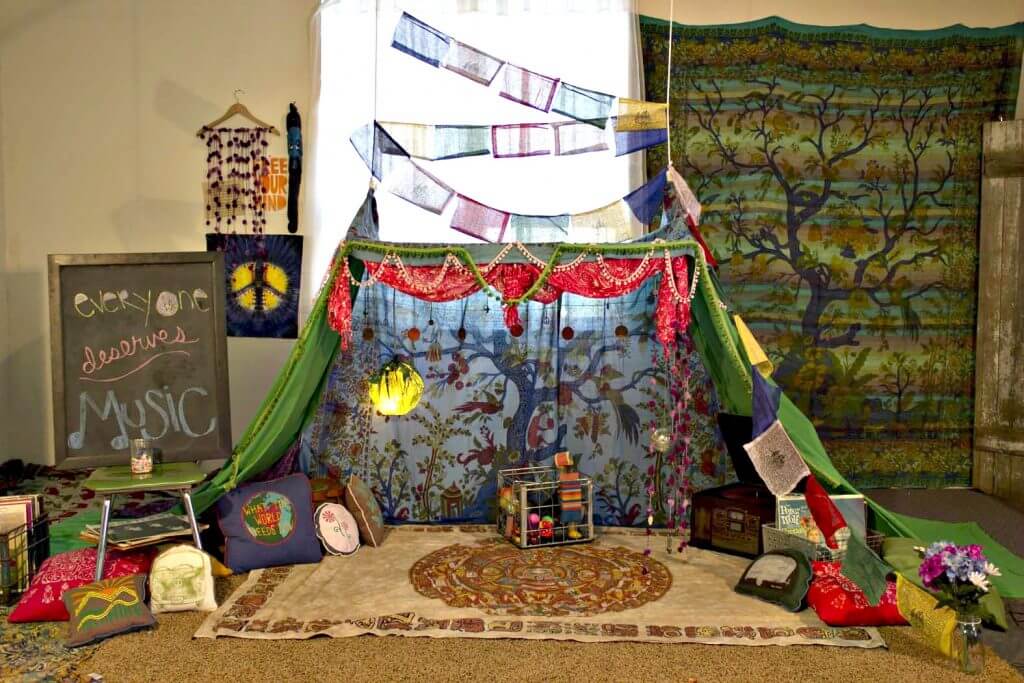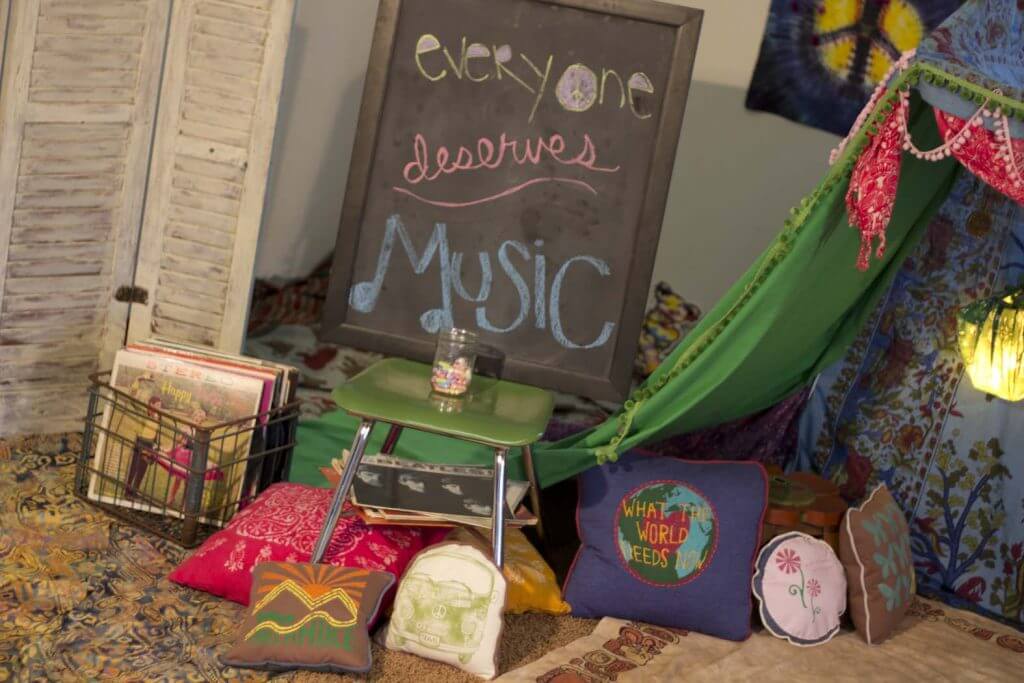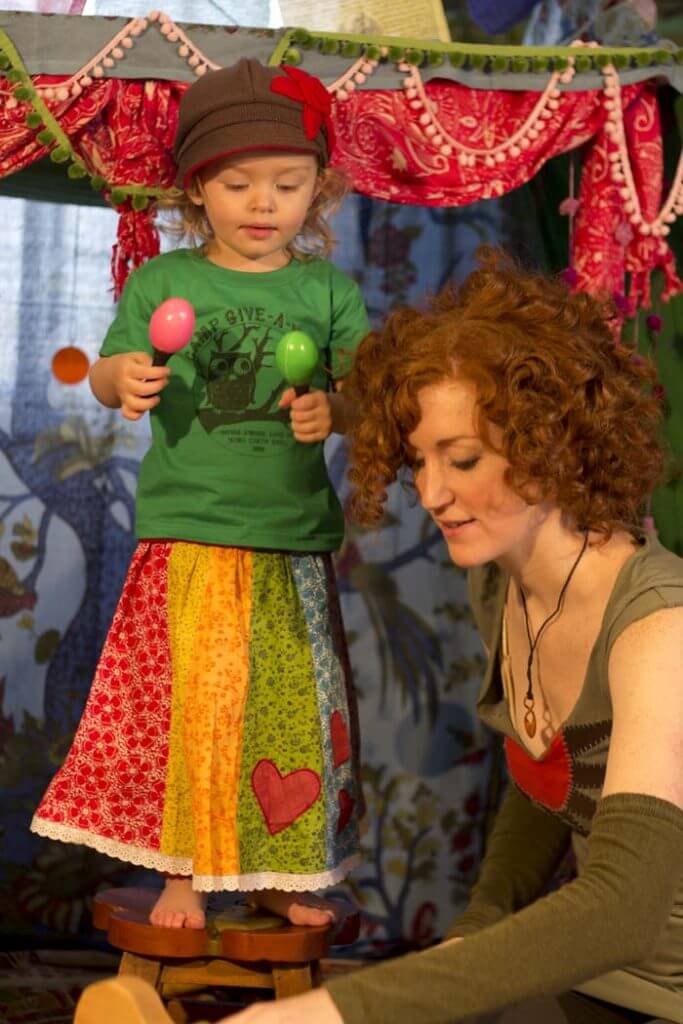 We hope you enjoy seeing how to build an indoor fort, especially a one-of-a-kind boho hippie style fort. They were so fun and great to photograph in, we even kept them set up for a long time as a reading nook in our warehouse. Peace, Love and Forts Buds!