We are often asked if Soul Flower carries any boho maternity clothes and, although we do not carry items manufactured as maternity clothes, we do have a variety of items that work well for the long months of having your lil' bud on board. (And just as well after too!) So if you want to maintain those hippie boho vibes throughout your pregnancy, read on to see options for a bohemian maternity dress, a boho maternity skirt and other hippie maternity clothes!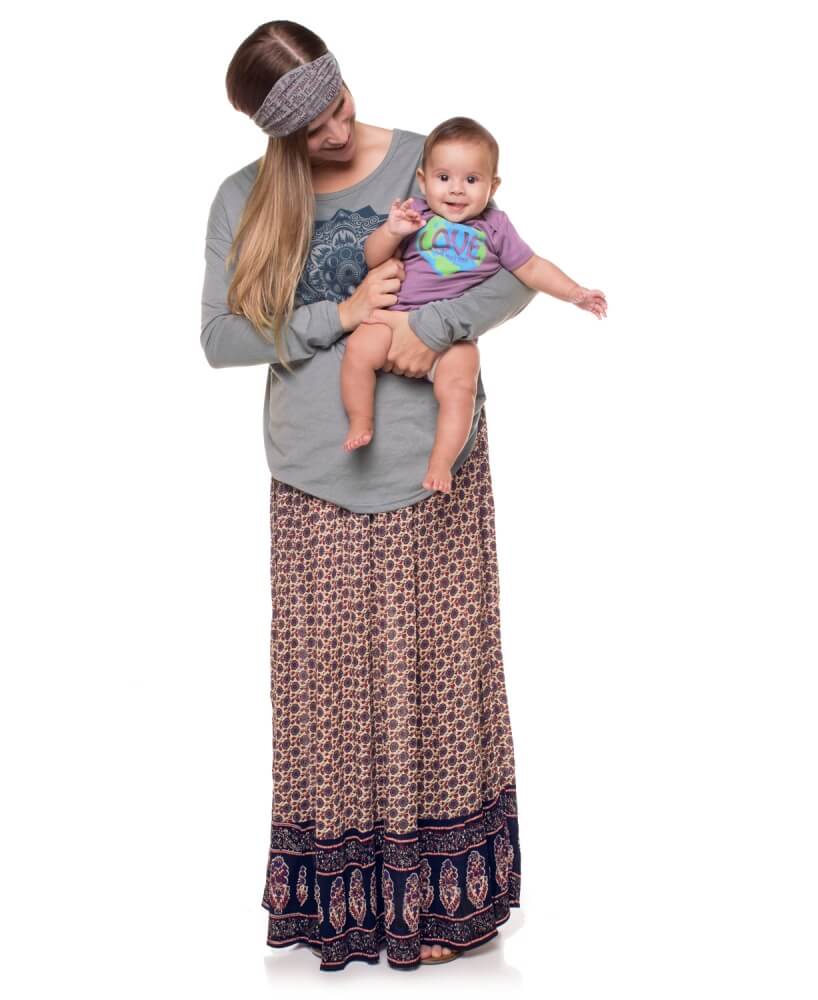 Boho Maternity Dresses and Skirts
When choosing items to wear during pregnancy it is best to choose clothing that is loose, comfortable and stretchy. Our boho plus size clothing has lots of options! Elastic and fold-over waistbands become your best friend, while flowy and stretchy become a life saving fashion statement. There's no need to ditch your individual style for boring maternity clothes that just aren't you. Many items can double as boho maternity clothes – try to look for larger sizes and stretchy fits in your favorite boho styles. Our long, flowy boho skirts with elastic waist bands are perfect for the mama to be! And if you are looking for a boho maternity dress, try this collection.
Boho Maternity Dress: The Hippie Maxi
Each season we bring in funky hippie maxi dresses that are roomy and the perfect boho maternity dress options.

Boho Maternity Dress: Retro Gathered Dress
Our new gathered dress features a high a-line waist and a roomy bottom – perfect for a growing belly! p.s. pockets too!
The Soul Flower T-Shirt Dress: Perfect Boho Maternity Dress
A staple in the Soul Flower line, this t-shirt dress has many prints and patterns to choose from – it is extra roomy in the waist and has pockets to boot!

Bohemian Maternity Dress: The Autumn Floral Hippie Dress
This gorgeous fall dress (our Autumn Floral Hippie Dress) is a great boho maternity dress – and not, you can wear it for both maternity and after. Very forgiving cut with a cinch waist.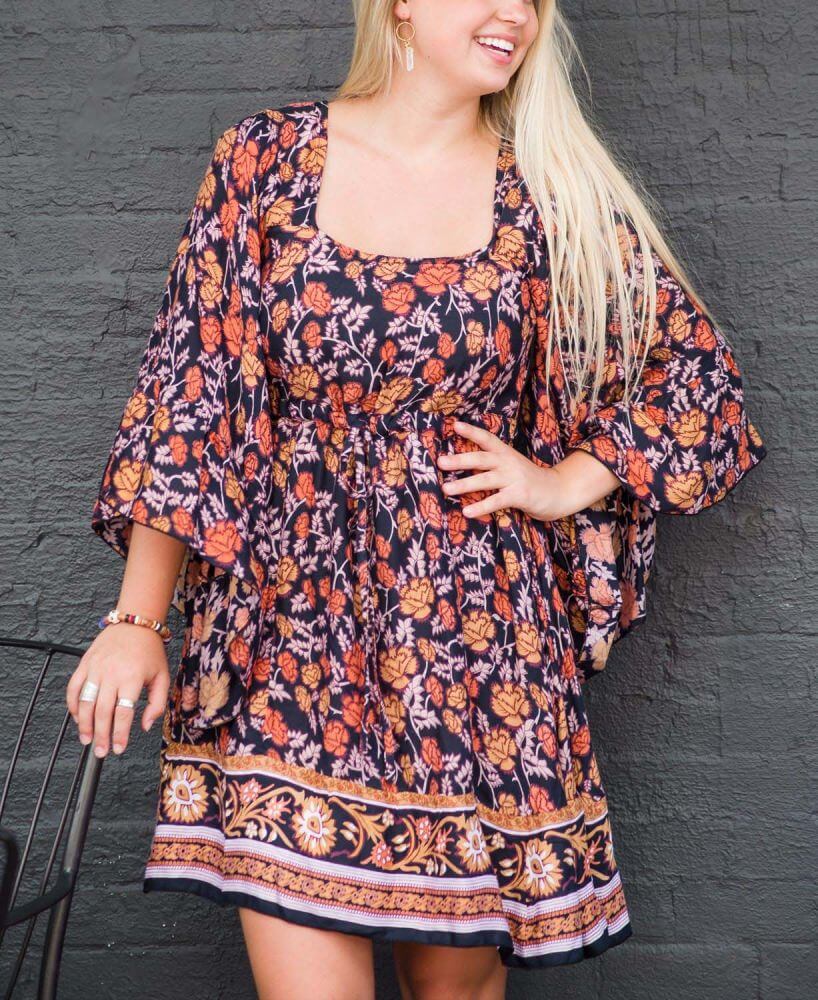 Boho Maternity Skirt and Dress: Our Mandala Star Multiwear Skirt
It is a skirt, a dress, even a tunic top for nursing, as a boho maternity dress, it will keep you covered durring pregnancy and after!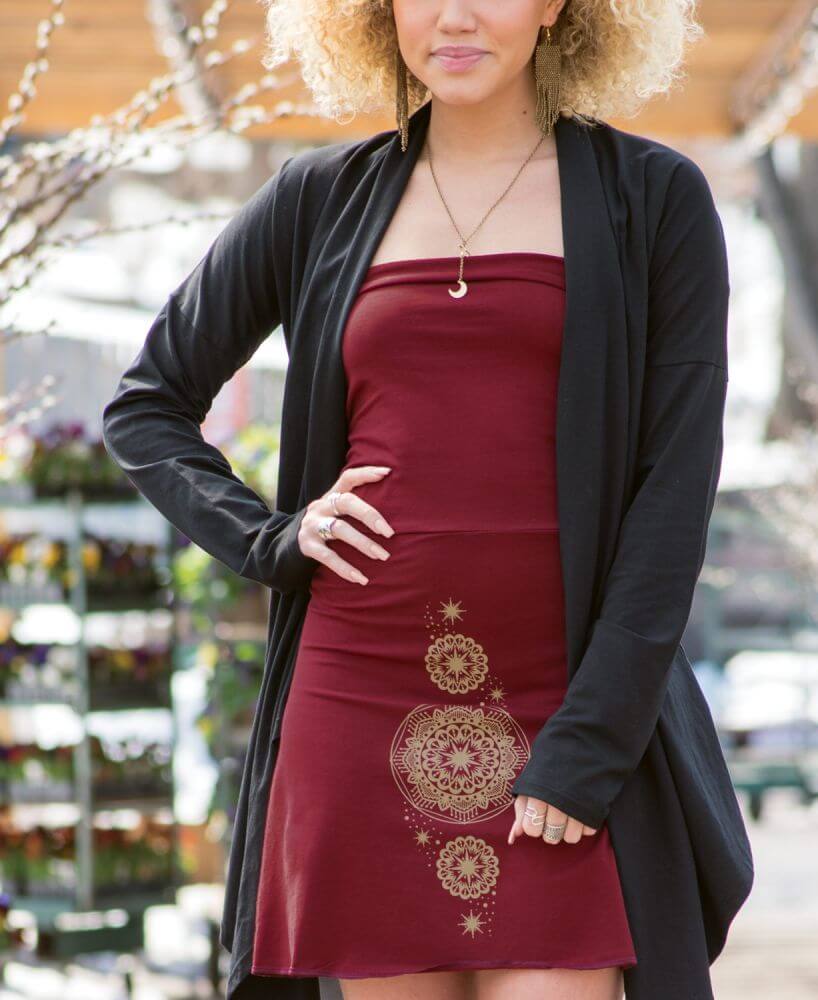 More Boho Maternity Clothes: Spandex
The stretchiness of spandex is perfect for pregnancy. All of our yoga pieces all fit low waist, so can be worn below your belly during prenancy, including our super-popular Bell Bottom Leggings. Here is one yoga mama showing off her flow – even at 8 months! – in our Soul Flower pants and tank. Another amazing maternity option from Soul Flower are our organic bralettes and crop tops. Many a mama has claimed these to be life savers throughout their pregnancy and beyond because they double as great sleeping bras and are stretchy and perfect for nursing as well!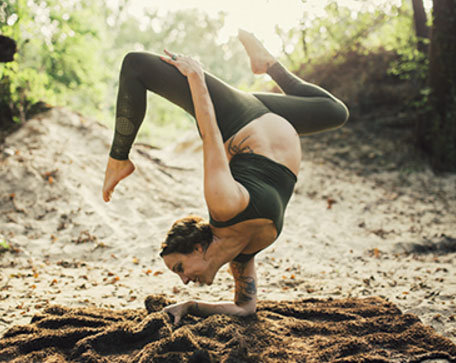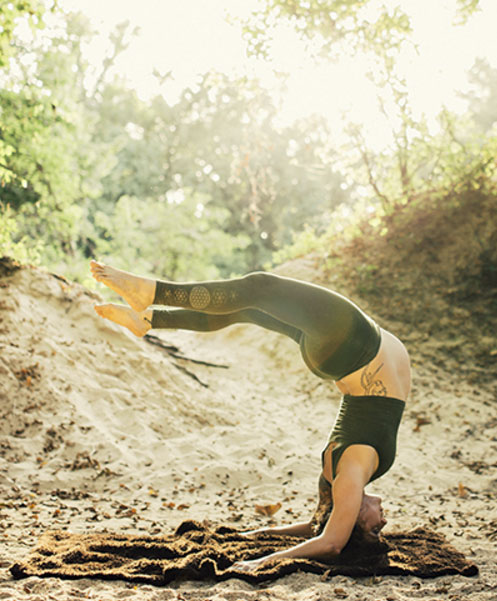 Boho Maternity Clothes: Bralettes
Our bralettes and crop tanks are stretchy and roomy – and double as sleep bras. We include detailed measurements to help determine your best fit. If you have further questions about whether a Soul Flower product is maternity-friendly or not, please don't hesitate to give our customer service a call.

Boho Maternity Clothes and Body Products
Beyond boho maternity clothes, we offer natural scents skin care items which are made from certified organic ingredients. These are fantastic gifts for future mamas because they help sooth and moisturize the tummy (and those sore feet!). Plus they come in a variety of relaxing scents.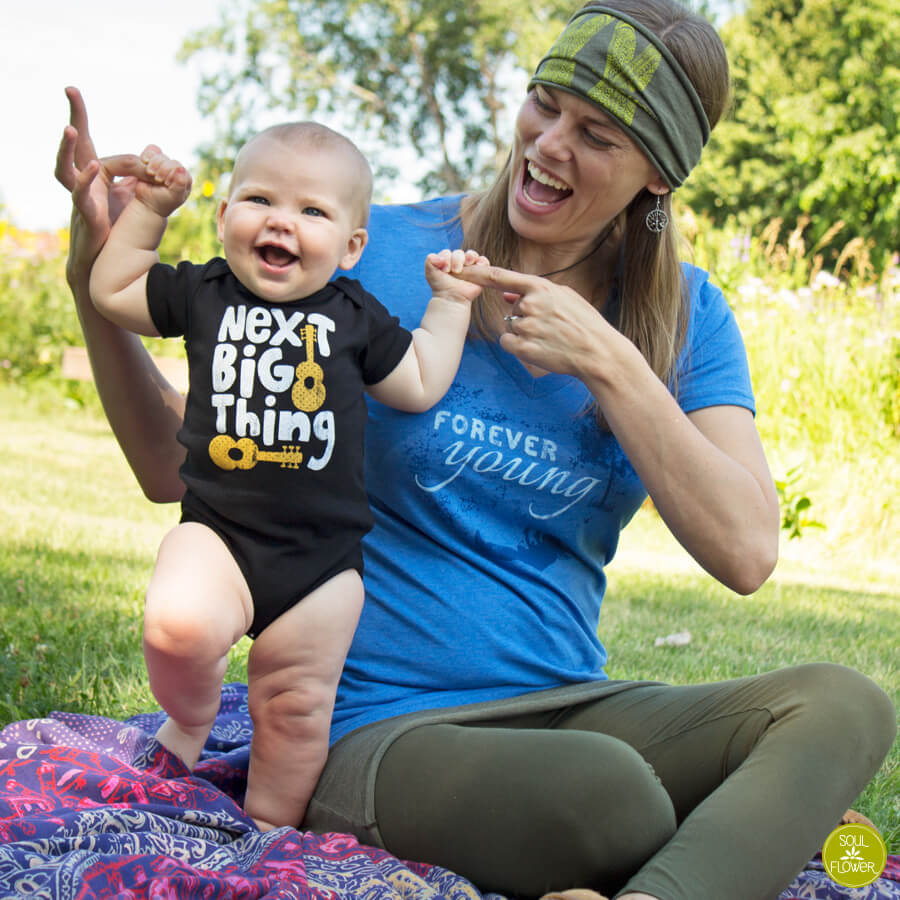 Boho Bags: Maternity and Not!
And finally, don't forget the need for a fun and funky (and BIG) boho bag. You're likely already carrying more necessities around with you than you once did, and keeping them all in one place is super helpful. And once you go big on a big boho bag you won't go back 🙂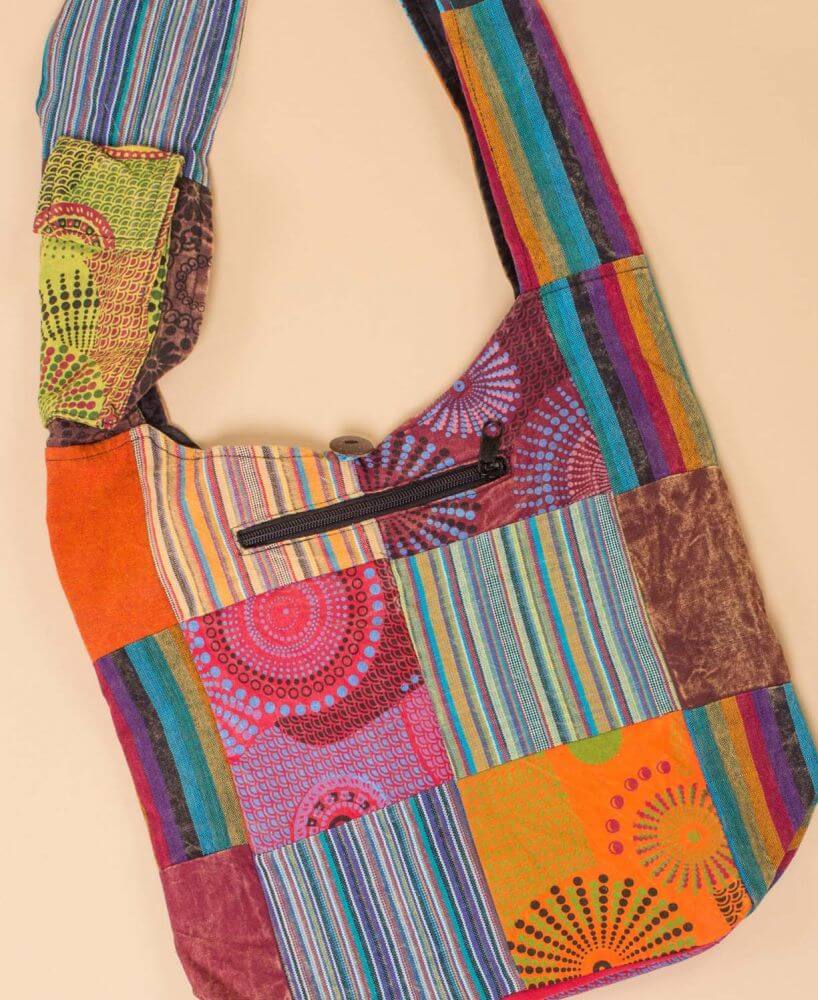 And once your little but arrives, a huge congrats from your buds! We love babies around here and recommend soft organic cotton hippie baby clothes! Our onesies, bibs and hats all have super cute designs, positive messages, and the softest materials around – all in our organic baby clothes brand! So if you want your baby to have some hippie vibes too, try our baby hippie clothes and hippie kids clothes.