The tarot line. Blissful, Warrior, or Treehugger: which are you? Three sharkbite tanks, each with a different vibe. They're not traditional tarot symbols, but if the imagery speaks to you, let it offer inspiration and guidance!
Nearly a year in the making, the design elements in this mini collection of screenprinted shark bite tank tops go way back. Like early-2000s-way-back.
This is a story of inspiration…
Blog Image
Once upon a time, we made a mini series of tarot-inspired graphics. We shared them on facebook. Ya'll loved 'em.
Blog Image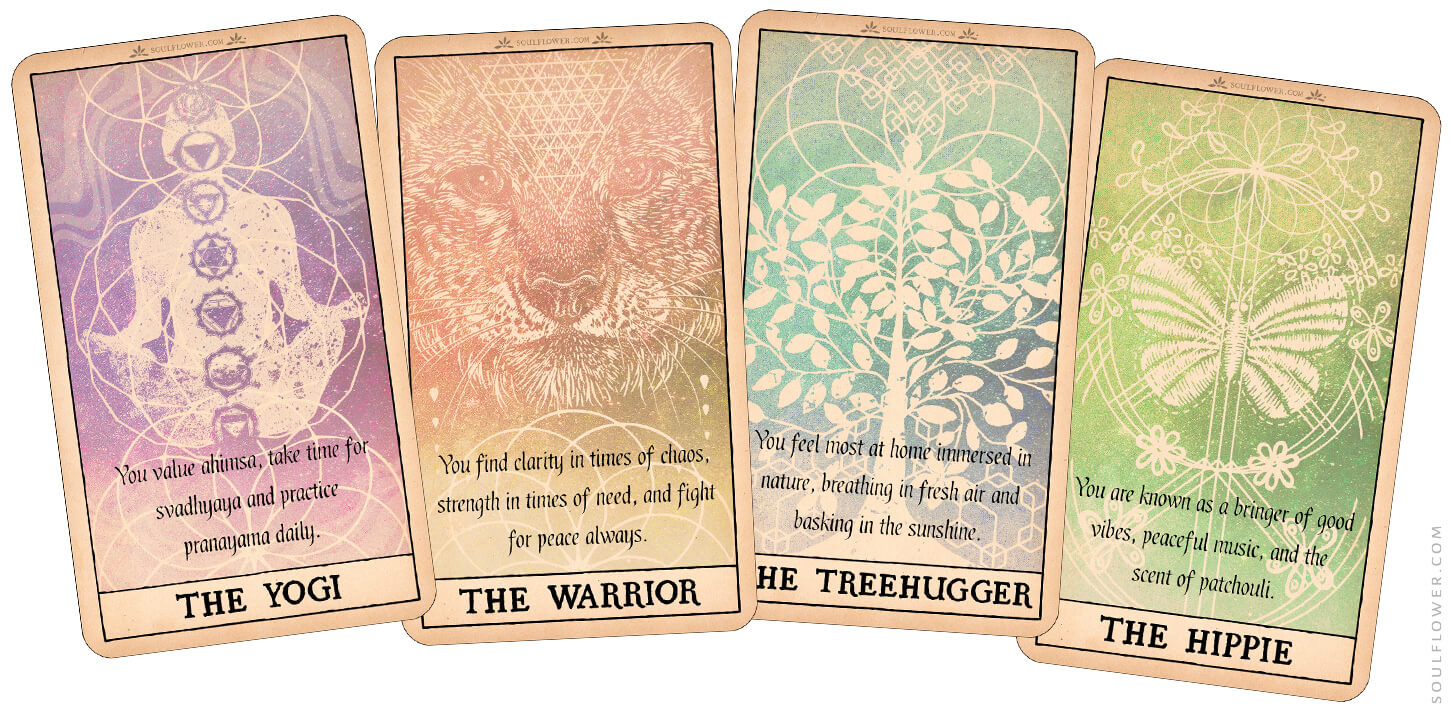 No, we didn't print them as real tarot cards. And no, we didn't create an entire deck. The history of tarot is epic! Plus, we pretty much just focus on making clothes, if you haven't noticed 🙂 We just made these cards for fun– something positive and powerful to share online. (Because who doesn't need more of that, amirite?)
The graphics on these "tarot cards" were straight-up borrowed from Soul Flower designs. The tree is from a super old-school Soul Flower design, Treehugger, which we created in the early 2000s and still lives on to this day! These cards were inspired by old designs, and they inspired new designs.
It's the circle of life, baby.
THE YOGI
[BLISSFUL]
You value ahimsa, take time for svadhyaya and practice pranayama daily.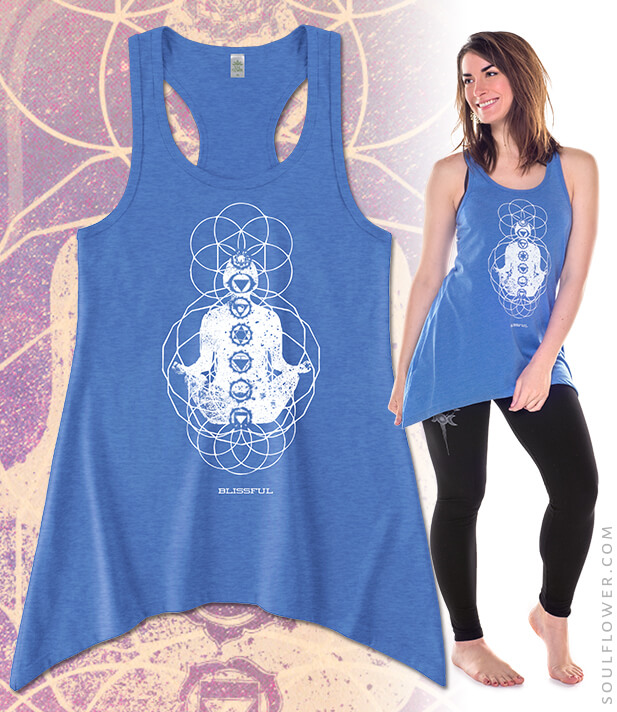 Blog Image
THE WARRIOR
[WARRIOR]
You find clarity in times of chaos, strength in times of need, and fight for peace always.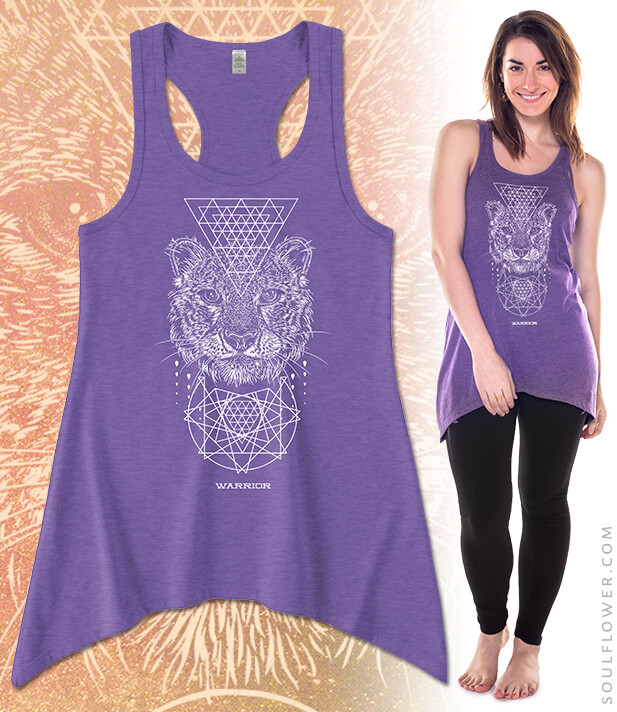 Blog Image
THE TREEHUGGER
[TREEHUGGER}
You feel most at home immersed in nature, breathing in fresh air and basking in the sunshine.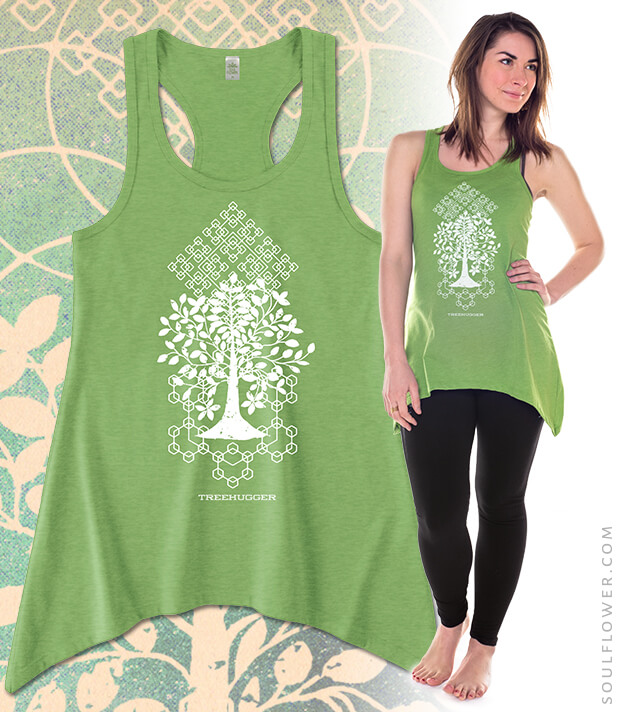 Blog Image
Each tank is 50% organic cotton and 50% recycled polyester (from plastic beverage bottles). They're made in the USA, dyed with low-impact dyes in 3 custom colors, and screen printed by hand in Minnesota. Eco-fashion at its best!
Shop>> All graphic tank tops for Women
---
Reading tarot cards is all about being mindful and tapping into your intuition and the wisdom of the universe. We humans like to tell stories, especially through imagery. And that's what we like to do at Soul Flower with our designs, too.
We manufacture our clothing using earth-friendly fibers, and put just as much thought into the graphics and art that goes on them. We like our designs to be thoughtful, and to tap into a higher consciousness.
What you wear can affect your mood, right?
Think about how you feel when you wear a glitzy dress vs. when you wear baggy old sweatpants. (Not saying one is better than the other… a girl's gotta have options!) So…
What happens when you put on a top that proudly states WARRIOR? Maybe you walk a little taller, speak your truth a little louder.
What happens when your shirt reads BLISSFUL? Maybe you feel your breath deepening and your heart a-fluttering with love for your fellow beings.
What happens when your clothes announce TREEHUGGER? Maybe you find more moments to zone out in your backyard and make plans for a weekend hike.
Whatever you need right now, be mindful and present of the world around you. The universe speaks: sometimes in whispers, in a warm breeze, in the crackling of a campfire, in art. Live your truth. Let your soul flower!