Sadly, this is my last post as a member of the 2015-16 Vibe Tribe for Soul Flower. It's been a fun year writing about things near and dear to my heart while wearing "cool threads for kind heads." Renee (Social Media bud at Soul Flower) has been wonderful with her email reminders and her words of encouragement and her sharing of appreciation from the staff. And it has been fun learning a bit about my fellow Vibe Tribers from their posts. Mara, Melina, Alia, Samantha, Rachel and Liz – thank you.
Throughout the past year, I have shared my experiences with meditation, living in the moment, life in an arts group whose members turn trash to treasure, an awesome clock & watch museum, my wife's passion for creating an urban oasis of plants and flowers in Philadelphia, and my own passion for authenticity which, in my case, could be summed up with the phrase "don't worry; be hippy."
To close out this year-long adventure, I would very much like to introduce my constant feline companions, frequently referred to as The Cats of Raven's Wing. Nora, Max, Clara, Jenny, Ellie, and Rennie brighten every day with their antics and affection. They were all rescues.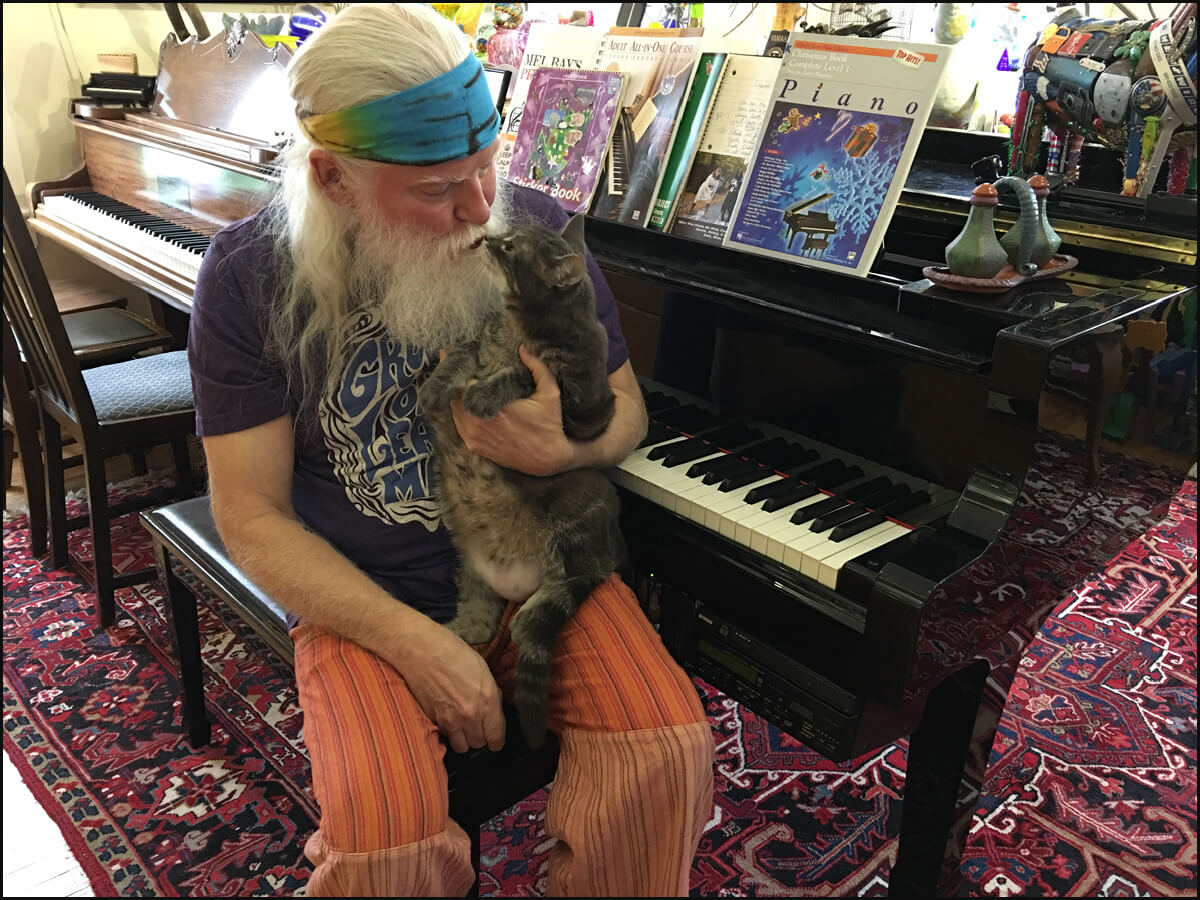 Nora The Piano Cat is the most famous of the pride, being one of the first cats to have a video, "Practice Makes Purr-fect," go viral on YouTube in 2007. She's been featured on TV shows that run the gamut from Animal Planet to Martha Stewart, Good Morning America and Lenny Henry in the UK, plus numerous magazines have carried her rise from stray kitten on the streets of Camden, New Jersey to the ASPCA's 2009 Cat of the Year. She's been the answer to a game show question and even made the New York Times Crossword. Her most prized possession, besides her shiny Yamaha Grand, is the 8×10 glossy she received from Billy Joel, with the inscription, "To the piano cat from the piano man." To say she's more famous than me would be an understatement. She even had a concerto written for her based on the riffs she has played on the piano. It was composed by Lithuaian composer/conductor Mindaugas Piecaitis and was premiered in 2009 by the Klaipeda Chamber Orchestra with Nora projected onto a large screen behind the musicians. The piece is called CATcerto, and it's on YouTube here. (Nora's YouTube channel can be found here.)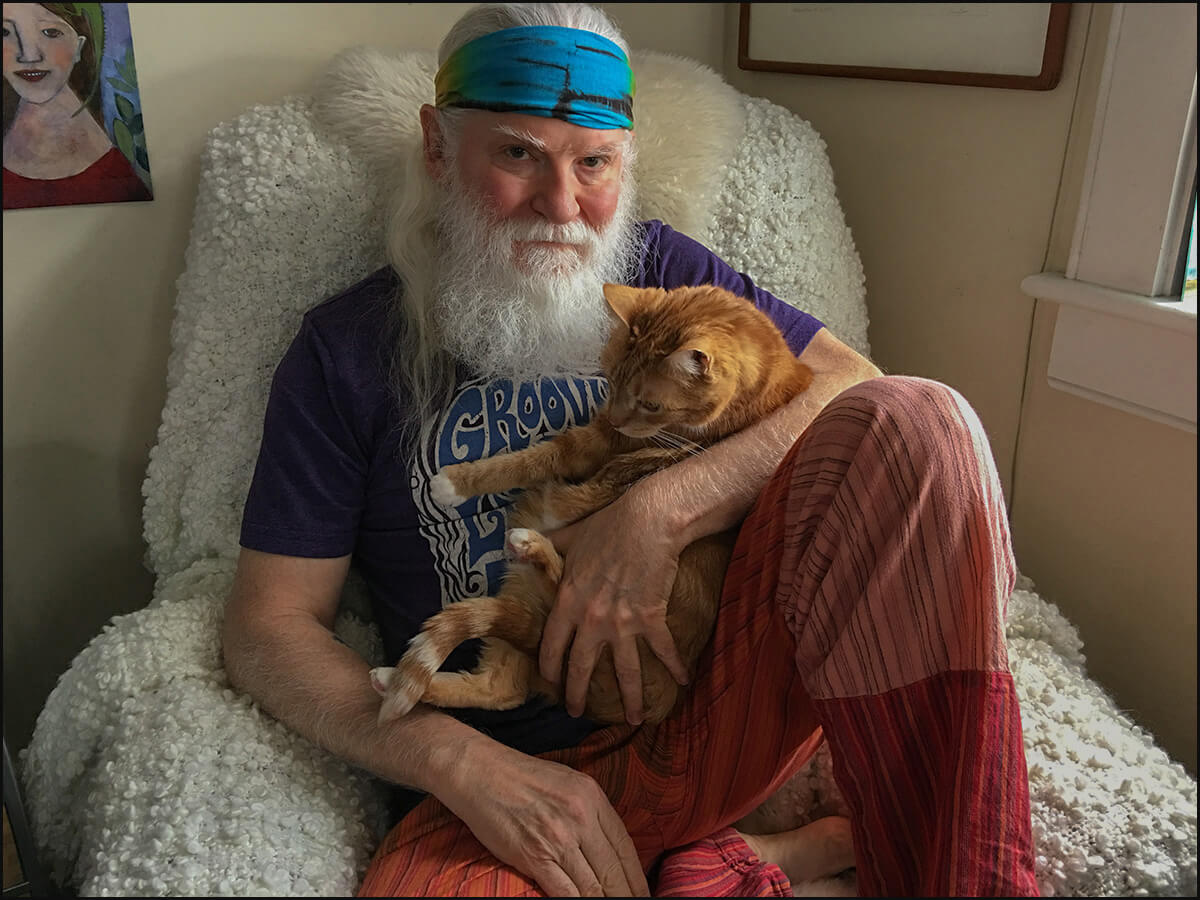 And then there's Max, named for the German-born surrealist artist, Max Ernst. Max and Nora have never gotten along. And there is no evidence that, eleven years later, this is likely to change. But with us he is extremely affectionate and obsessed with giving kisses.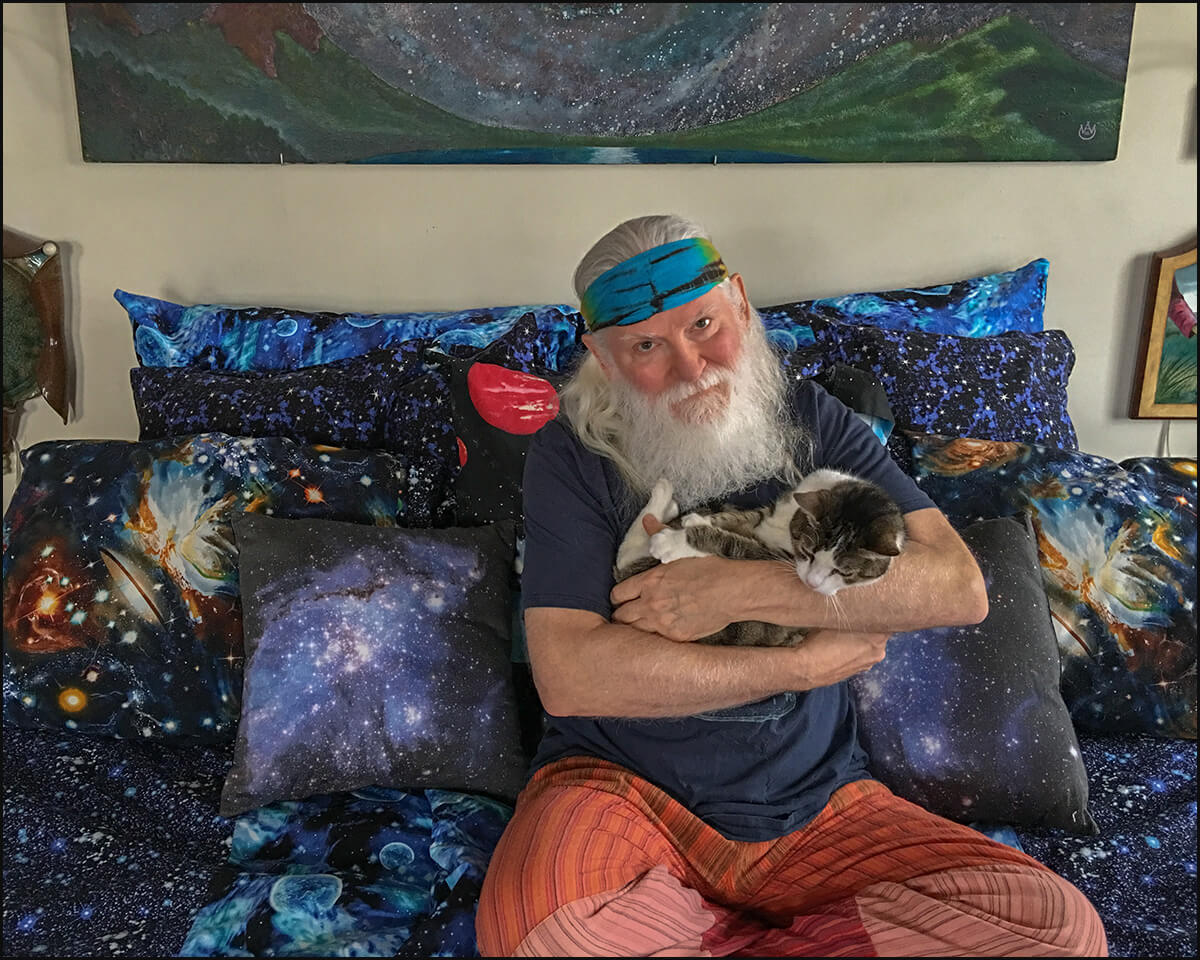 Clara, named for the composer Clara Schuman, is the real talker of the group. She even barks.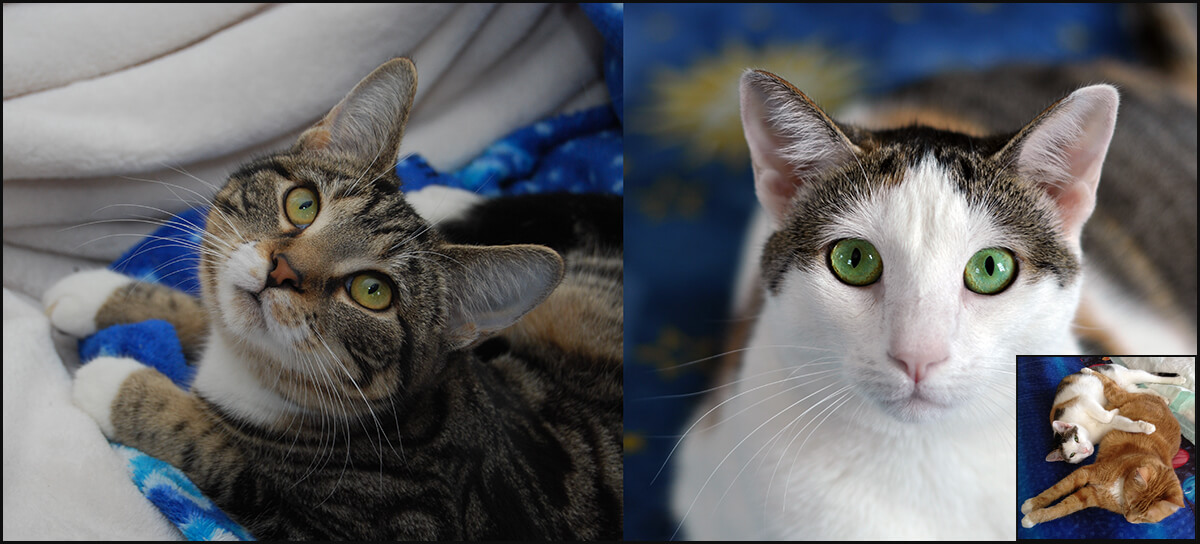 Jenny and Ellie, named for a composer and a painter, respectively, came to us together as rescued feral kittens. For the first year, we only saw Jenny at night, and my wife, Betsy, and I were the only ones she would grace with her presence. This behavior earned her the nickname, Vampire Kitty. Ellie, while always out during the day, still hisses when we enter the room – six years later. However, she adores Max and they hang out constantly. Jenny has become our most affectionate cuddle cat. She will now even tolerate the presence of visitors, but scrutinizes them with suspicion, and only from a high perch where she can be well-hidden except for the eyes and ears. You can see Jenny in action as The Security Camera Cat on YouTube here.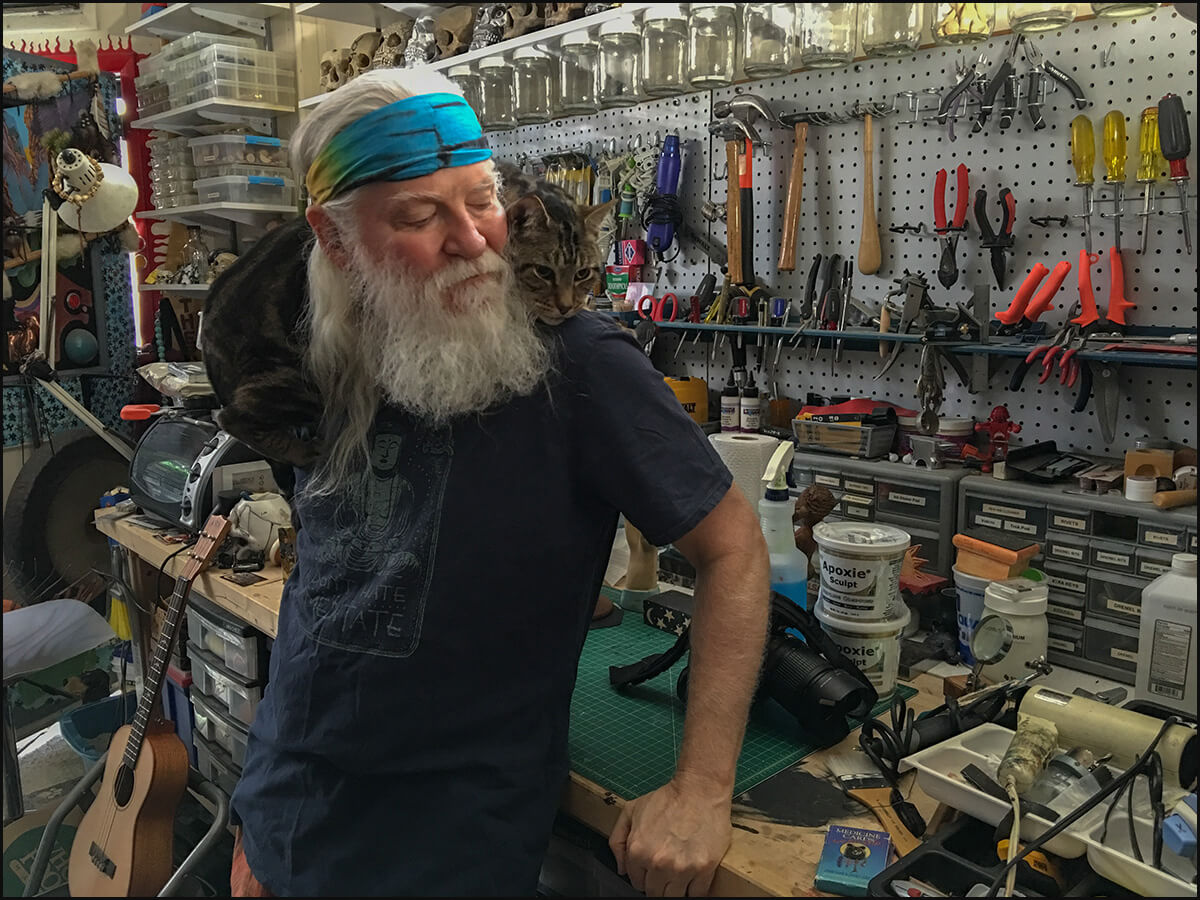 Rennie is my pride and joy, my studio cat, my meditation buddy. His namesake is the Belgian surrealist Rene Magritte. Rennie now lives in the art studio on the first floor, separated from the rest of our three-story house by a screen door. This is due to his reaction to Ellie, who at the age of three started peeing around the house. Rennie freaked and began stalking and attacking her. We had no choice but to install the door and make the studio his new home. He really seems to love having the space all to himself, and to have me to himself, as well. In fact, the studio is now sometimes referred to as "Rennie's World. Gratefully, Ellie stopped peeing after being put on kitty Prozac.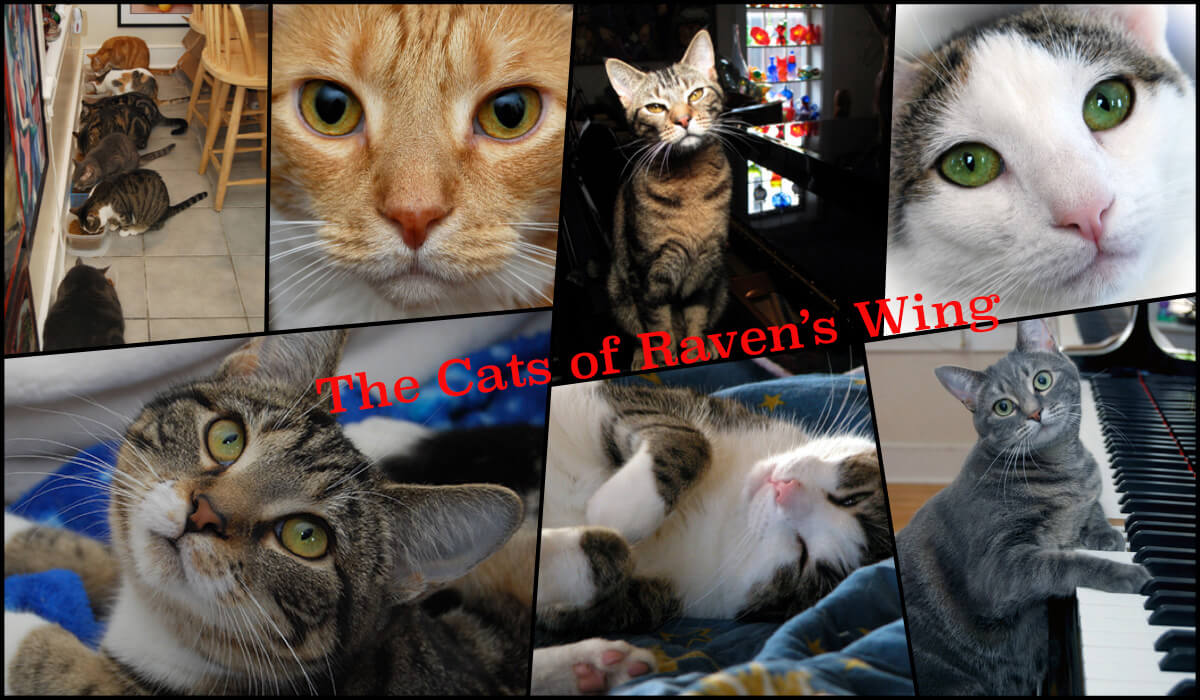 And there you have The Cats of Raven's Wing in a nutshell (On Instagram here.) They are as individual as children, energetic and quirky, a constant source of amusement, amazement, and unconditional love. I simply can't imagine a life lived without them.
And finally, a big thank you to the entire cast of characters at Soul Flower, who allowed me to bare my soul while clothing my body in "cool threads for kind heads."
Nora on Instagram
Nora on Facebook
---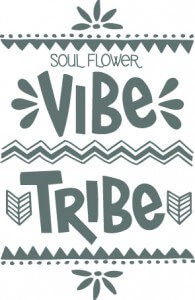 Blog Image
Burnell wore the Organic Cotton Tie-Dye Headband
---