Our 2021 Full Moon Calendar brings us 12 full moons and 12 opportunities to celebrate and be inspired! Read on for our 2021 full moon calendar and a bit of monthly advice and writing/meditation prompts inspired by each moon. Which 2021 full moon are you most excited for?
2021 Full Moon Calendar & Full Moon Advice/Prompts
Full Moons in 2021
Times are in EST
January 28 – 2:18pm
February 27 – 3:19am Best viewed the night of February 26
March 28 – 2:50pm
April 26 – 11:33pm
May 26 – 7:14am Best viewed the night of May 25
June 24 – 2:40pm
July 23 – 10:37pm
August 22 – 8:02am Best viewed the night of August 21
September 20 – 7:54pm
October 20 – 10:57am
November 19 – 3:59am Best viewed the night of November 18
December 18 – 11:37pm
Soul Flower Moon Clothing
The Moon is our closest celestial neighbor. It's a constant reminder of the bigger picture: the vast universe out there and each of us, here –together– on this one planet. At Soul Flower, we embrace and celebrate the moon in our art, screen-prints, stickers, and paper products. Our products feature unique artwork & positive sayings: check out our Moon Collection for fun and beautiful interpretations on our lunar love.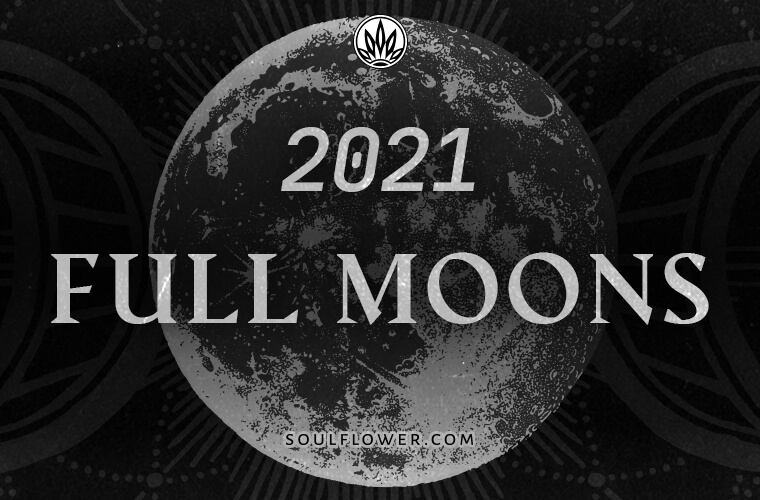 Here at Soul Flower, we combine free-spirited art & uplifting messages with eco-friendly materials to create mindfully-made clothing, accessories, & gifts that help you express yourself.
It's soul-affirming merch you feel good about rocking! Express yourself with Soul Flower and join your buds and fellow free spirits, eco warriors, happy hippies, and kindred souls in sharing the good vibes. Be kind, be yourself, and be the change you want to see in the world!
When you feel good, you do good!