If there's one thing I like nearly as much as meditating, it's adding to my rather large t-shirt collection. So adding an organic cotton "Don't Hate, Meditate" tee from Soul Flower is not only a good reason to celebrate, it gives me the opportunity to share why I feel meditating on sensory input is the key to honoring the Here & Now. There is nothing more glorious and rewarding to me than living in the moment, dare I say to wallow in the present as often and as fully as possible. After all, that's where life happens. Right? So why would I want to be anywhere else?
Blog Image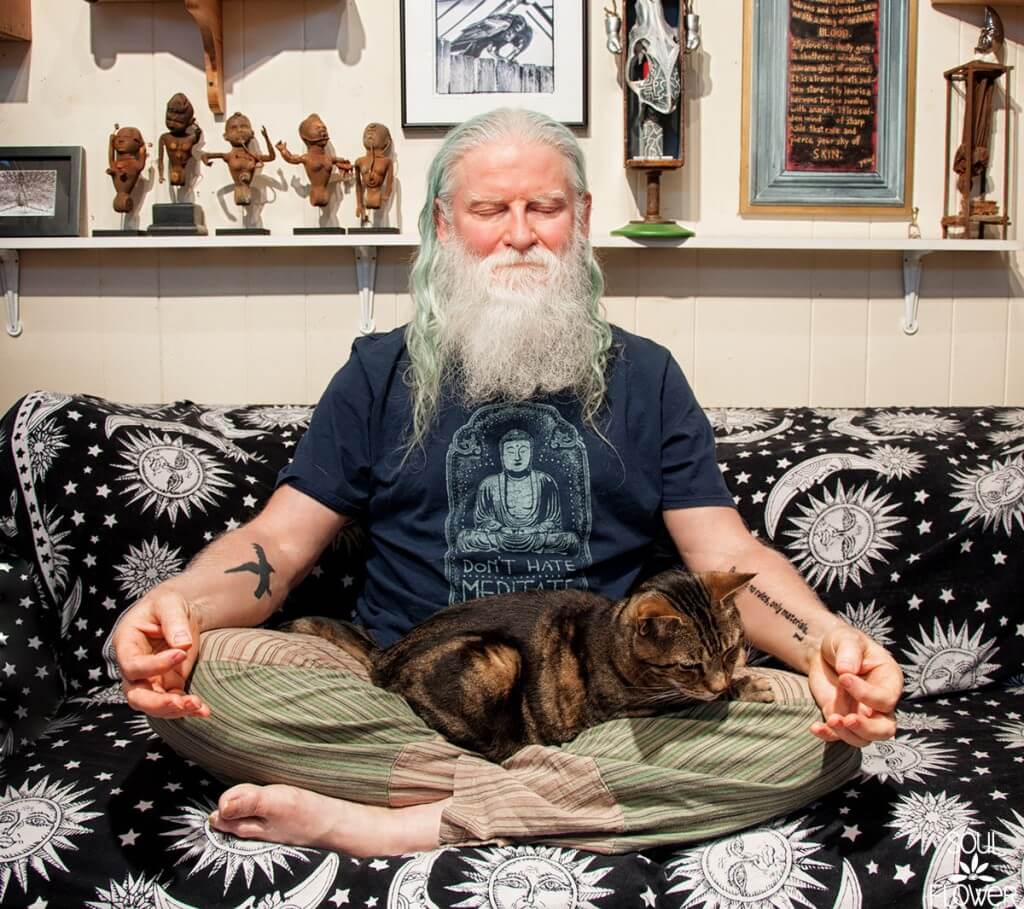 I began meditating using a repeated mantra in the seventies, but soon switched to simply following my breath or listening to the sounds around me. I have been a happy city dweller since moving from rural Michigan to San Francisco at the age of twenty-three. Then it was on to Chicago, Kalamazoo, Cleveland, and finally Philadelphia. For me, it's no leap at all for a car horn to become a bell of mindfulness. I even delight in the way snatches of conversation from passersby fade as they continue on past my studio door. We have five physical senses to help orient us in the physical world. Why not use all that input in a meditative way to ground us in the present moment? And my studio cat, Rennie, is more than happy to lend his purring to the meditative mix – a practice that has earned him the honorary title of Buddha Boy.
Blog Image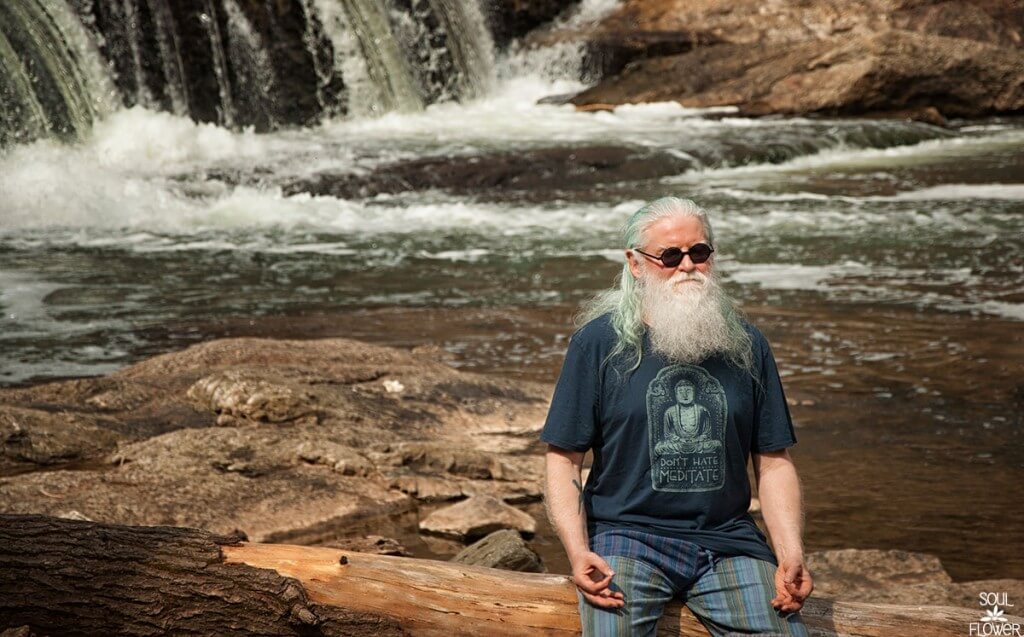 When my Michigan childhood memories of woods, river, swamp and creek begin to tug at my heart, my wife and I take a short twenty-minute drive to Wissahickon Creek, a tributary of the Schuylkill River (Wissahickon is a westernized version of a Lenape word meaning catfish stream). The creek runs through Fairmount Park in Philadelphia, PA. A favorite place for meditative listening is the Magarge Dam, as pictured above.
Blog Image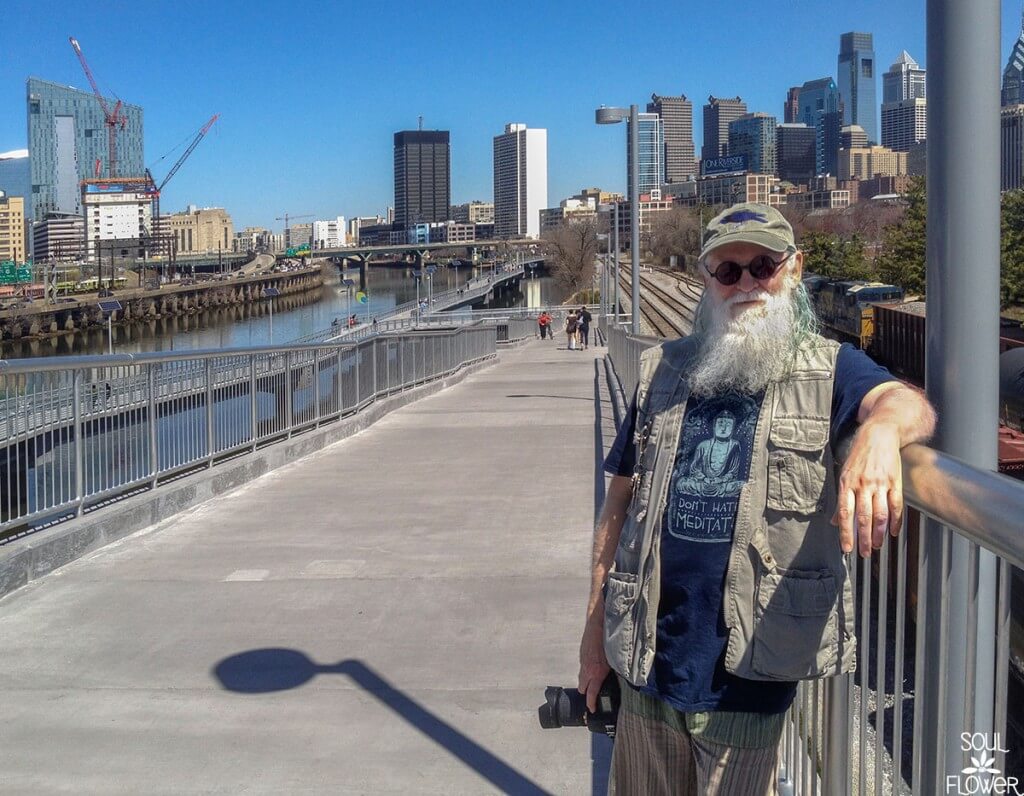 And then there's walking meditation, which, of course, can be done anywhere one can walk, but a favorite spot of mine is just a few blocks from our home/studio. It's called Schuylkill Banks and is part of the twenty-three-mile Schuylkill River Trail. My very favorite part is the recently opened 2,000 ft. boardwalk out over the river, as seen above.
So, whether in my studio with Rennie, in the wilds of Fairmount Park, or on the boardwalk over the Schuylkill River, you are likely to find me "meditating" and celebrating the Here & Now in cool threads from Soul-Flower.
---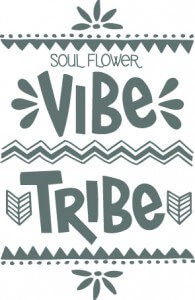 Blog Image
Burnell wore the Don't Hate Meditate Men's Organic Cotton T-Shirt
---