Music festival season is just around the corner and if you're anything like most other festival-goers, you're constantly changing up what you bring with depending on weather, location, activities, etc. Need a little inspiration and guidance? Look no further than our 5-step guide to every essential you could need!
1) The "Tool Kit"
This is your go-to bag for the staples that will keep you going from sun up to sun down. Think hydration, sanitization, sun protection, and other basics.
Auric Blends Perfume Oils– These slick little roll on perfumes come in numerous scents including Amber, Jasmine, Patchouli, Sandalwood, and more. They're also made in the USA and not tested on animals! Smell fresh all day (or week) long!
Reflect Klean Kanteen– We're a big fan of this 27oz water bottle to keep you healthy and hydrated. Made of sustainably harvested bamboo, food-grade silicone, and stainless steal, this BPA free jug is a environmentally responsible choice and will keep you plastic-free!
Dr. Bronner's Fair Trade & Organic Lavender Hand Sanitizing Spray- There's nothing worse than running out of soap in the public bathrooms or having sticky hands after eating and nowhere to wash up. That's why we love this great-smelling hand sanitizing spray.
Soul Flower Hemp Lip Balm with SPF– Hot tip…never spend a long amount of time outside without SPF lip balm. Trust us, your lips will thank you.
2) Cool Top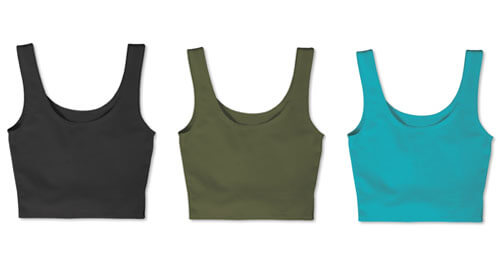 Stay (and look) cool in a simple organic crop top. Bonus points if you pair it with your favorite festival jewelry or cute scarf!
3) Tie-Dye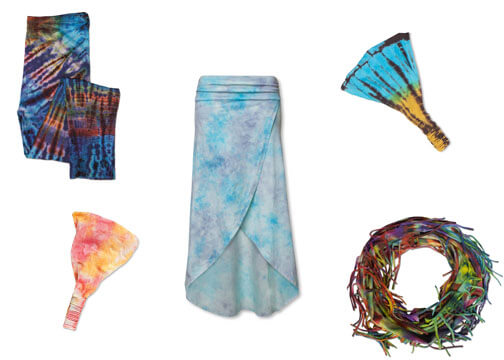 Not all tie-dye is created equal. Show off your unique style with a pattern/color scheme that speaks to you!
4) Storage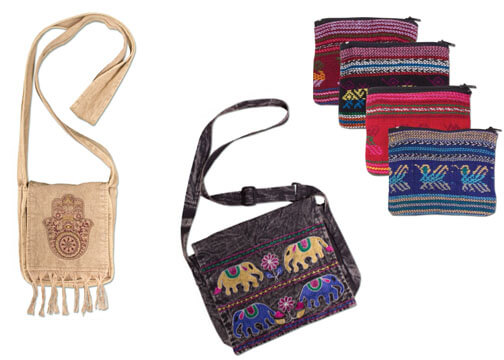 And finally…a place to store it all. I suggest bringing with a couple smaller bags to organize "tool kit" type things, a medium-sized bag to keep with you, and if it's longer than a day, a large duffle
Hamsa Passport Bag– This petite bag has all the necessities of a good festival bag: small enough to be out of the way, zipper top, and a cool design featuring a hamsa symbol and fringe.
Elephant Walk Bag- This medium-sized bag is great for storing larger necessities like water, a change of clothes, or a blanket to sit on. Plus it has a zipper pocket for your wallet and phone!
A Little Change Pouch– Use this sweet little Guatemalan pouch to organize your small things within your bags, or even as a wallet!
5) A Sense of Adventure!
Music festivals are great places for meeting new people, checking out new bands, and trying new things (like hooping, yoga, or dancing like crazy)! Let go of any concrete plans, and just see where life takes you! Remember, the point is to have fun and make memories!