Whether your trips are usually close to home, or in faraway lands, each of us has their own unique travel style! Find out your travel style with this quick quiz!
How do you prefer to travel?
By Car (1 pt)
By Foot (2 pts)
By Plane (3 pts)
By Train (4 pts)
What's one must-have you bring with on every trip?
Your Camera (1 pt)
Bug Spray (2 pts)
Your Passport (3 pts)
Crystals & Malas (4 pts)
What's your ultimate goal while traveling?
Experience the countryside (1 pt)
Re-connect with nature (2 pts)
Learn about a new culture (3 pts)
Re-connect with myself (4 pts)
While traveling, you usually spend the night…
Curled up in the back of your hatchback at a scenic wayside (1 pt)
Snoozing in a tent under the stars (2 pts)
Sleeping in a comfy bed at unique hotel (3 pts)
Sharing a hostel-style room with your fellow wanderers (4 pts)
Your favorite type of souvenir is…
Photographs you take along the way (1 pt)
Dirty shoes, and a happy heart (2 pts)
Foreign currency or postcards (3 pts)
A fresh perspective (4 pts)
While traveling, you're always down to…
Pull over for odd roadside attractions (1 pt)
Go for a swim in the nearest lake or river (2 pts)
Try foreign food (3 pts)
Spend some time meditating (4 pts)
Results…
---
Travel Style Quiz: Scenic Route (6-10 pts)
Your ideal vacation involves throwing your camera, your fave tunes, and a couple maps in your car and hitting the road! You're a shutterbug at heart and prefer seeing the country from the seat of your car. Road trips allow you to both slow down, and cover a lot of ground each day – the perfect balance for you! Your travel style is centered around clothes that are breezy, comfortable, and practical.
Must have Item: Everything is Connected Scoop T-Shirt
Blog Image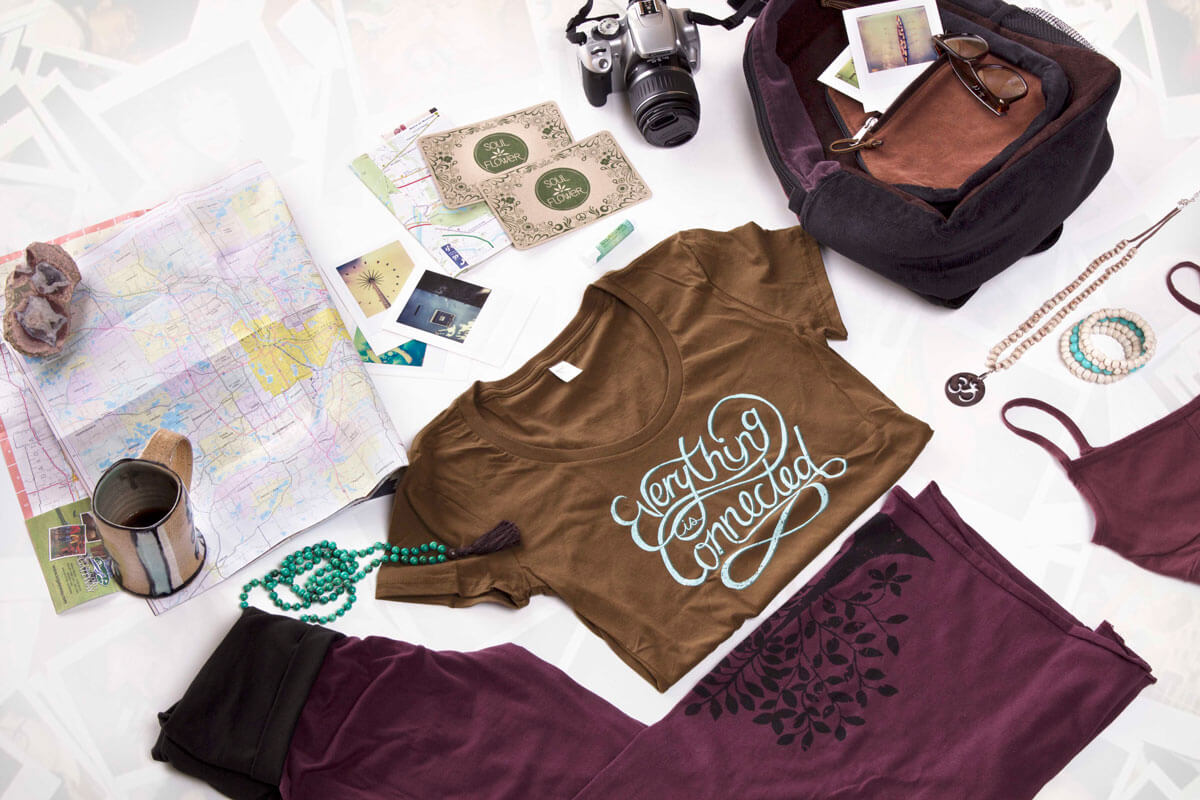 ---
Travel Style Quiz: Cabin Fever (11-15 pts)
For you, the best type of trip starts with leaving the stress of everyday life behind, and going out into nature. You crave fresh air, open skies, and the perfect hammocking spot. Your travel style involves earthy colors, and threads you can go hiking in.
Must Have Item: Mandala Organic Cotton Bandana
Blog Image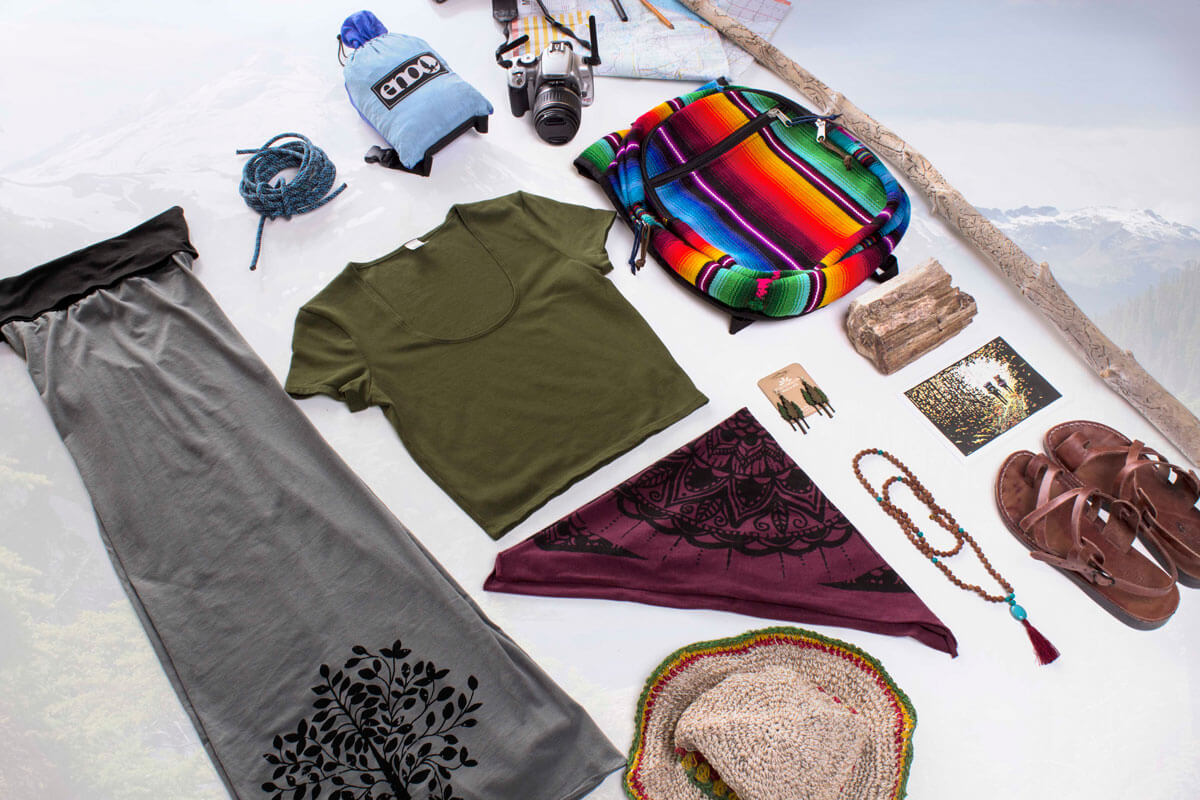 ---
Travel Style Quiz: Wanderlust (16-20 pts)
It doesn't take long for you to feel the urge to explore some place new! You feel most at home surrounded by new cultures, foreign languages, and unique experiences. For you, international travel is the name of the game. Your travel style oozes comfort (hello long plane rides!), and bold patterns/graphics.
Must Have Item: Wonder and Wander Ebb & Flow Top
Blog Image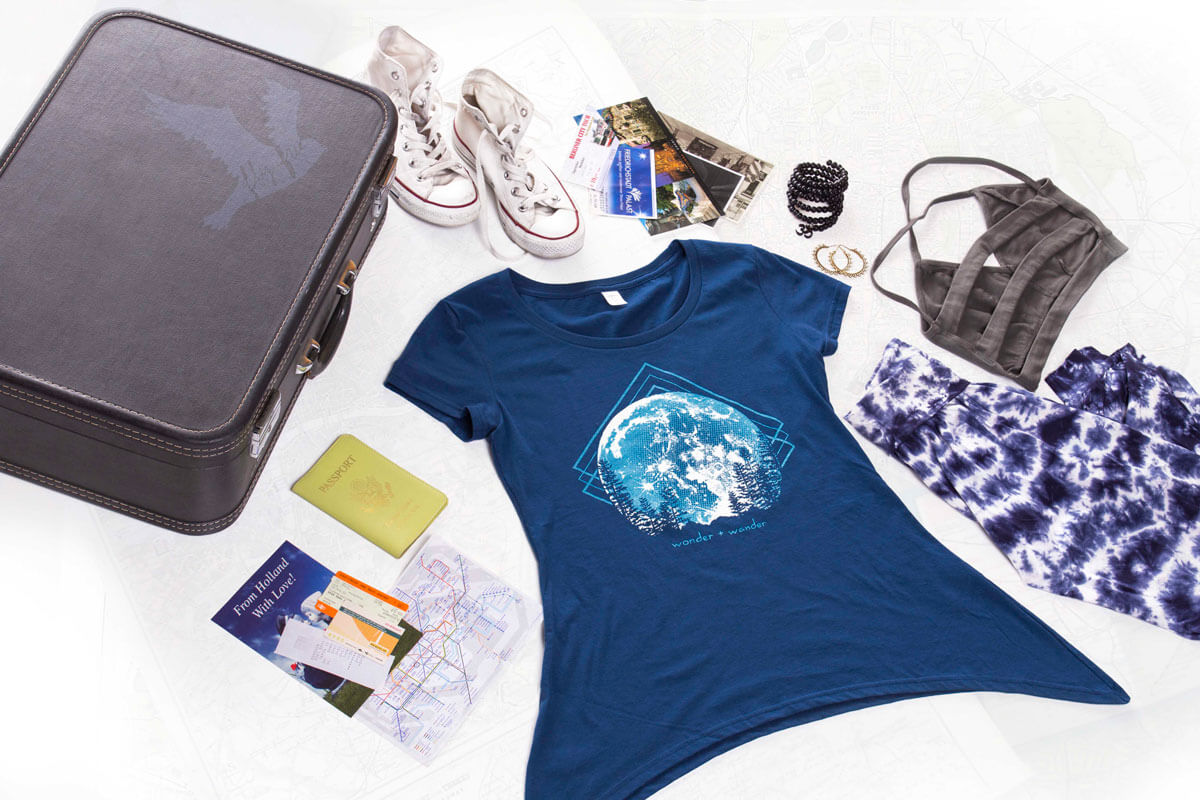 ---
Travel Style Quiz: Bali Bliss (20-24 pts)
You like to let your yogi soul shine while traveling and a secluded warm-weather yoga retreat is just your thing! You think of traveling as an opportunity to deepen your yoga practice, slow down the pace of life, and reconnect with yourself. Your travel style is best described as casual, athletic, and uses soothing colors.
Must Have Item: Stirrup Eco-Friendly Yoga Pants
Blog Image