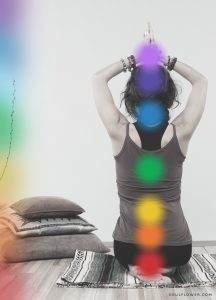 Blog Image Chakras are areas of energy in the body that run through your center from the base of your spine to the top of your head. The word "chakra" (prounounced "CHOCK-rah") is Sanskrit, meaning "wheel", which refers to the spinning energy in each one. Each chakra has its own symbolism and each affects different aspects of your being: physical, mental, and spiritual. The energy of a chakra can be low, high, or anywhere it between – it exists on a spectrum – but a chakra is never fully "closed." The chakras work best when balanced. Keeping that in mind, you can work to activate your chakras one at a time, starting with where you feel needs attention. If you're unsure where to start, try taking a chakra balancing quiz online or just starting at the foundation (Root chakra) and work your way up.
The energy of chakras is a fascinating system of self-exploration that ties in well with yoga, aromatherapy, crystals, meditation, and sound therapy. Each chakra has its own symbol, color, element, food, and even day of the week! Here, we've pared it down to just a summary.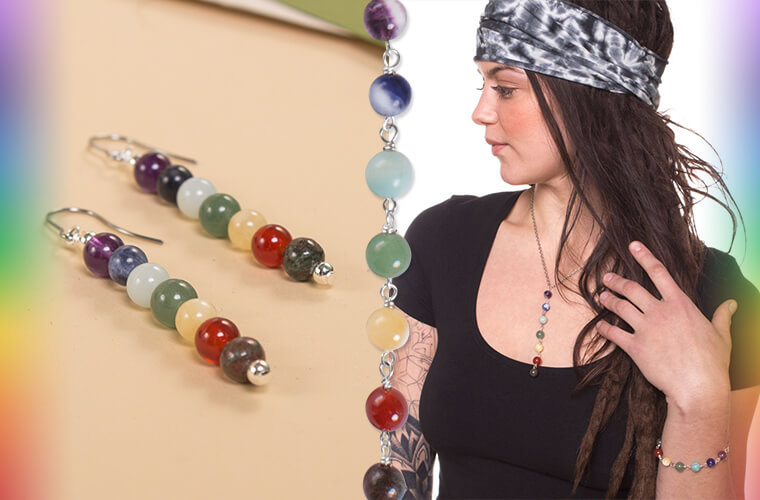 Blog Image
These symbols continue to inspire our art at Soul Flower. Being mindful and in tune with your soul are a couple of our core values. We just created a couple of chakra-inspired tops and accessories that each feature a single chakra design along with a positive message or mantra. We hope learning more about chakras inspires you to live your best life and helps you to activate your chakras!
1st CHAKRA: ROOT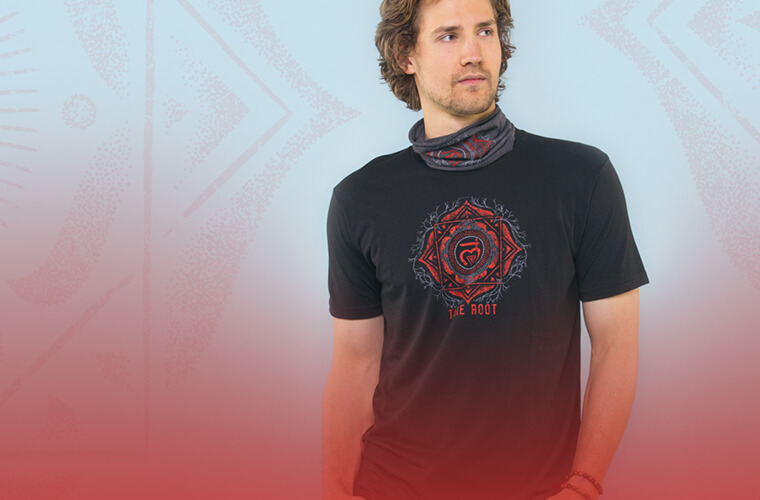 Blog Image
The red root chakra is located at the base of your spine and is all about your roots, your history, survival, and the material world. When this chakra is activated, you feel connected to the earth, safe, grounded, and in control. All other chakras depend on this one so be sure to start with your root chakra to activate your chakras: all good things come from a solid foundation.
Activate the Root Chakra:
Get in tune with your physical body through exercise, yoga, dancing, or walking.
Connect with nature by taking a barefoot walk through the grass, taking a nap in the shade, or spend time relaxing at the foot of a tree.
Use aromatherapy to boost your root chakra [1]. The part of our brains responsible for processing smells is located right next to the primary place for memories. Recreate some of your favorite smells from childhood (chocolate chip cookies, anyone?!) to activate those warm, fuzzy feelings of love and belonging.
Smell earthy cedarwood or sandalwood.

Blog Image
2nd CHAKRA: SACRAL

The orange sacral chakra is located below the navel in the hips and is the center of your emotions, desires, and pleasure. When this chakra is activated, you feel alive, sensual, desired, and are enjoying everything. You are in touch with your emotions and are trusting toward others [2].
Activate the Sacral Chakra:
Indulge in some sensory pleasure by savoring your favorite dark chocolate or fruit tea. Or bite into a sweet, ripe mango or some melt-in-your-mouth roasted vegetables. Savor each morsel; food is one of life's simplest pleasures!
Tap into the elemental energy of water by going swimming, taking a bath, or relaxing next to a body of water, fountain, or waterfall.
Get intimate with a partner, give yourself a massage, or go on a date someplace exciting. Or get in touch with your body through a balancing yoga flow.

Blog Image
3rd CHAKRA: SOLAR PLEXUS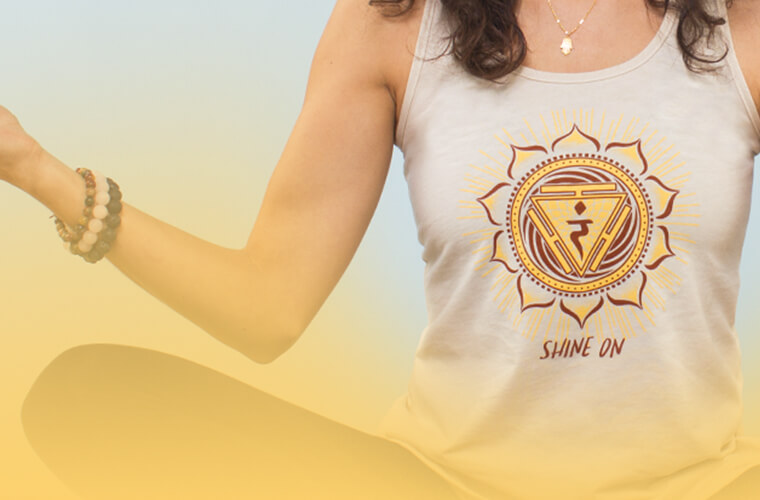 The yellow solar plexus chakra is located in your belly and is your source of power. When this chakra is activated, you respect yourself and others, and feel outgoing, happy, relaxed, yet energized. Power in this chakra helps you transcend your ego and find motivation and zest for living your best life.
Activate the Solar Plexus Chakra:
Tap into the elemental power of the sun and fire: soak up some sun, stoke a campfire, or simply light the flame of a single candle.
Ignite some heat in your belly by enjoying spicy foods or ginger tea.
Anything you can do to feel powerful: practice core strength with pilates or yoga, wear something that makes you glow, or jam out to some rock music.
Lift your mood with lemon.

Blog Image
4th CHAKRA: HEART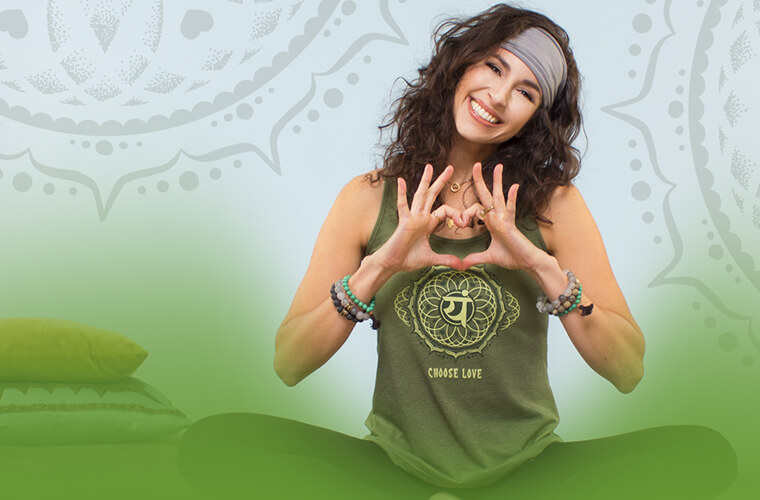 The green heart chakra is located at your heart center and is the balanced, compassionate center of your being. When this chakra is activated, you feel friendly, outgoing, and connect easily with yourself and others. You practice unconditional love, empathy, and nurture your relationships.
Activate the Heart Chakra:
Give hugs! Show your love for others and express your gratitude for your closest friends and family members. Lock eyes and smile at the barista.
Practice self-love daily. Whatever that means for you, whether it be dancing, listening to music, candlelit baths, yoga, or playing with your furbabies.
Soak up some green: walk amongst trees, start a garden, or add a few house plants to your home.
Wear balancing green jasper or calming ylang ylang.

Blog Image
5th CHAKRA: THROAT

The blue throat chakra is all about self-expression and finding your voice. When this chakra is balanced, you feel empowered to speak your truth and communicate with others. You may be inspired to make noise: with your breath, in song, or by expressing yourself through writing.
Activate the Throat Chakra:
Get some energy flowing through your throat, literally! Sing along to your favorite songs, hum with the radio, or practice the freeing yogic lion's breath.
Spend time journaling your whirlwind thoughts. Understand yourself more so you can communicate more effectively with others.
Connect to others through the power of communication by teaching your niece a recipe, having a heart-to-heart conversation with a friend, or just focus on really listening to others when they try to connect with you.
Boost your system with tea tree oil.

Blog Image
6th CHAKRA: THIRD EYE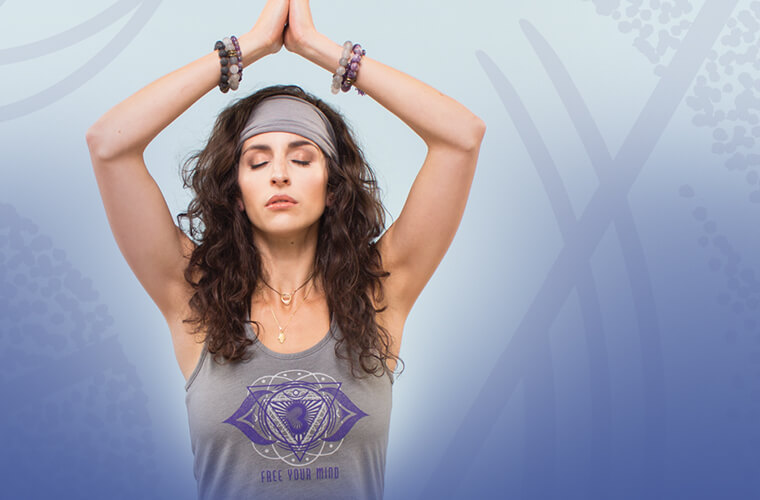 The indigo third eye chakra is located at the center of your forehead (at the brow) and is all about inner vision, insight, imagination, and clarity of thoughts. When this chakra is activated, you feel focused and steady. You may feel as though you're seeing everything from a higher perspective: beyond ego and petty worries or fears. You may experience glimpses of past lives, have lucid dreams, or feel in touch with a "sixth sense" of perception beyond explanation [2].
Activate the Third Eye Chakra:
Practice entering states of flow: when you're so engaged in an activity that you lose track of time and space. These activities serve as concentration exercises, moving your attention from your brain's chatter to the activity at hand. Whether it's drawing a mandala, practicing yoga, or coding software, flow states transcend us.
Make a vision board for your future, or practice free-writing (writing by hand for a set amount of time without stopping to think). See what treasures you can unearth by exploring your higher self.
Free your mind: read books, ask questions, read the lyrics, dig deep researching topics that interest you, meditate as often as you can, explore…
Release physical tension with amethyst and soothe overactive brow energy with lavender.

Blog Image
7th CHAKRA: CROWN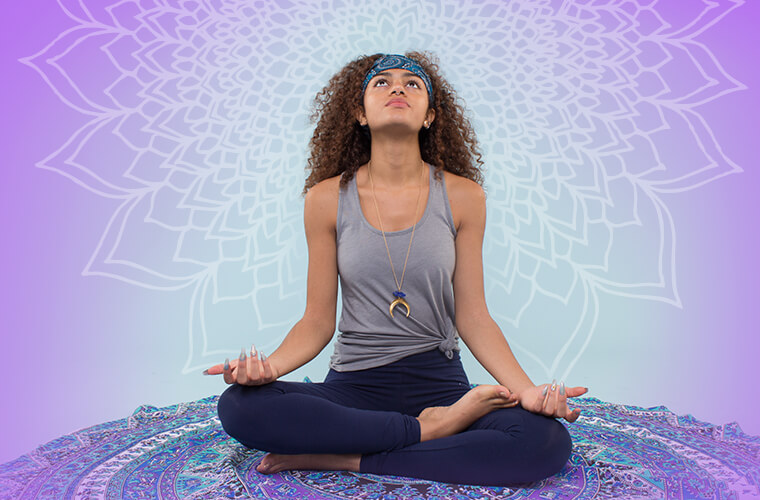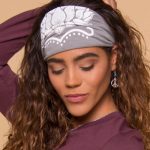 Blog Image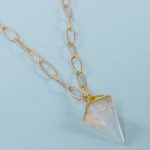 Blog Image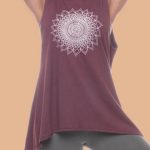 Blog Image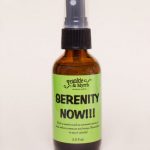 Blog Image
The violet crown chakra is located at the top of your head and is all about consciousness. It's important to work on the other six chakras first before this one, as the energy here is supplied by the others. When the crown chakra is activated, you've found your soul's purpose. You feel enlightened, knowing we are all connected and everything is love. There is no limit to your bliss and you are in complete control of your mind.
Activate the Crown Chakra:
Meditate. Strive for control over your mind. Practice meditating anywhere, any time. If you struggle sitting still, try a walking meditation and sync your breath to your steps.
Let your mind ride the waves of pure vibrational energy by listening to classical music or om chanting (or voice the ommmm yourself).
Continue your journey. The symbol for the crown chakra is the thousand-petal lotus, a reminder of the vast beauty that can unfold when you keep going on the journey to becoming your best self. Do something every day that helps you step into the person you want to become; the enlightened soul you know is within.
Strengthen your connection to the divine with sacred frankincense, and amplify your positive energy with clear quartz [1].

Blog Image
Find a Chakra Tank Top! >>
Shop our Chakra Clothing! >>
We hope this advise helps you to activate your chakras, starting with where you feel needs the most attention. Further reading:
[1] "The Key to the Chakras" by Vicki Howie
[2] "Chakra Workbook" by Pauline Wills
"Awakening the Chakras" by Victor Daniels, Kooch N. Daniels, and Pieter Weltevrede