Are you more of a Yogi or an Earth Warrior? A Hippie or a Free Spirit? Vibing Higher on the daily or yearning for a trip with your Wanderlust heart? It all starts with an eco-friendly Soul Flower look & maybe some vintage finds from your closet. Then we top it off with some eco, local, black-owned and artisan-made products for shopping inspiration.

Find your own inspired outfit and share/comment which personal style fits you best (or maybe even which 2 or 3 or all of them)!
Wanderlust Outfit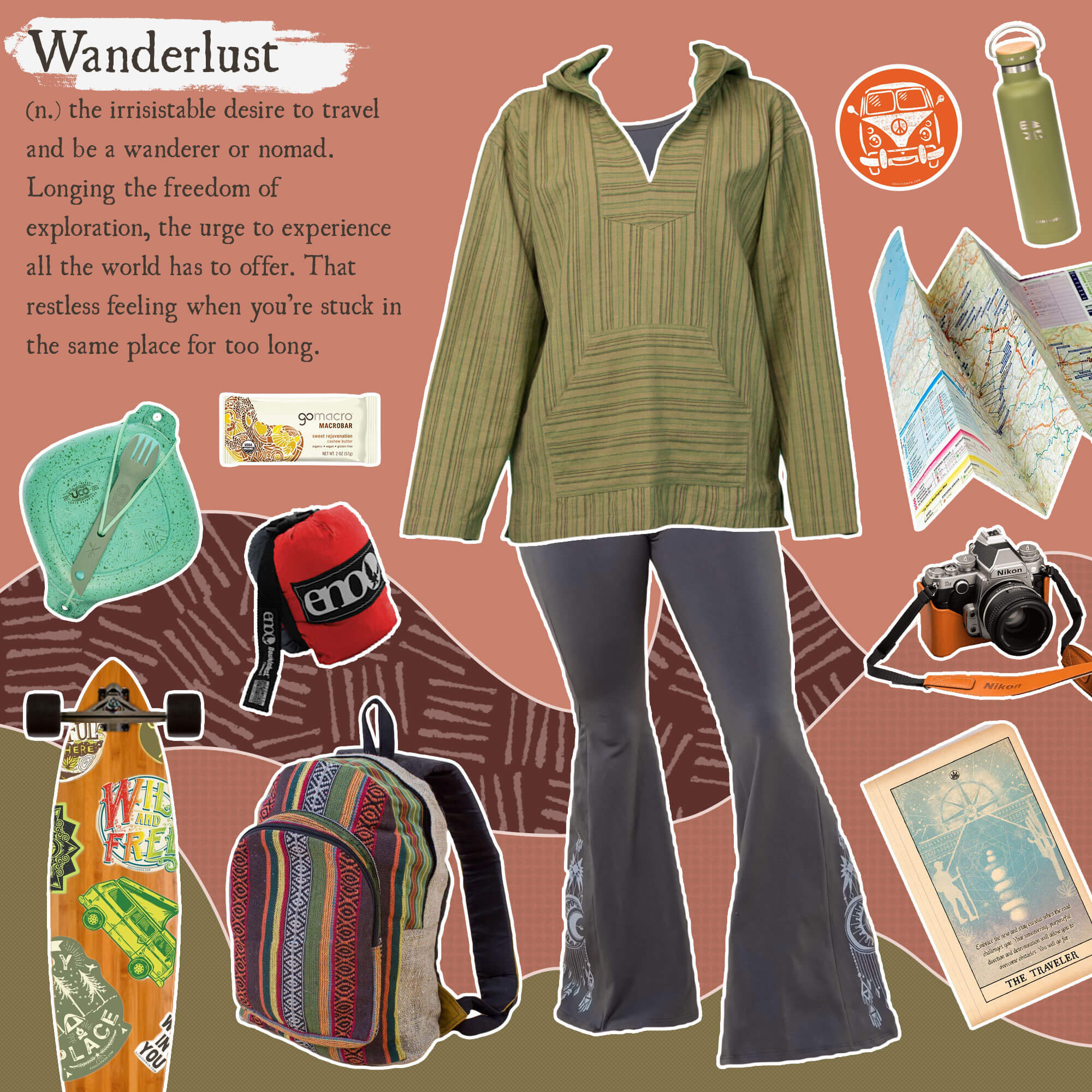 Make a Wanderlust Outfit! Here are some tips to dress like the Adventurer you are:
A Soul Flower Striped Hippie Hoody
Some groovy Bell Bottom Leggings
A boho Backpack to keep all of your goodies in one place
Hammock to rest & rejuvenate on your travels
Eco friendly reusable dishes for your campfire dinners
Snacks & A reusable Water Bottle
Some stickers to decorate that bare bumper you're rockin'
A Bamboo Longboard to explore by foot…er small wheels
Journal to record thoughts & experiences from your travels
A map & camera so you never get lost & and always have a memory to bring home
Vibe Higher Outfit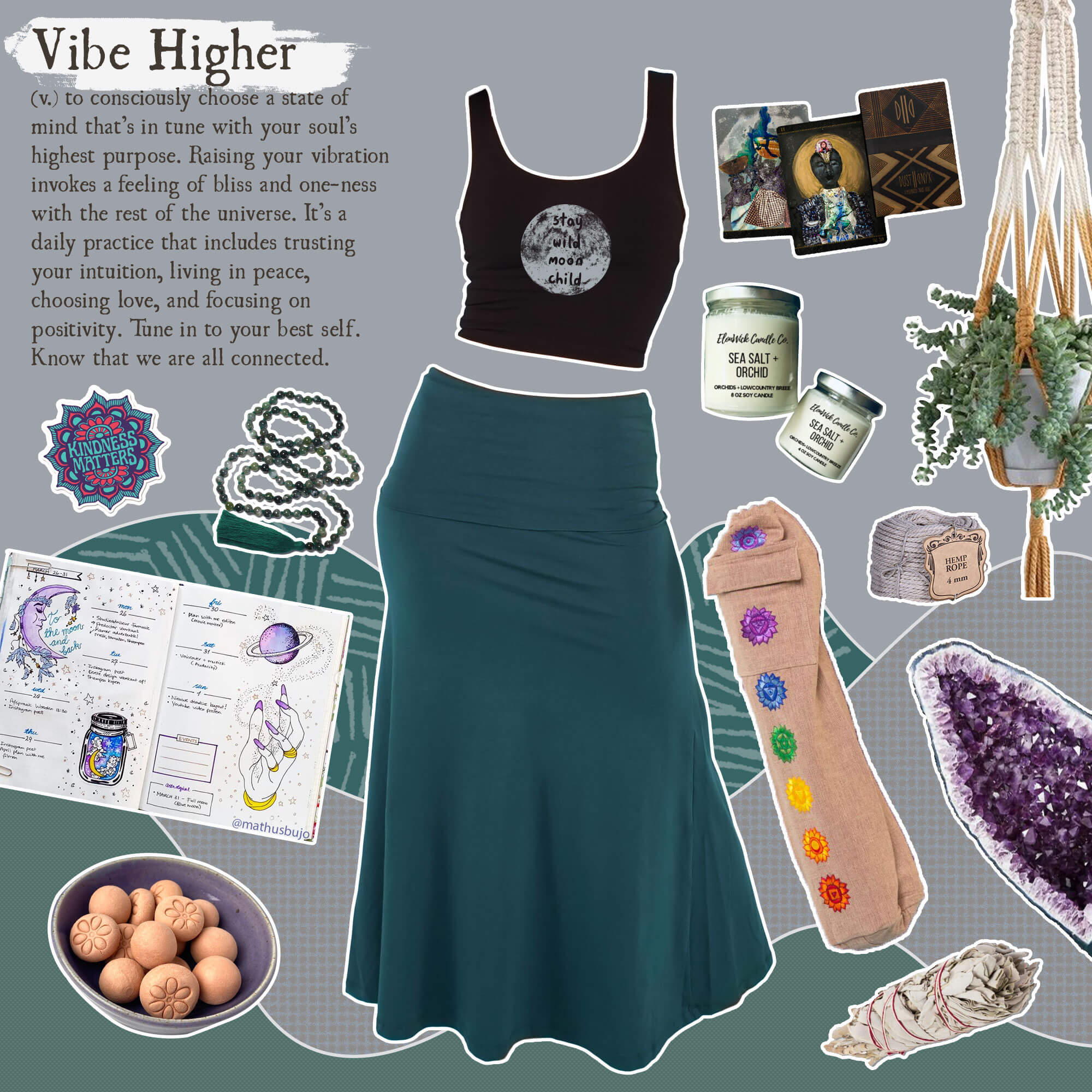 Make a Vibe Higher Outfit! Here are some tips to dress like the Goddess you are:
A cropped Soul Flower Moon Child Tank
Flowing around with a Fair Trade Multiwear Maxi Skirt Dress
Lighting some Sage or adding essential oil to a Natural Diffuser
Starting a bullet or daily journal
Learning to read Tarot Cards
Using your Chakra Yoga Mat Bag to take yoga in the park
Lighting some Candles to meditate
Getting some Hemp Rope to learn Macrame
Vibing with amethyst crystals or Mala Beads
Making sure your values are present with some Inspirational Stickers
Free Spirit Outfit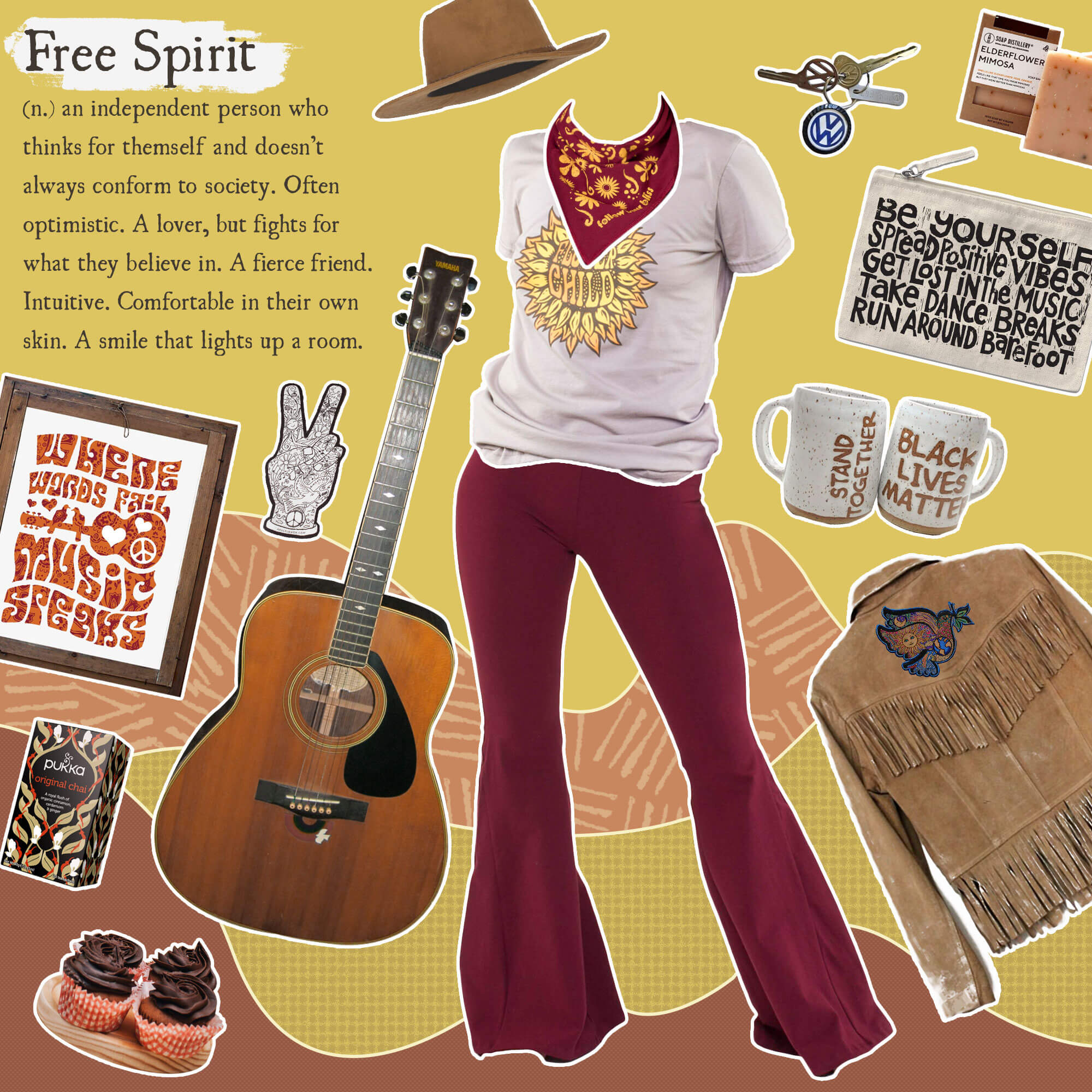 Make a Free Spirit Outfit. Here are some tips to dress like the Soulful Force you are:
A Soul Flower Classic Flower Child T-Shirt
Some groovy Bell Bottom Leggings & a matching Headband
Vintage finds like a fringe jacket and old brown hat
The keys to get you out on that dirt road & a guitar to make music
Some Vegan Cupcakes to go with your Chai Tea
An Art Print to hang up around your home
Mugs that make you smile when you drink out of them
Soap that reminds you of the good times
An eco-friendly Pouch that holds all the small things you need around
A Peace Finger Sticker to remind you what you fight for every day
Earth Warrior Outfit Idea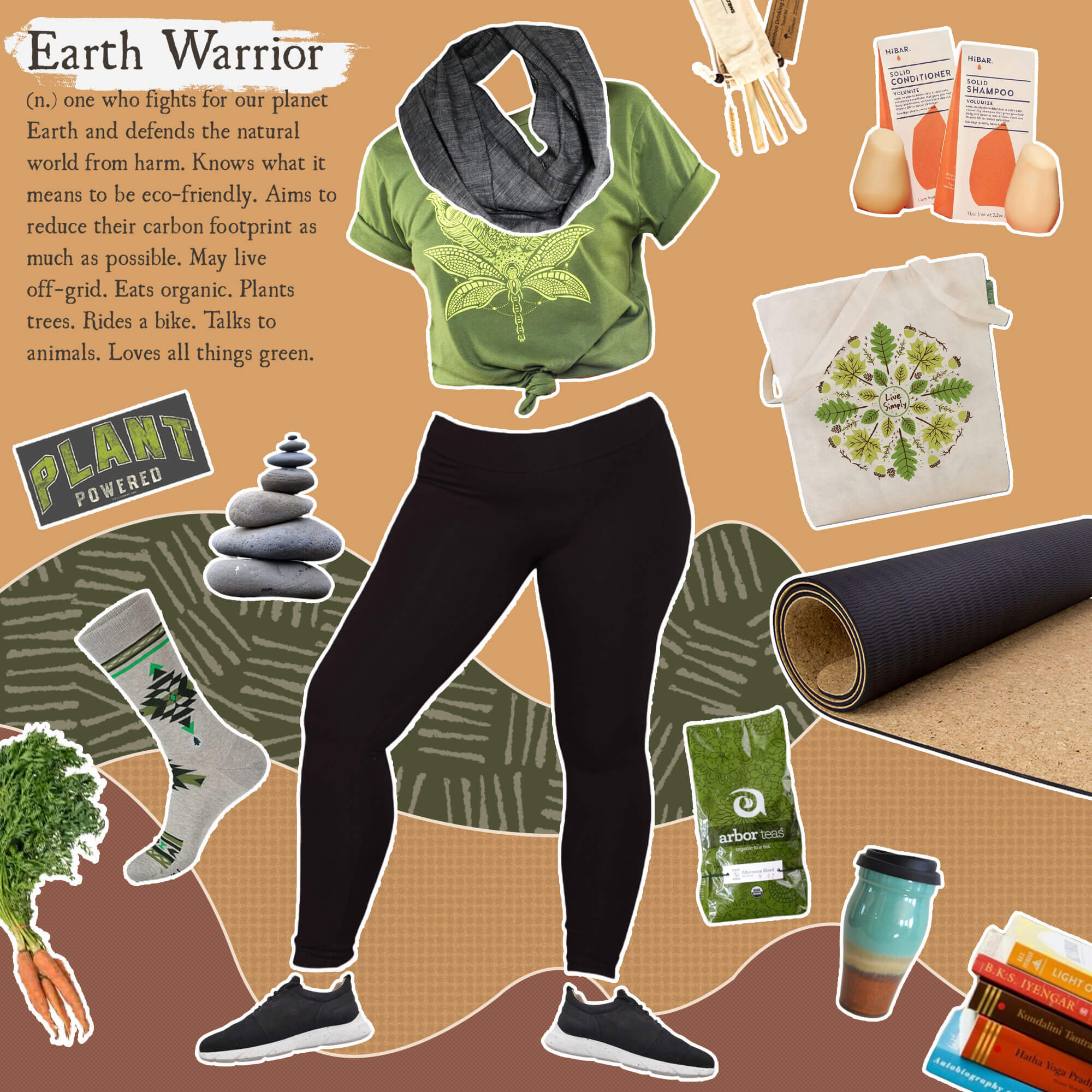 Make an Earth Warrior inspired Outfit. Here are some tips to dress like the EcoMama you are:
A Soul Flower Sacred Cannabis Hemp T-Shirt
Any pair of our comfy Organic Cotton Leggings
Eco friendly accessories like these Socks and Scarf and Hemp Shoes
Reading some Used Books on Healing and Meditation
Decorating your compost bins with this cute Plant Powered Sticker
Picking up local produce at a Farmer's Market in your reusable Tote Bag
Drinking some Tea out of a reusable Ceramic Travel Mug
Enjoying a stretch after a long run on your Cork Yoga Mat
Trading your bottled shower items for this Bottle Free Shampoo & Conditioner
Always keeping your Bamboo Reusable Straws on handy for your iced coffee
Yogi Outfit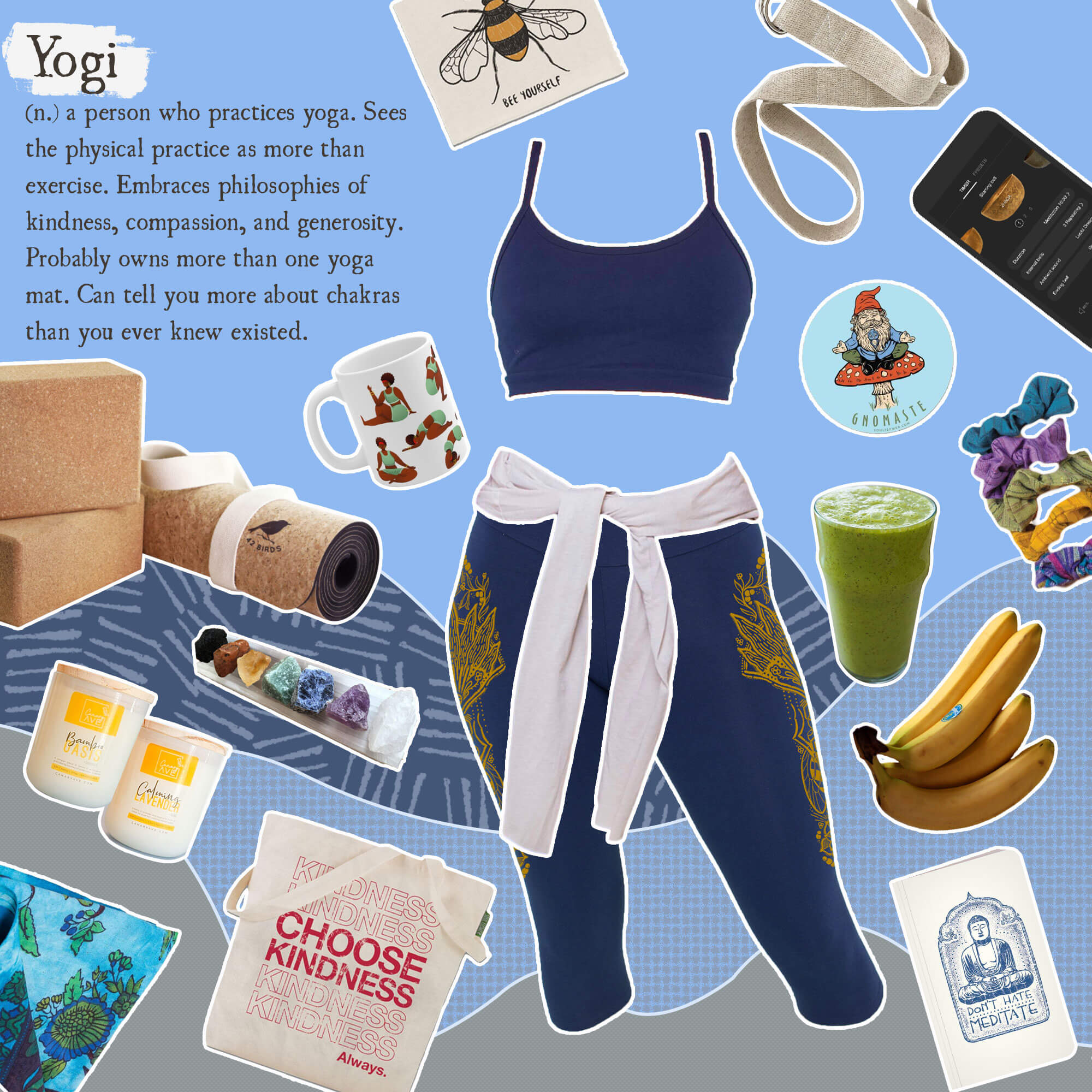 Make a Yogi Outfit. Here are some tips to dress like the Spiritual Guru you are:
Hippie Outfit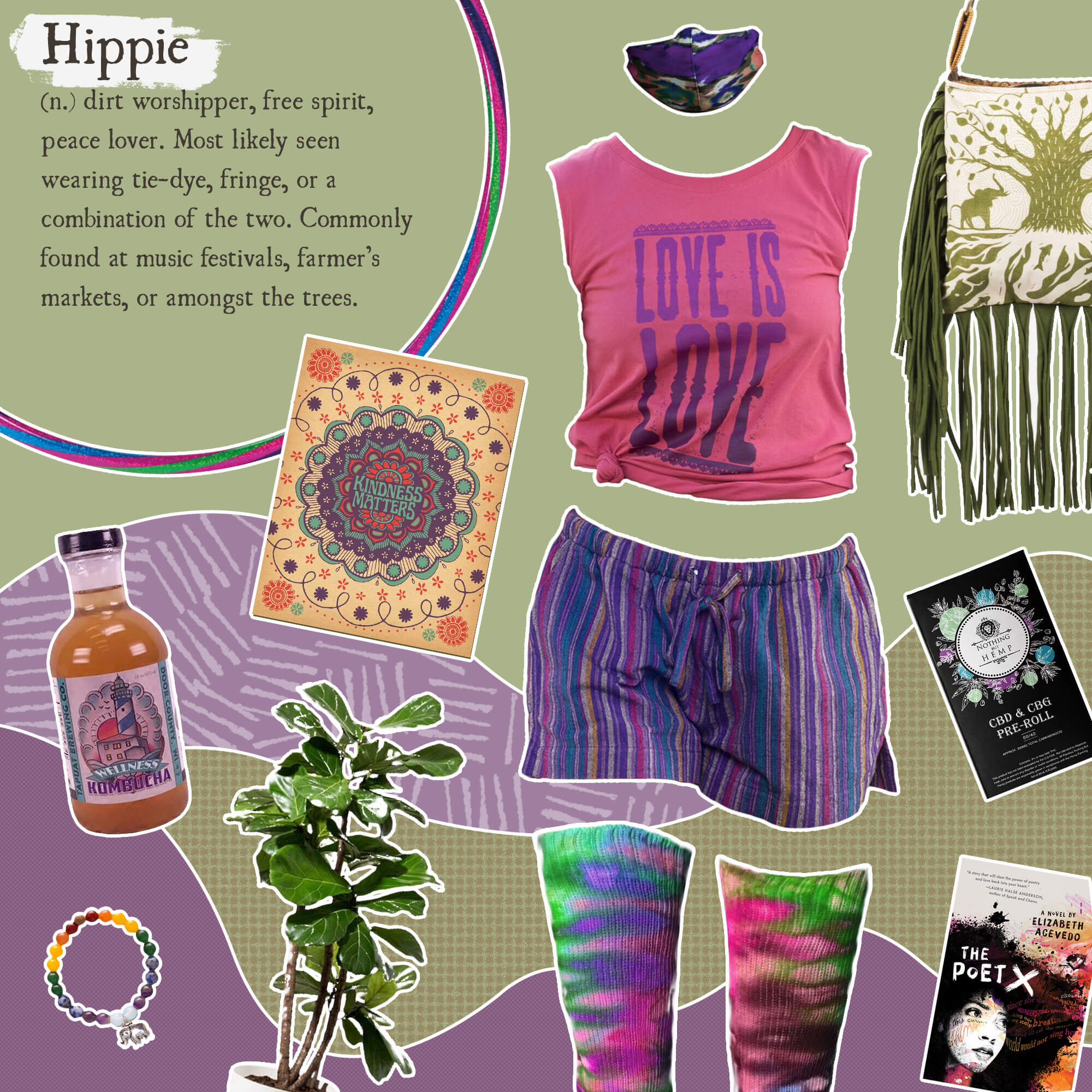 Make a Hippie Outfit. Here are some tips to dress like the Flower Child you are:
Our Soul Flower Love is Love Muscle Tank
Matching Striped Hippie Tie Shorts
DIY Tie Dying some knee high socks to match your new Mask
Learning some sweet new moves with your hula hoop
Settling down after a fun colorful day with some CBD pre-rolls
Relaxing in your plant room with a good Book
Drinking your favorite local Kombucha
Accessorising your look with a Bracelet to fit your mood
Picking up your favorite Boho Bag to keep everything together
Adding some Art Prints to your walls to show off your true vibes
No matter what your style, we love having you as a Soul Flower bud! Peace & Good Vibes friends.