Hey Wholesalers, have you seen all the new Soul Flower items available this Summer & Fall? With so many product choices (tote bags, paper products, clothing, headbands, stickers and more), we realize that merchandising Soul Flower in your shop can be a bit of challenge. So we put together some tips for DIY retail display ideas to help you out. And even better than buying new display cases, stands, and racks, most of these ideas use items you may already have around. These DIY retail displays are both creative & environmentally friendly!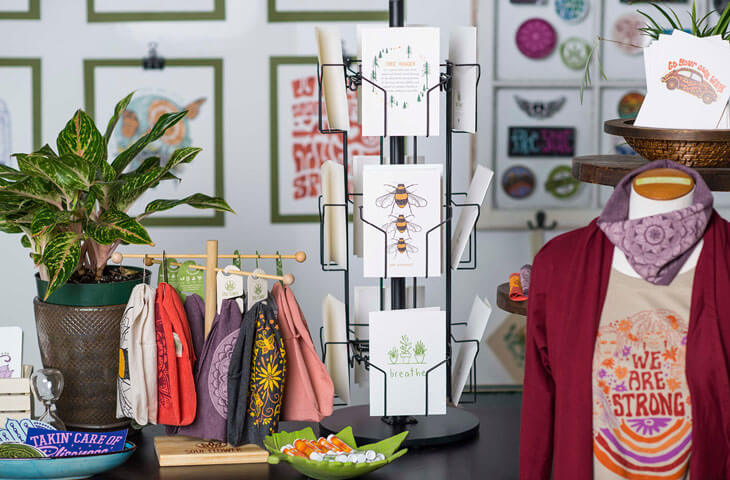 1 – Stack it Up to Create Levels of Interest
Float your display on the floor or up against the wall. Arrange benches, stools, small tables and crates around your main table. Stack bench, crates and fixtures on your table to create height and use fabric or tapestries to cover the structures and create a neutral canvas for placing products.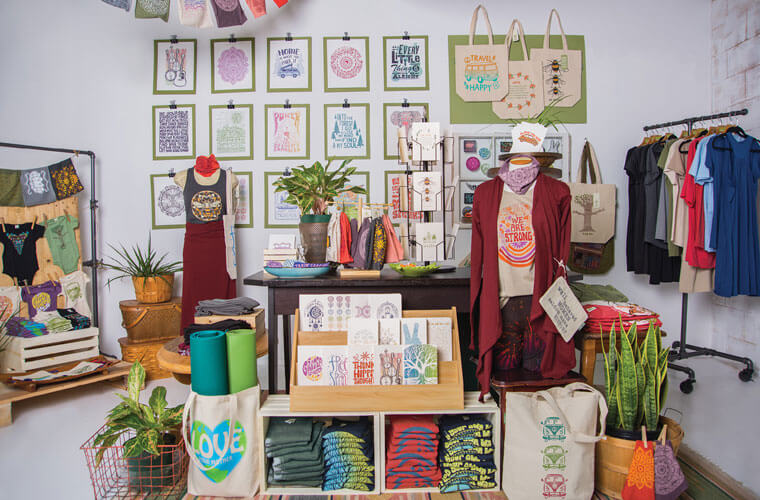 2- Benches and Crates Make the Perfect Shelves
Place product where it looks best. Benches are perfect for folded items and crates help to contain groups of product. We have heard that customers prefer to buy clothes on a table rather than on racks. The fun part here is finding something that suits your store: A music shop could stack tees on a refurbished record players. A nature shop could use an old wheelbarrow to hold stacks of tees. And a yoga studio could use a stack of blocks with tees on top!

3- Keep Small Items in Baskets, Bowl or Treys
We have so many wicker baskets around here – and always find a use for them for merchandising. People love to look thru whatever you have by the register so reuse all those old baskets, bowls, and boxes: stack lip balm and notebooks or mix and match cards and stickers. Your customers will enjoy looking at all the colorful collections!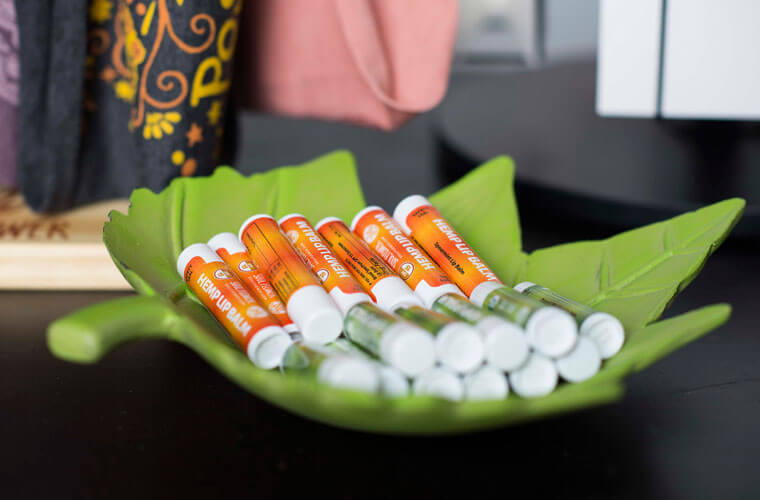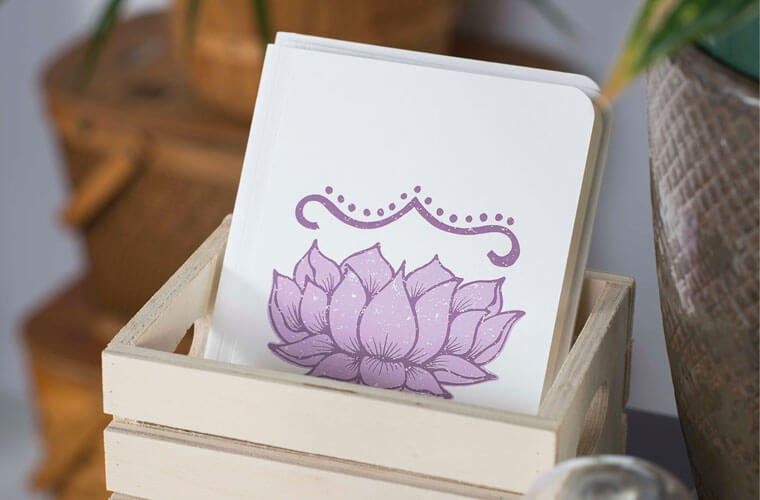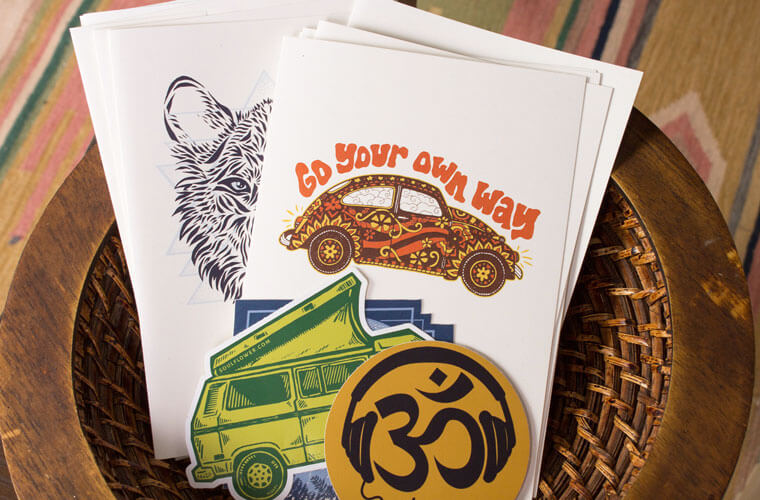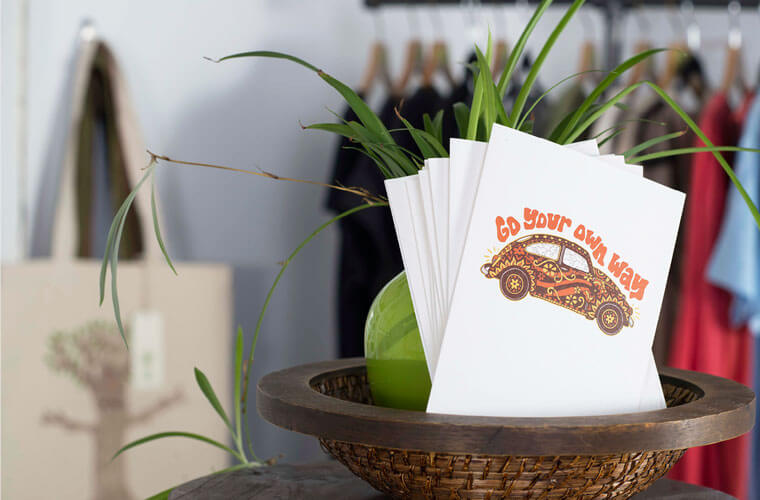 4- Hang Headbands like Prayer Flags
Showcase the unique heart-felt art on our Soul Flower Boho Headbands by stringing them on twine and displaying them like prayer flags. The colorful, unique artwork with stand out against a wall or hanging from the ceiling!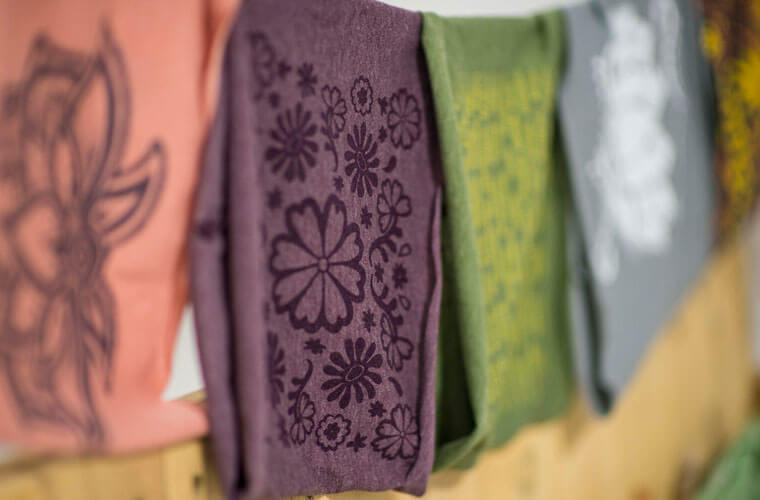 5- Make a Boho Totem
Create a table display with a recycled oatmeal container. The tube gives customers an idea of how the headbands are worn and the extra headbands can be placed inside the container. Be sure to place this stack near a mirror so your customers can see how great they look on!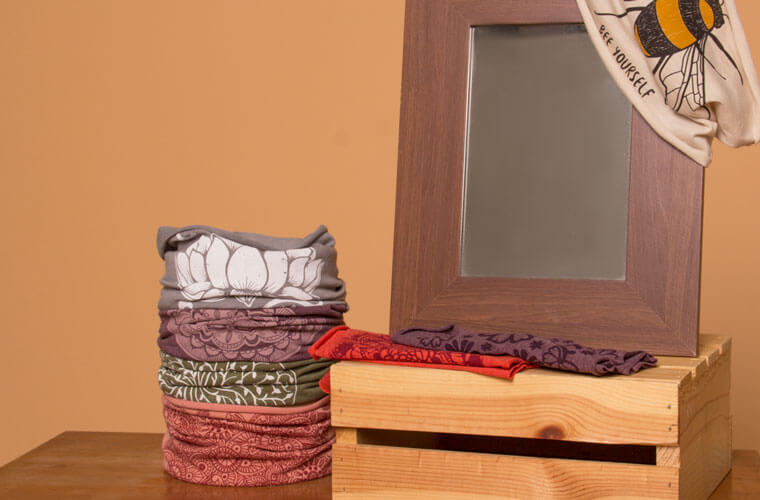 6- Use Space Near the Register
Encourage last minute add-ons when you display items in baskets or simply on the counter near the check-out.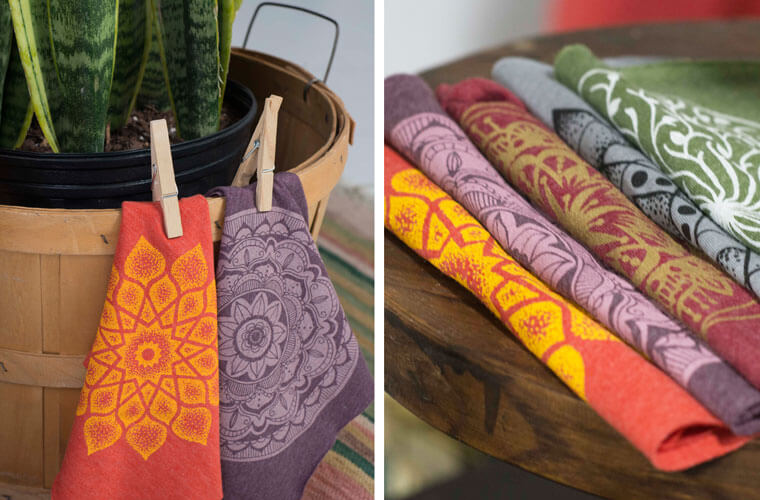 7- Use Hang Tags & Eco Facts
We have some wonderful educational and marketing materials available on our site right here. And all of our products come with hangtags! Our headband displays are free is you order 48 or more headbands – you can find the displays here.
8- Hang Art Prints with Binder Clips
Binder Clips are a great way to feature unique art and give your customers an idea how they can display posters in their homes. To make it pop off the white walls, we simply used an extra piece of craft paper to create a frame. (Watch for our upcoming blog post on displaying art prints for even more ideas!)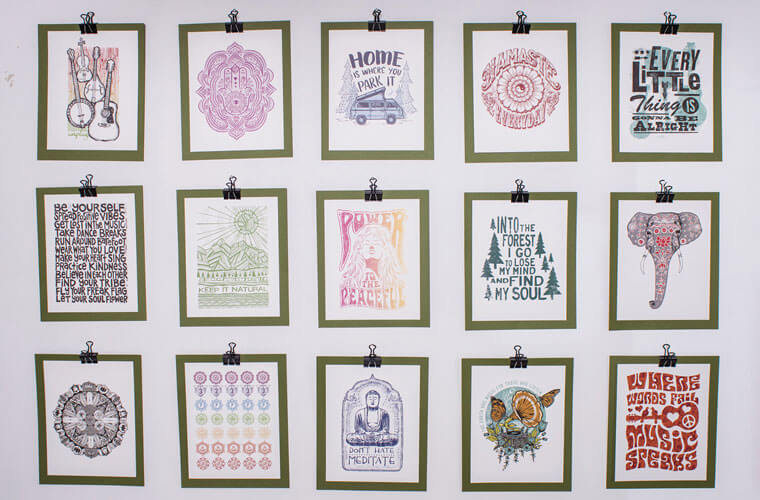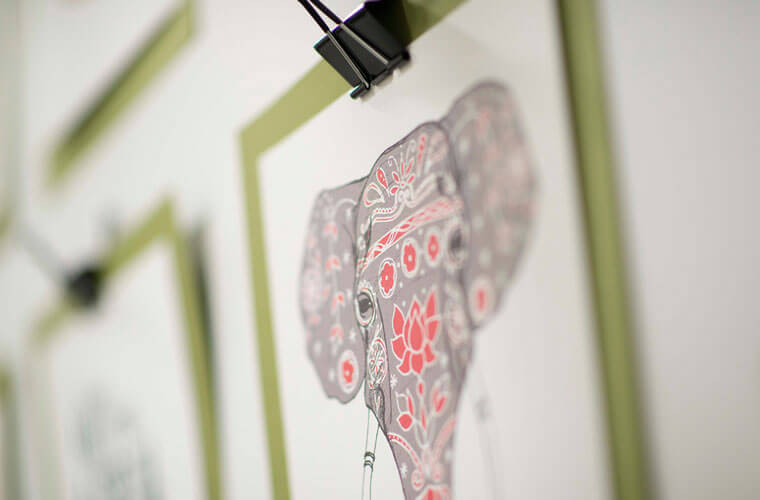 9- Hang Baby Items on a "Clothes Line"
Hang twine between two nails on the wall to merchandise your baby items. We used a few pallets, crates and plants to give create a fun "backyard" inspired display!

10- Display Stickers on an Up-cycled Window
An easy way to see all the varieties and keep it nestled in one place, an up-cycled window can be hung above a bench or table with sticker baskets underneath. Find more sticker display ideas here: DIY Sticker Display Ideas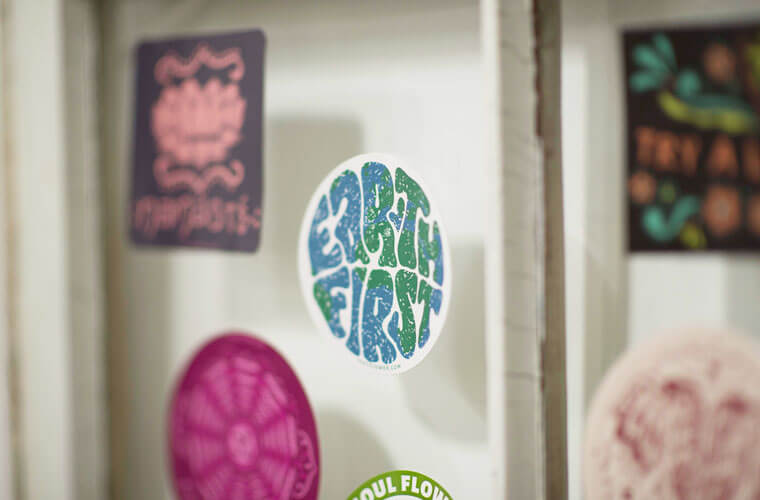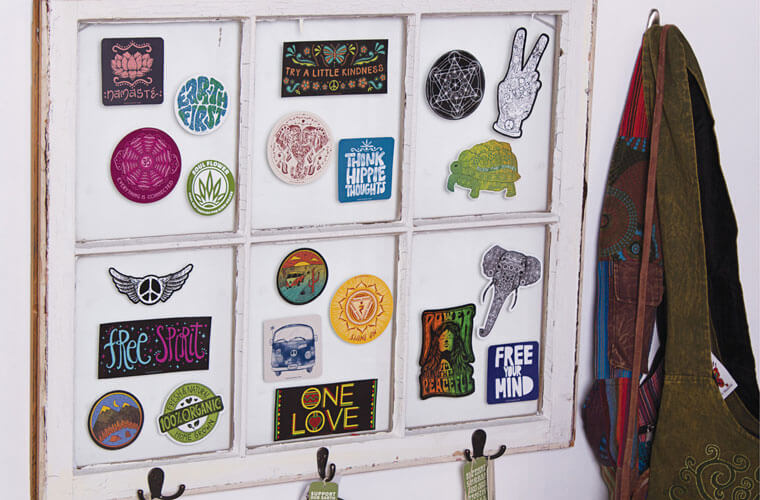 10+ – Show Totes as Art and Encourage the Use of Reusable Bags
Hang these cute eco-tote bags near the register and encourage customers to reduce and reuse! Plus the screen printed graphics make great wall art.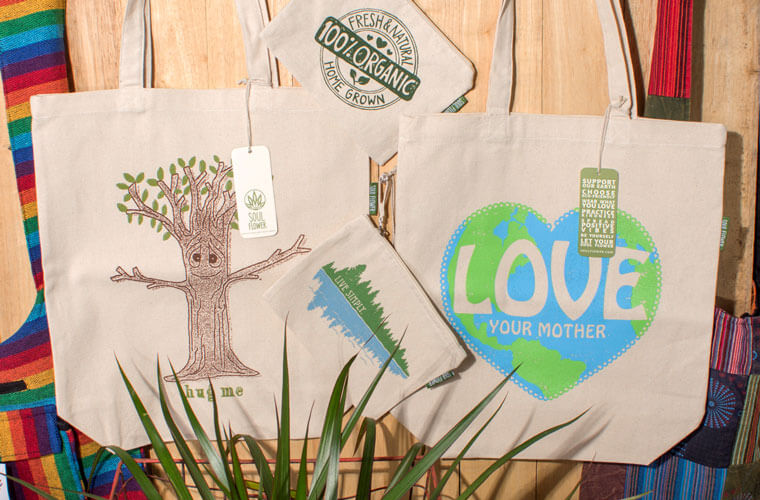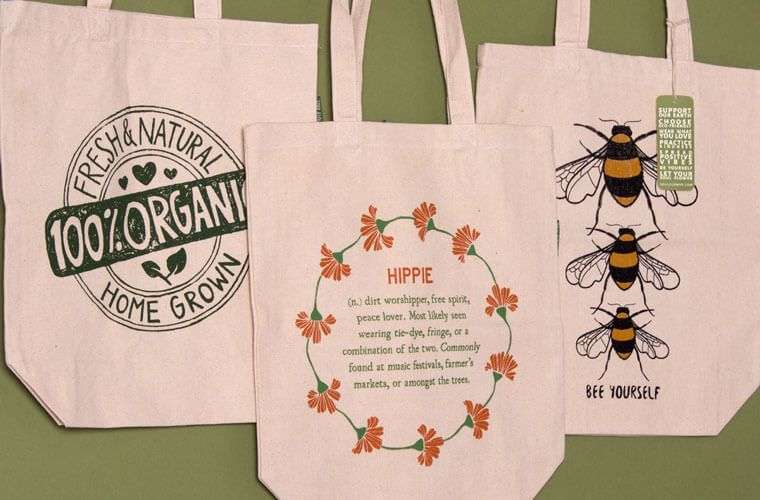 This post provides merchandising tips and advice for Soul Flower Wholesale customers – to find out information about our wholesale program, click here: http://www.soulflowerwholesale.com