Whether for holiday, birthday, or just good vibes, we want to help you pick some special, unique items for those free spirits in your life. Are you are shopping for someone with true boho chic style? Looking for trends? Or looking for a cute treasure to add to your boho jewelry collection? Or just need some hippie vibes to help spread holiday cheer? Find our ultimate gift guide here: 10 awesomely amazing gifts for free spirits below and a few bonus tips to keep your hippy holidays festive, eco-friendly and full of (free) spirit!
Gifts for Free Spirits #1: The Colorful Soul
Rainbow, tie-dye, bright gifts are perfect for the colorful soul. They aren't afraid to express their style and the more colorful, the better. Find some amazing colorful options here.
1-Hippie Baja Hoody
2-Rainbow Striped Scarf
3-Angle Cut Tie-Dye Tunic
4-Bonus: A Grateful Coloring Page
Gifts for Free Spirits #2: The Cozy Mama
The boho mama needs the perfect gift to keep her hippie heart shining. Here are a few of our favorite options:
1-Warm Cozy Threads
2-Bell Bottom Leggings
3-Peace Fingers Hoody
4-Bonus Gift Guide: Gifts For A Hippie Mom
Gifts for Free Spirits #3: The Yogi
For that yogi in your life who loves all things yoga. This free spirit has several yoga mats, is comfortable in crow's pose, and practices any chance they get! We have a few free spirit gifts for yoga lovers here at Soul Flower. Most of our yoga collection is eco friendly, made in the USA and will help align earth friendly values with yoga friendly lifestyles.
1-Love Warrior Crop Tank
2-Unique Yoga Mat Bags
3-Moss Agate Mala Beads
4-Bonus Gift Guide: Choosing Mala Beads – The Best Mala Beads for What You Need
Gifts for Free Spirits #4: The Eco Dad
These free spirit gift ideas are for the eco dad who loves outdoor living, long hikes in the forest, foraging and simple living. He will love the vibes of these Soul Flower threads and especially the respect they provide to Mother Earth.
1-Wanderlust Eco Hoody
2-Hemp Yoga Pants
3-Metatron's Cube T-Shirt
4-Bonus Gift Guide: 10 Gifts for Eco Dads
Gifts for Free Spirits #5: The Bohemian Dweller
Creating a space that is boho chic and cozy is the ultimate bohemian style. We have a few beautiful wall hangings (or bedspreads, table cloths, throws, curtains… you decide!) for the boho inspired home and the boho-chic person who lives there.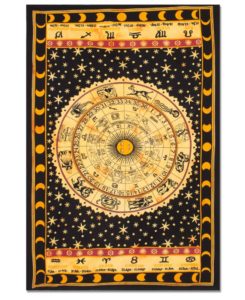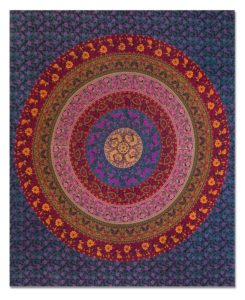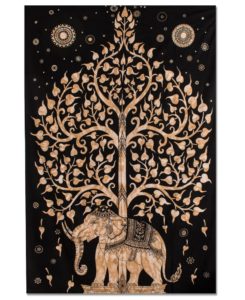 1-Boho Hippie Tapestries
2-Bonus Holiday Ideas for the Bohemian Home: DIY Holiday Cocktail & DIY Popcorn Garland
Gifts for Free Spirits #6: The Little Hippie
Oh Baby, who doesn't love a little hippie. These baby gifts are eco-friendly, soft, snuggly and simply unforgettable. Give a gift of organic softness!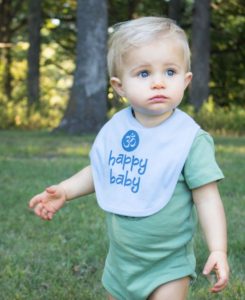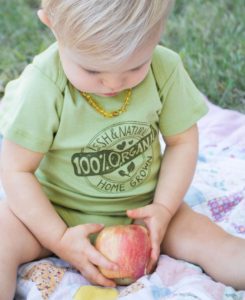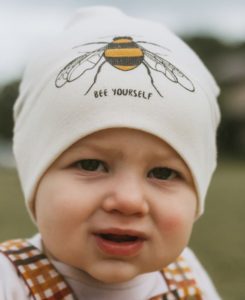 1-Happy Baby Bib
2-100% Organic Onesie
3-Bee Yourself Hat
4-Bonus Gift Guide: Eco Baby Gifts
Gifts for Free Spirits #7: The Tree Hugger
Tree lovers unite and fight for what is right: Trees Everywhere. Tree huggers have a lot of options at Soul Flower since we also love and speak for the trees!
1-Tree of Life Bag
2-Tree Harem Pants
3-Tree of Life Earrings and other Sacred Geometry Jewelry
4-Bonus Gift Guide: The Best Gifts for Tree Lovers
Gifts for Free Spirits #8: The Hemp Hearted
Here are a few gifts for that hemp lover – the one who understands the beauty and natural healing qualities of cannabis and all things hemp. Here are a few hemp options from Soul Flower:
1-Wonder & Wander Tee
2-Soul Flower Hemp Lip Balm
3-Indie Hemp Backpack
4-Shop all Boho Bags
5-Bonus Gift Guide: 10 Hemp Gifts – Unique Hemp Gift Ideas
Gifts for Free Spirits #9: The Beadnik
Try our bohemian jewelry shop and find a handmade artisan necklace, boho style earrings, hippie bracelet or bohemian ring. All Fair Trade Certified or handmade in the USA – and perfect for the bohemian babe in your life!
1-Mala Bracelets
2-Chakra Necklace and other Chakra Jewelry
3-Elephant Earrings
4-Bonus Idea: DIY Jewelry Storage – The Natural Way!
Gifts for Free Spirits #10: Stocking Stuffers
1-Auric Blend Egyptian Goddess Oil
2-Boho Headbands
3-Travel Candles
4-Bonus Idea: Eco Friendly Gift Wrapping
We hope this hippie holiday roundup from Soul Flower helps you find the perfect gift for perfect person in your life. And for even more free spirit inspiration, cehck out all of our latest top trending items.