Our hippie outfit ideas are perfect for year round! Really buds, you don't need Halloween to dress up as a hippie – just choose a hippie outfit any day of the year to spread vibes of peace, love and hippy-ness! It all starts witha look through your own closet of funky threads and pull together a DIY hippie outift. So what's the difference between one of these hippie outfits and a regular day outfit? Really nothing (except your state of mind)! Dressing like a hippie is cool every day. So think of these less like DIY hippie costumes and more like every day DIY hippie outfits and have fun finding some cool hippie threads!
Be sure to watch out for scary fast fashion when putting together your hippie outfit, there is nothing worse than wearing something once and never again! At Soul Flower, we carry hippie chic clothing you can use for a hippie costume AND for years to come.
Hippie Outfit Idea 1: Flower Child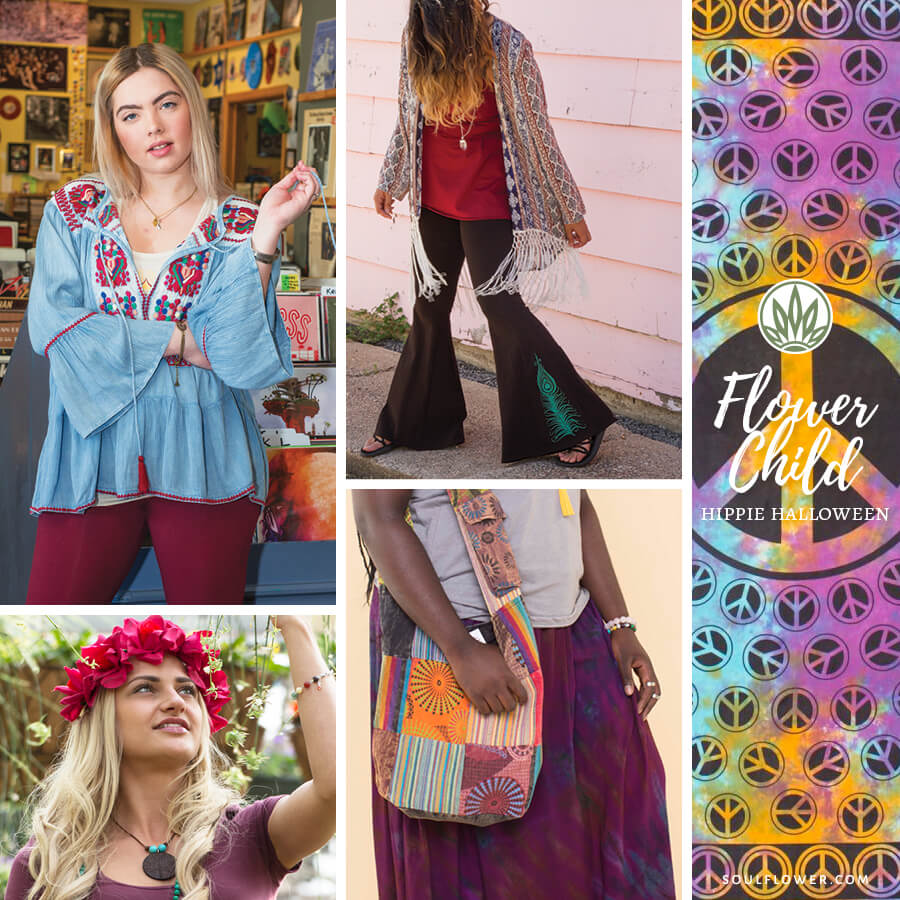 Make a Flower Child Hippie Ourfit. Here are some tips to dress like a Flower Child, start with:
Hippie Outfit Idea 2: Ski Bunny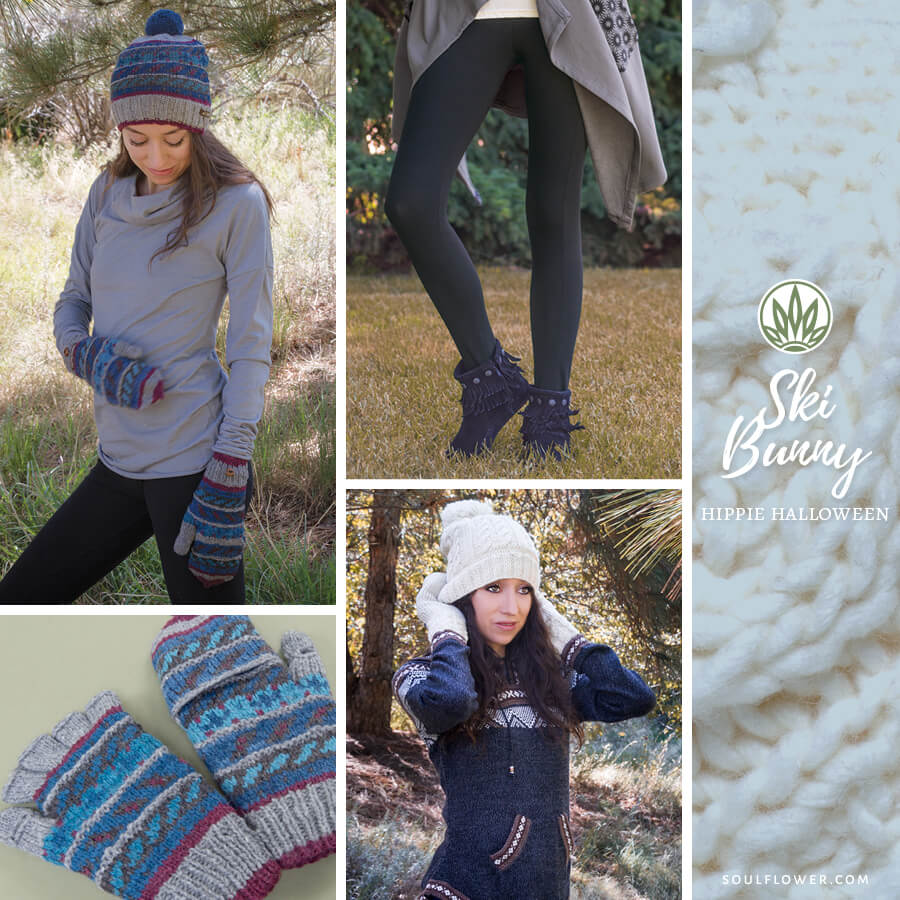 For this DIY hippie costume, you can just look thru your winter threads and pick some items that you can layer on – stay warm and cozy as a Ski Bunny! Check out these ideas:
Hippie Outfit Idea 3: Festi Fanatic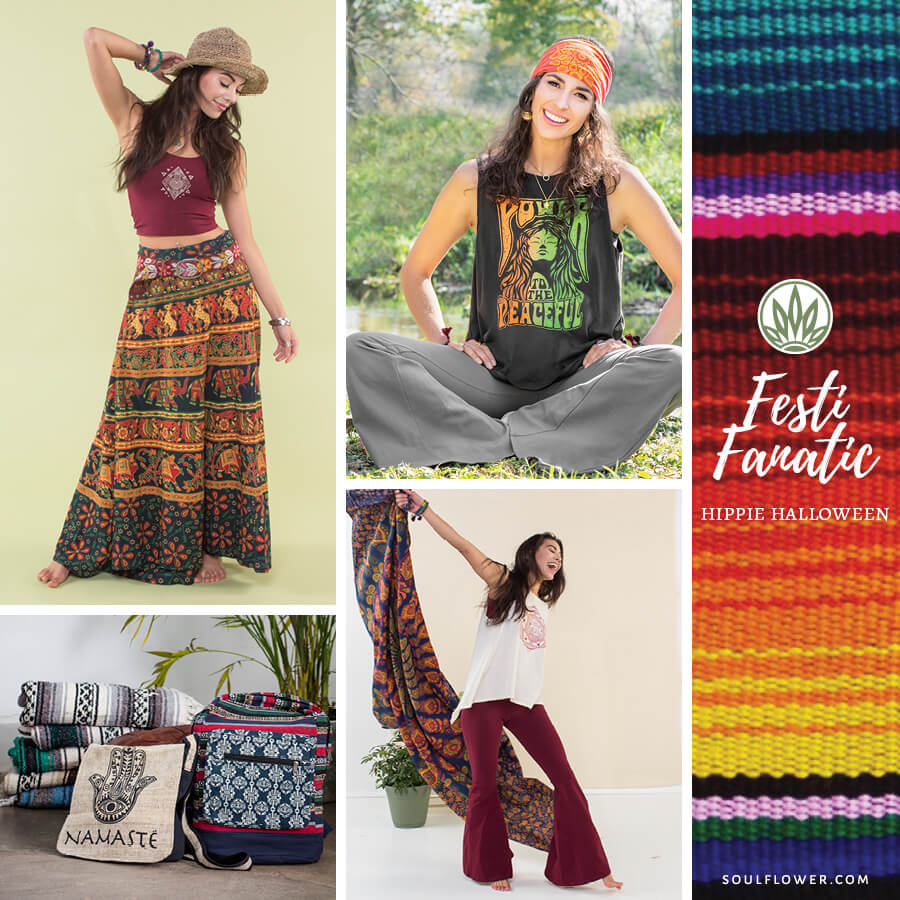 We know you went to a festival sometime in the last year – so embrace those vibes buds! This hippie outfit isn't hard to capture, just think summer festival. For a hippie outfit like a Festi Fanatic, try these options:
Hippie Outfit Idea 4: Treehugger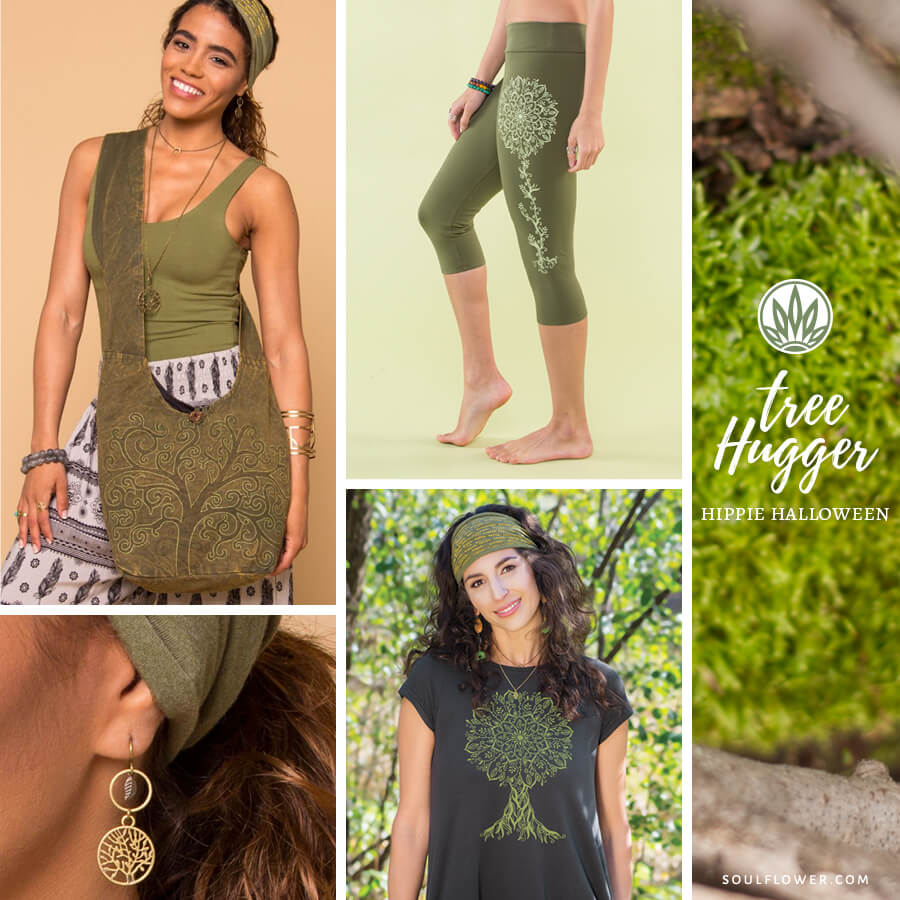 This hippie outfit idea is simple, it is all about the trees! This hippe outfit will bring out the eco freako in you. To dress like a Tree Hugger, start with:
Hippie Halloween Outfit Idea 5: Hooper

This DIY hippie outfit involves a prop: A hula hoop. Beyond that, the rest is up to you! For an awesome Hooping outfit, get a hoop and try these ideas:
Hippie Halloween Outfit Idea 6: Fortune Teller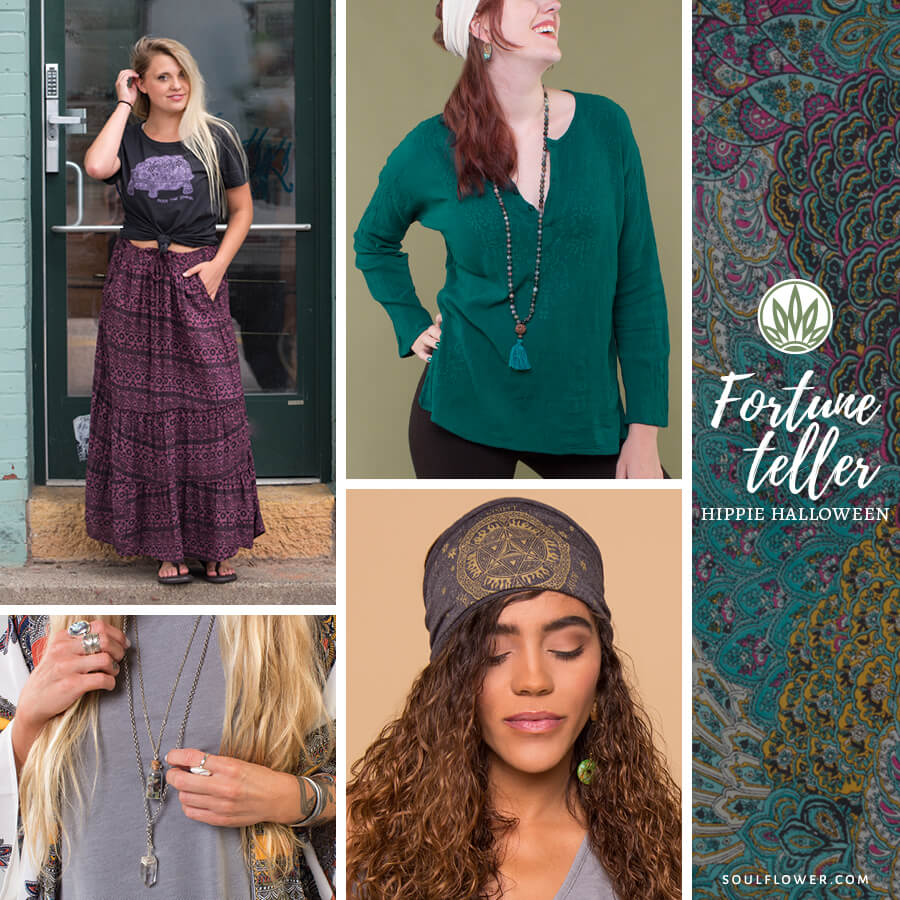 Are you looking for a DIY costume with witchy AND hippie vibes? Grab some tarot cards and a magic 8 ball and hit the road as a Fortune Teller! Here are some ideas to create a sweet Fortune Teller outfit:
Hippy Halloween Outfit Idea 7: Boho Babe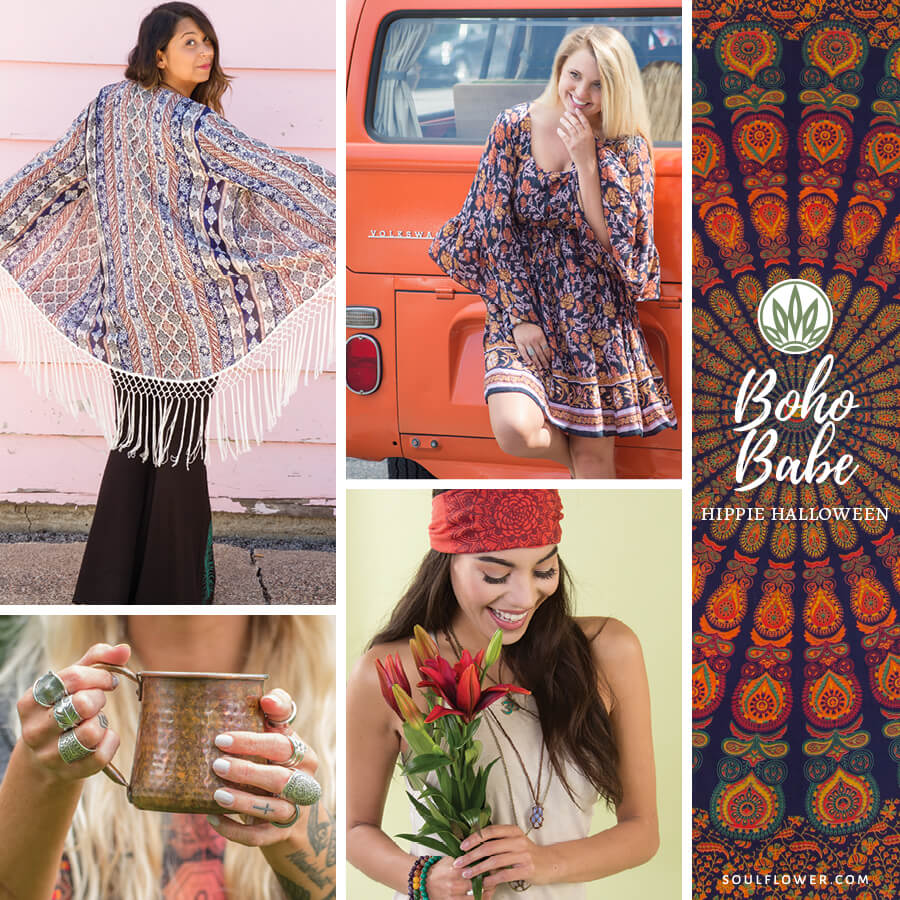 We know you are already a boho babe so this DIY hippie outfit isn't really a costume, it is more like you can just dress like you always do! So whether you consider your vibe to always be boho babe, or you want to try a boho hippie costume to show off some extra groovy hippie vibes, try these tips!
Hippie Halloween Outfit Idea 8: Rocker Rebel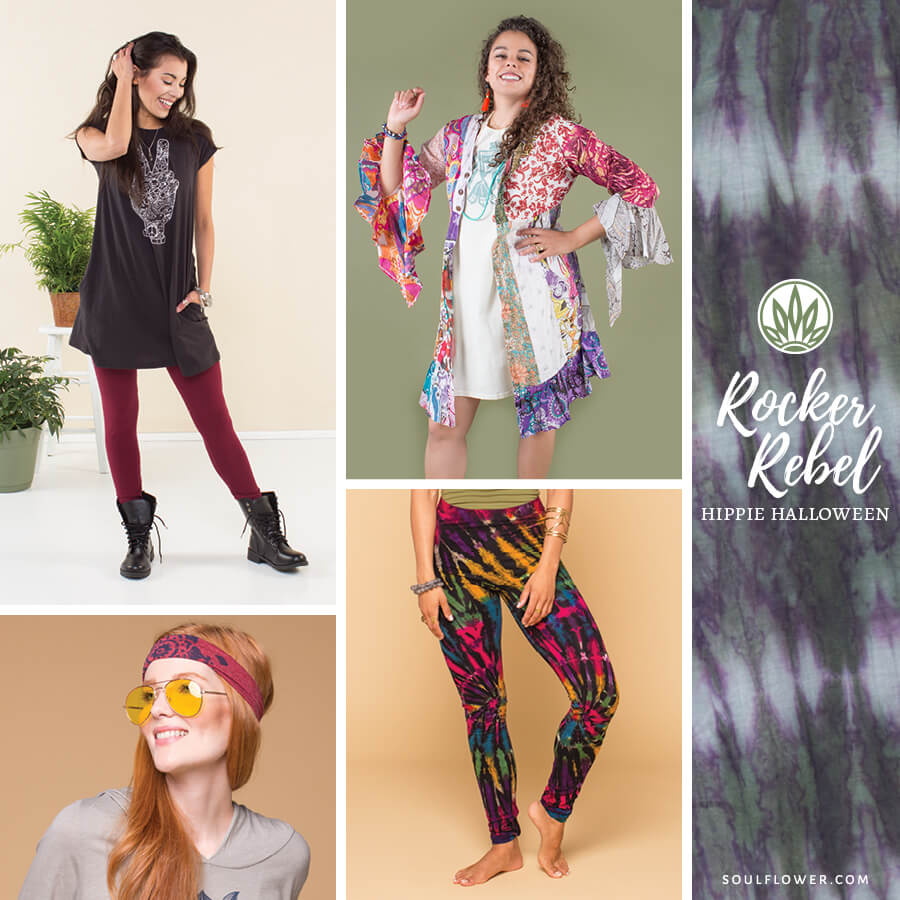 Here are some hippie clothes that work great for a Rockin' Rebel outfit! This hippie outfit has rockin' vibes, so don't forget to borrow a uke or drum from a friend and try these tips:
Hippie Halloween Outfit Idea 9: Star Gazer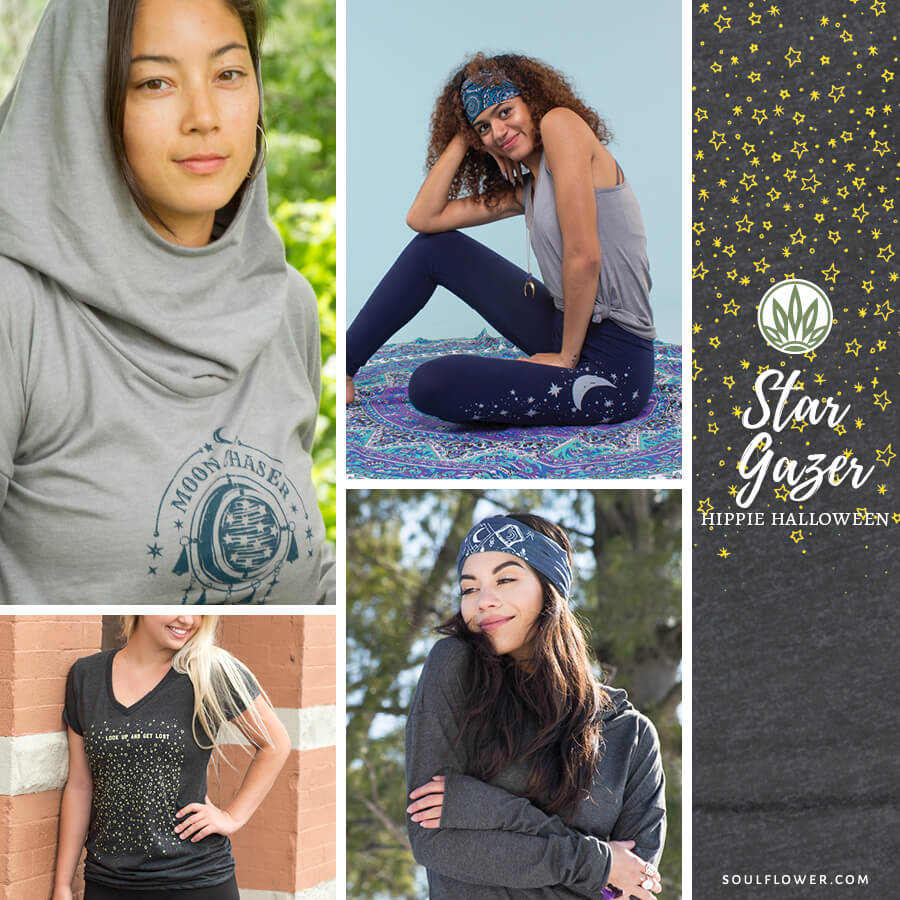 Check what phase the moon is in, grab your binoculars, and spend the evening pointing at the night sky. A cozy blanket to wrap yourself in and a thermos full of hot tea are optional but help complete this star-gazer look!
Hippie Halloween Outfit Idea 10: Wanderer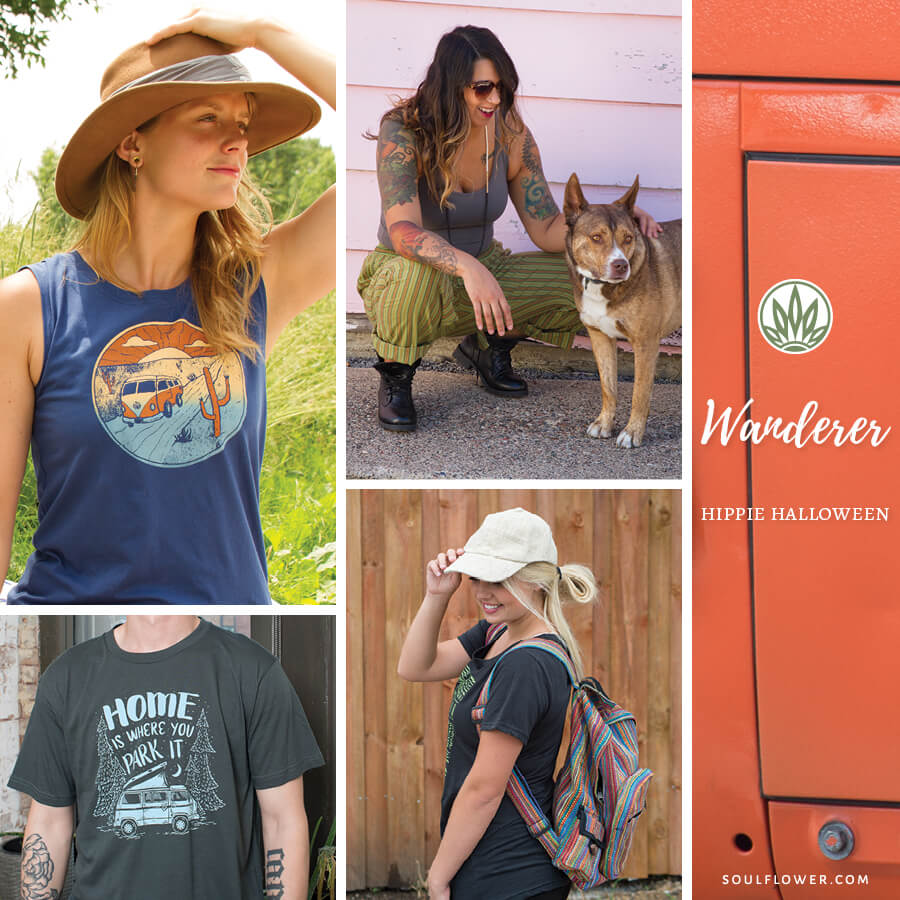 Road tripper, hitchhiker, thru-hiker, #vanlife, or just wandering through this journey called life… throw on the best of your on-the-road gear, grab a paper map and a walking stick, and tell everyone you can't wait to get on the road again. This hippie outfit is called Wanderer!
Need more hippie outfit ideas? Check out this super fun and magical blog post from the past: 5 Soul Flower-Inspired Halloween Costumes